---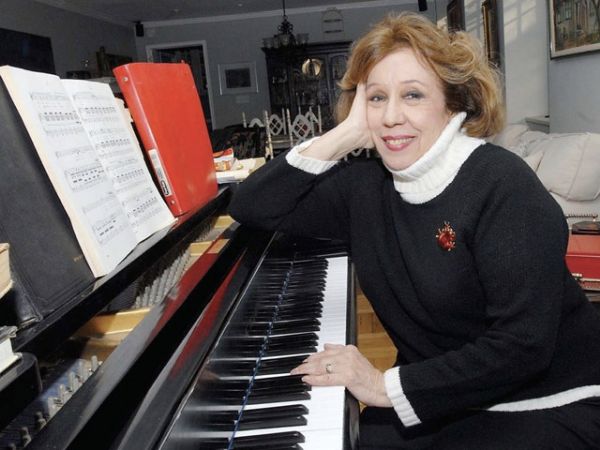 Eva de La O, opera singer, impresario, and founder of Música de Cámara passed away on Saturday, May 4th, 2019, at Mt. Sinai Hospital of lung cancer. She was 88.
A Julliard trained soprano and proud Puerto Rican, Eva devoted her life to promoting other classically trained musicians and composers of Puerto Rican, the Caribbean, and Latin American descent. She did this mainly through her nonprofit organization, Música de Cámara, which over its 39-year history has promoted and premiered numerous Hispanic artists and composers throughout New York City. Through staged concerts and educational classes at public schools in East Harlem, Música de Cámara has been able to accomplish Eva's goals of bringing classical music into the New York City cultural scene and bringing recognition to the Hispanic community as equal purveyors of classical music.
Over the course of her career, she sang from small venues to The Metropolitan Opera and everything in between, including many Broadway performances and performances around the world. During the Clinton administration, Eva was honored to accept an invitation to perform at The White House before numerous invited guests including President and Mrs. Clinton.
She is survived by her loving children, daughter Sara, and son David. In lieu of flowers, donations may be made in her honor to Música de Cámara, 1215 5th Avenue, Suite 1B, New York, NY 10029.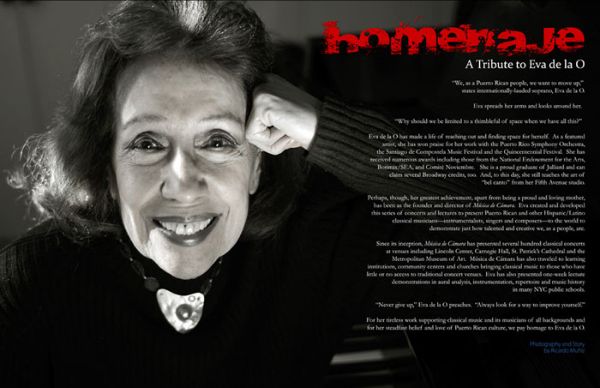 Música de Cámara Remembers Its Founder Eva de La O at 39th Anniversary Season Concert at El Museo del Barrio
Also, in partnership with El Museo del Barrio, Música de Cámara remembers and celebrates the life of its founder and director Eva de La O with its Thirty-ninth Anniversary Orchestral Concert on Friday May 17, 2019 at 7:30 pm in El Teatro of El Museo del Barrio which is located at 1230 5th Avenue in New York City.
This concert will be presented free of charge, but we will be accepting donations that evening in memory of Eva to help ensure the continuing mission of Música de Cámara.
Under the direction of Maestro Roselin Pabon, Conductor Emeritus of the Puerto Rico Symphony Orchestra, the concert features the Música de Cámara Orchestra performing works by Xavier Montsalvatge, Juan B. Plaza, Jose Dames, and by two of Música de Cámara's long-time artists Pedro Giraudo and Luis Casal. The concert will also feature two works for soprano and strings: Rafael Hernandez's Popurri and Ernesto Cordero's Tres Canciones. These will feature guest soprano soloist Laura Marfa Pabon, graduate of the Conservatorio de Musica de Puerto Rico.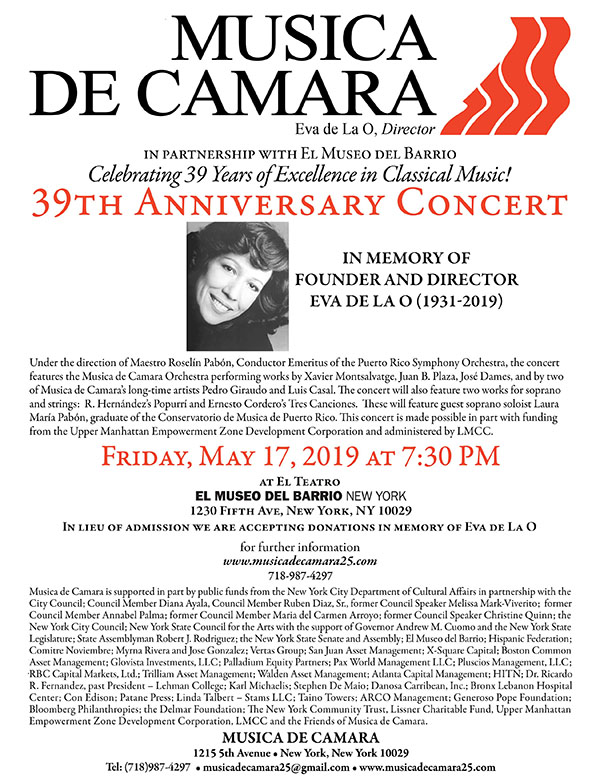 The Música de Cámara Orchestra is comprised of dynamic young players representing Latin America, the Caribbean and the United States and has been described by New York music critics as "a can't miss group" with a "beautiful rich sound" whose "masterful playing" presents "a beautiful picture of the diversity of this great city".
A support system for minority classical musicians for the past 39 years, Música de Cámara has presented artists in concert at major venues such as Alice Tully Hall, Lincoln Center; Weill Hall, Carnegie Hall; Merkin Concert Hall, Kaufman Cultural Center, El Museo del Barrio, St. Patrick's Cathedral and the Lehman Center for the Performing Arts.
---