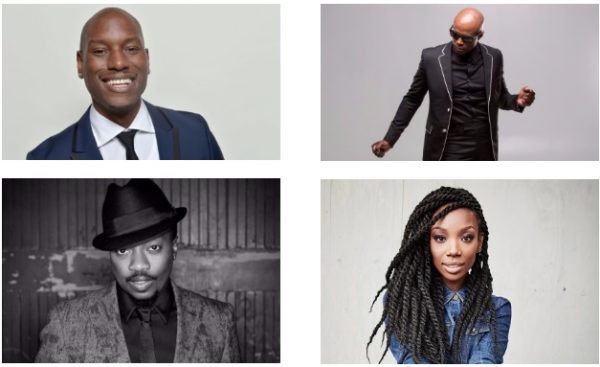 Join R&B superstars Tyrese, Anthony Hamilton, Kem, Brandy and introducing special guest, Major, on the star-studded lineup for the 2nd Annual Mother's Day Good Music Festival. This year's celebration of mothers and music is set to take place on Friday, May 12, 2017 at 8 p.m. at Barclays Center, 620 Atlantic Avenue in Brooklyn, New York.
This year's performers include Grammy award-winning artist Tyrese, whose chart-topping hits 'Sweet Lady', 'Best of Me' and 'How You Gonna Act Like That' are music industry and radio favorites; Grammy award-winning singer/songwriter Anthony Hamilton has a loyal fan following and rose to fame with his platinum-selling albums, with popular songs, 'Charlene' and 'Pray for Me;' R&B singer/songwriter and producer Kem will grace the stage with his classic sound and melodic tunes 'Love Calls' and 'Share My Life;' platinum and Grammy-winning singer/songwriter Brandy, is best known for her success in music and television and will perform her memorable hits such as 'Never Say Never,' 'The Boy Is Mine,' and 'Wanna Be Down.' Pop and soul singer MAJOR, created online buzz with his songs, 'Why I Love You' and 'Keep On.'  He will be the evening's special guest.
Pre-sale tickets for the 2017 Mother's Day Good Music Festival will be available at Ticketmaster on Thursday, January 12th 2017, at 10 a.m. EST, using the code: SJPRESENTSand general on-sale tickets will be available for purchase on Friday, January 13 at 10 a.m. EST. on Ticketmaster and the Barclays Center box office. Go to www.ticketmaster.com/event/00005195E963B10D for ticket information and to purchase tickets.
"We are so happy to bring this show back for a second year. The lineup is amazing and we are delighted to have people celebrate Mother's Day with us at Barclays.  It will definitely be a great time," said Kharisma Mitchell, Director of Marketing and Events at SJ Presents Inc.
Last year's inaugural Mother's Day Good Music Fest event was sold out with over 12,000 people who attended. The 2016 performers included Keyshia Cole, Joe, Tank, Monica and Ginuwine with special surprise guest, Remy MA.
For more information visit www.sjpresentsinc.com.
No related posts found...