---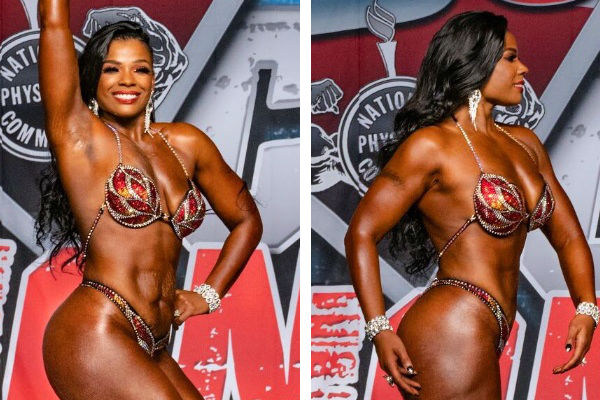 R&B Songstress and co-host of Sister Circle Live, Syleena Johnson
has recently shed some serious pounds!
The 41-year-old singer and TV personality lost 50 pounds in preparation for the Texas National Physique Committee (NPC Texas Cup) in Waco, Texas. At the competition on December 7th, 2019, she won three awards. Johnson took home 3rd place for Open, 5th place for True Novice, and 6th place for Novice. Johnson revealed that she passed on one completion, The Lee Haney Games
because she wasn't physically ready. After sticking to a strict diet and exercising with her personal trainer, she competed in her first fitness competition, The NPC Texas Cup. She competed in the Women's Figure Category.
"This has been a longtime dream of mine. This is not something I just woke up yesterday and said I wanted to do," she said. "I don't want to live this life and not do all of the things that I think I can do. I just feel like we can accomplish our goals and dreams, all in this life. And so that's what I'm doing. I'm just pursuing all of the dreams and desires and goals and wants that God puts in my belly. Being a fitness competitor is one of them. I will continue to compete hopefully with the grace of God, but the first competition, I just want to get on the stage."
Ms. Johnson writes in Black Doctor that, "I wanted to inspire real mothers who look like real women and make a realistic DVD that will motivate the average-sized woman," says Syleena. She added that it's time mothers mixed being caregivers with taking good care of themselves as women.
Syleena combines her music career, advocacy for women, and love for health and fitness all into one passion packed workout. The 50-minute DVD consists of different types of workouts, including a kettlebell workout, yoga, and a cool-down. The video features Syleena, as well as her R&B Divas co-star Nicci Gilbert
, Chanita Foster of VH1's Football Wives
, trainer Justin Sawochka, and the DVD co-executive producer, Sheena Minard.
Selena also helps women struggling with weight in her blog called, "The Weight Is Over,".  In it, she dishes out advice on how to not only lose weight but keep it off.
"Taking care of the mind is equally as important as taking care of the body. One of the methods I use intermittently throughout the day is called the Emotional Freedom Technique
(EFT) or tapping," explains Syleena in her blog.
"According to my favorite naturalist doctor and health advocate Dr. Joseph Mercola
, EFT is the psychological acupressure technique based on the same energy meridians used in traditional acupuncture to treat physical and emotional ailments for over 5000 years, minus the invasiveness of needles. It is done by tapping lightly on specific parts of the body that release magnetic energy flow while voicing positive affirmations."
"It is a simple technique you can use anywhere, and it can immediately help you remove negative emotions, reduce food cravings, eliminate pain and implement positive goals. Stress can hinder the journey to health and wellness. EFT can be a key element to help you reclaim control of your emotional state and promote mental well-being. It can create calmness and peace, allowing you to refocus and regain control of your diet, your finances, your relationships or anything that you have anxiety about."
"For example, I use EFT when I am experiencing a sugar craving. I just tap lightly on the top of my head, my temple, my chin, my chest or under my arm and repeat to myself,…"
What a wonderful story, we hope Ms. Johnson is happy with her natural makeover.
Check out Syleena Johnson's 10th studio album, WOMAN
, it's available for pre-order now and will release on January 31st, 2020.
Editor's Note: This story is not a "What you should do!" This is a story about how Ms. Johnson saw herself and her self-improvement. The question is how do we live our best selves?
Photo credit: 1) Michael Witherspoon. 2) Syleena Johnson Instagram.
---