---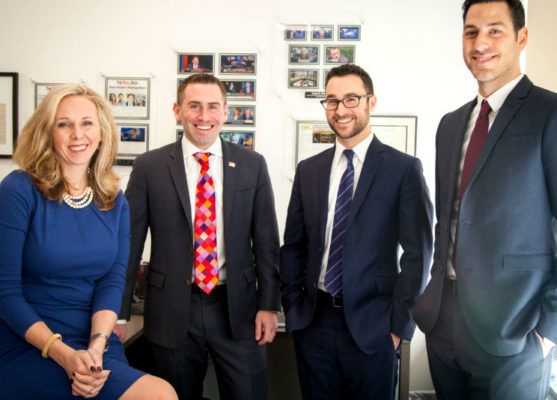 After being promoted to managing directors of New York City sales at the beginning of the year, Jason Meister and Marion Jones have forged a team that they hope will grow to take a big chunk of the market share in the multifamily middle market sector.
The duo share an office at Ackman-Ziff's offices in Midtown, a juxtaposition of two different but what they call "complementary" personalities.
"I mean, I would never wear a tie like that, so we balance each other out," joked Jones, about Meister's tie during an interview with Real Estate Weekly at their office last week.
While Jones focuses on the details, Meister is a big-picture guy.
Jones and Meister added two new associates to their team, David Friedkin and David Sadkin. Friedkin started as an intern last year and was hired several months later; Sadkin came from a bridge lending background.
One of their biggest projects is marketing a large portfolio for client Trion Holdings, a five-building multifamily portfolio with 111 total units spread across two submarkets. Four of the buildings are in Washington Heights, on the 181st Street corridor, and one is in Central Harlem, on the corner of 127th Street and Adam Clayton Powell Boulevard.
"When you look at portfolios like this up there, they usually don't have retail," said Meister. "It's a high value-add multifamily portfolio with significant retail value."
The team is working on other multifamily portfolios, but could not yet give details on those properties.
The team's goal is to have a formidable market share of NYC's middle market for investment sales in five years. They define "middle market" as somewhere between $20 million and $150 million deals — but those aren't always definite terms.
"We've sold deals smaller than $20 million and well above $150 million, so where we see the wide open opportunity of market share is in that institutional quality to the middle market, broker," said Meister. "We actually really dug into this, we built a pie chart, we saw the market share of the brokers in our competitor set, and we see a wide open opportunity for us."
Meister and Jones focus on a full-service approach when working with clients, one that focuses on what the best strategy is for the client, which can mean doing a refi instead of selling.
"We're constantly looking at our practice of investment sales on any given deals or relationship from the perspective of what's the best strategy for client, and frankly in this market it can sometimes change on a dime," said Jones.
"We're never going to be a volume shop, we're never going to spit out a thousand mediocre to ludicrous listings a year, pricewise. A big complaint among investors is that they get 100 setups a day, and maybe one has merit as an investment, probably less than that. We're interested in full-service investment sales to our clients."
The team prides itself on its ability to work well together, collaborate, and even poke fun at one another.
"We encourage free thought," Jones laughed. "We have fun. Jason is witty, and there's a Trump joke in everything. I can't tell you how many times we joked about building a wall and having Jason pay for it."
Meister isn't shy about his politics. Next to his desk, a "Make America Great Again" hat sits on top of a display box containing a glove worn by famed boxer Evander Holyfield.
A Trump surrogate, Meister even attended the election night party at the Hilton Hotel and the inauguration in D.C. in January. He couldn't be happier that Trump is president, and has high hopes for how his policies will affect the real estate industry.
"I think it's a good thing from an economic standpoint," said Meister. "I think we've had a rough eight years with growth, and kept interest rates at near zero for eight years. Everyone became a developer because money was free, that's why we have an oversupply now of luxury condos in Manhattan, because money was free and everyone thought they could be a developer."
While the team is actively looking to grow in numbers, they are focused on quality, not quantity.
"We're not positioning ourselves as we're gonna grow to a team of 35 brokers that are all running around doing their own thing, sharpening their elbows against each other," said Jones.
"We also know that some of our competitors have a weakness because they have too many teams with internal conflict, and we're not believers in that. We're able to harness strength from this platform. In order to service those relationships the best way, being a cohesive team is the only answer."
Related Articles
---