---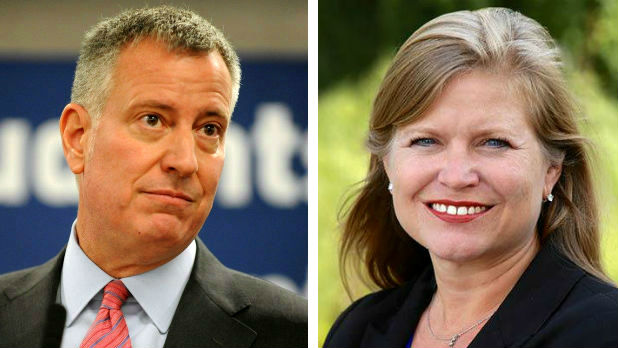 Mayor Bill de Blasio today appointed Kathryn Garcia as Interim Chair of the New York City Housing Authority, succeeding Stanley Brezenoff who will depart later this month. Under Brezenoff's leadership, the Housing Authority has launched a comprehensive plan to deliver $24 billion in vital repairs for 175,000 residents, achieved a historic contract agreement with Teamsters Local 237 that provides 7-day service to residents, launched weekend work order blitzes to eliminate NYCHA's repair backlog, and significantly improved heating response times.
Garcia is a seasoned veteran tested at some of the most complex roles in City government. She has extensive experience in managing and reforming large, complex agencies. As Interim Chair, Garcia will work closely with NYCHA's General Manager Vito Mustaciuolo to reverse decades of disinvestment in public housing and operationalize the City's agreement with the federal government. DSNY First Deputy Commissioner Steven Costas will serve as Acting Commissioner when Garcia takes she leave of absence from the agency.
"Throughout his storied career in City government, Stan has never been one to back away from a challenge – and his time at NYCHA was no different. In less than a year, he secured a landmark labor deal, overhauled the agency's heating response times and developed the plan to deliver major renovations that NYCHA residents deserve. On behalf of all New Yorkers, I thank Stan not only for his decades of service to the City, but for leaving NYCHA much stronger than he found it," said Mayor Bill de Blasio. "There is no better person to continue our turnaround effort at NYCHA than Kathryn. She is a battle-tested leader who has taken on sprawling challenges from eradicating lead exposure to overhauling the broken commercial carting industry. She is ready to fight every day for the 400,000 New Yorkers who call NYCHA home."
"This is one of the toughest and most rewarding jobs in America. I will leave this interim role knowing that we are putting NYCHA in very capable hands. I am confident that Commissioner Garcia is the right person to continue our efforts to improve the quality of lives for residents, and preserve public housing for generations to come," said Interim Chair and CEO Stanley Brezenoff.
"I am going to work every single day to make life better for the 400,000 New Yorkers who call NYCHA home. There's been real progress—now it's time to go farther and faster. We have a plan to renovate tens of thousands of apartments and an agreement with the federal government to improve all of our key services to residents. I'm ready to roll up my sleeves and put these plans into action," said Incoming Interim Chair and CEO Kathryn Garcia.
Garcia will serve as Interim Chair while the City begins the process of selecting a permanent head of the authority. As outlined in the agreement, the City, HUD and SDNY have a month to develop a list of candidates. The City will then have an additional month to select a permanent Chair and CEO from this list.
Garcia is a world-class manager who has a proven record of cutting through red tape and putting people before bureaucracies. She spearheaded the development and launch of Lead FreeNYC, the City's comprehensive plan to eradicate childhood lead exposure. Garcia coordinated across all relevant City agencies to deepen and expand their lead prevention efforts. The new plan will – for the first time – expand Local Law 1, eliminate lead paint hazards in NYCHA apartments and family shelters, target unsafe consumer goods, provide children with dedicated nurses and link together all City agencies responding to lead exposure.
In her role as Commissioner of Sanitation, Garcia implemented the strategies to reach the City's Zero Waste goal, and has operationalized several brand-new programs, including Organics collection and curbside electronic waste. She was responsible for overhauling the City's snow-clearing operations by changing the prioritization of plow routes, which has greatly increased DSNY's efficiency and productivity during storms. Most recently, she developed a plan to overhaul private commercial carting that will reduce air pollution, asthma and traffic fatalities in low-income communities across New York City that have borne a disproportionate share of the city's waste.
Before her appointment in 2014 to DSNY Commissioner, Garcia was Chief Operating Officer at the Department of Environmental Protection, where she oversaw agency operations – including the delivery of one billion gallons of safe, clean drinking water to 9 million New Yorkers in the city and upstate New York every day. She worked very closely with DEP's federal monitor to help bring the agency into federal compliance, and oversaw watershed and in-city water quality labs that conduct more than 600,000 analyses of the city's drinking water every year to ensure the water was safe and of the highest quality.
---