---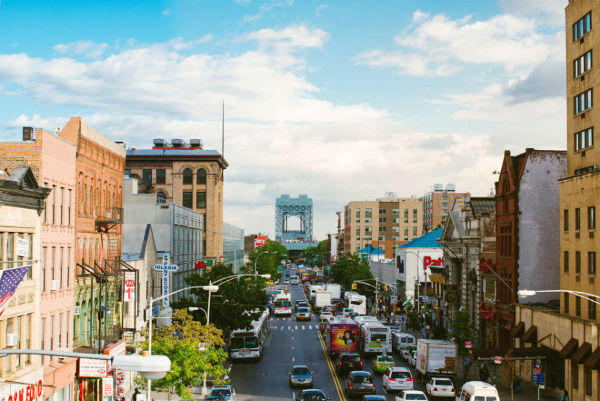 Mayor de Blasio today announced that residential evictions by marshals declined more than 40 percent since 2013 from Harlem to Hollis. In 2019 alone, evictions decreased 15 percent—the largest single-year decrease since Mayor de Blasio signed the first-in-the-nation "tenant's right to counsel" law and launched the City's Universal Access to Counsel program. Since 2013, through the City's comprehensive efforts, more than 100,000 New Yorkers who might otherwise have faced evictions have been able to stay in their homes, with residential evictions steadily trending downwards in every borough.
If we're going to save our city, we must do everything we can to help people stay in the homes they love," said Mayor Bill de Blasio. "With evictions down over 40 percent citywide, the unprecedented investments we've made in tenant legal services have helped 100,000 people stay in their homes and off the street."
Over the course of the de Blasio Administration, over 350,000 New Yorkers have received assistance in eviction and other housing-related matters through tenant legal services programs, including the right to counsel program, the nation's first and largest initiative that will ensure that every tenant facing eviction in Housing Court has access to free legal services. Of the tenants receiving City counsel in cases where they are facing eviction, over 84 percent have been able to keep their apartments.
Since 2014, the City has dedicated unprecedented funding for legal assistance for tenants facing eviction and harassment, increasing overall investment from $6 million in Fiscal Year 2013 to over $128 million in Fiscal Year 2020.
Through the Universal Access initiative, 400,000 New Yorkers facing eviction are expected to receive legal assistance annually at full ramp-up in 2022, with annual funding for legal services for tenants increasing to $166 million. In 2019 alone, 41,000 households representing 105,000 New Yorkers received legal representation and advice, including over 32,000 households representing 83,000 New Yorkers facing eviction in Housing Court. This reflects a 24 percent increase in households served compared to the prior year and a 74 percent increase compared to 2017, before the formal launch of right to counsel. In 2013, only 6,500 households representing 23,000 individuals had City-funded legal services.
The first phase of Universal Access included increasing access to free legal representation in Housing Court to low-income New Yorkers in fifteen ZIP codes across New York City that were identified as having high levels of eviction filings, shelter entry, and rent-regulated housing. During the second phase, five additional targeted ZIP codes were added, one in each borough, for a total of 20 ZIP codes across the city, and in its third phase Universal Access grew to include five more ZIP codes, with additional expansion expected next year.
Protecting tenants is a core part of this Administration's strategy for confronting the affordable housing crisis. Unlike in New York City where investments in legal services are helping reduce evictions, evictions are up nationwide. As a result,  cities across the country are taking notice and looking at this Administration's programs and successes as models, implementing their own versions of this program to provide similar protections to their residents:
Cities with established right to counsel laws, programs, and/or initiatives:
Washington D.C., May 2017
San Francisco, June 2018
Minneapolis, November 2018
Newark, December 2018
San Antonio, April 2019
Philadelphia, November 2019
Localities where right to counsel is being considered and/or pursued:
Cleveland
Boston/Massachusetts
Connecticut
Seattle
Los Angeles
Detroit
Santa Monica
In 2020, the City will also launch a citywide campaign to further spread the word about available resources and continue encouraging New Yorkers to experience housing instability to reach out. If you or someone you know is facing eviction, our City is here to help. Don't hesitate—call for assistance today at (718) 557-1379 or visit the HRA Office of Civil Justice website at www.nyc.gov/civiljustice for more information.
"A key part of our work to end homelessness is making sure New Yorkers stay in their homes in the first place," said Deputy Mayor for Health and Human Services Dr. Raul Perea-Henze. "With this drop in evictions, the de Blasio Administration is closing the justice gap for hundreds of thousands of tenants empowered by access to legal services. The Universal Access to Counsel program builds the foundation for healthier communities in New York City and shows the way for other cities grappling with the homelessness crisis."
"We are laser-focused on keeping New Yorkers stably housed," said Jackie Bray, Director of the Mayor's Office to Protect Tenants. "In 2013, 1 in 100 tenants had legal representation; today that stands at 1 in 3. We're making real progress and that means fewer New Yorkers who have to fear eviction."
"The progress we have achieved driving down evictions, with more than 40 percent fewer evictions in 2019 than in 2013, represents the type of systemic change that we have been focused on since the Administration began and highlights why so many of us came into government: to have a real, tangible impact improving people's lives and leveling the playing field for all," said Department of Social Services Commissioner Steven Banks. "When we started, only 1 in 100 tenants facing eviction in housing court had a lawyer or access to legal services. Too often, when I was a Legal Aid lawyer, my clients had to navigate a complex process stacked against them. Our City's right to counsel initiative has turned the tables for regular New Yorkers, with 1 in 3 tenants now receiving City-funded legal services in eviction cases. These investments to protect tenants are not only keeping New Yorkers in their homes, but they are also preserving stability and affordable housing across the five boroughs."
"Thanks to our City's first-in-the-nation Universal Access to Counsel initiative, New York is leveling the playing field and leading the way in ensuring that tenants have the day in court that they deserve" said HRA Administrator Grace Bonilla. "Not only are evictions down, having access to an attorney provides more New Yorkers with housing stability and the opportunity for families and individuals to focus on building their future in their city. We intend to take this progress even further by bringing this vital resource to even more New Yorkers, as we work towards this Administration's mission of making New York City fairer and more equitable for all."
"Every day in housing court, our City is committed to making sure tenants have access to free legal help, leveling the playing field like never before," said Civil Justice Coordinator Jordan M. Dressler. "The Office of Civil Justice is proud of the progress we have made in implementing this historic initiative and we are grateful to our legal provider partners for their unflagging commitment to making justice available for all New Yorkers."
"This is great news coming from the administration. A 40% drop in evictions is proof that as a city we have taken steadfast action to protect tenants during a time in which homelessness and housing stability remain top concerns for many of our families residing in New York City. Your ZIP code and socioeconomic status should not be barriers to fair and equal representation in court and I am proud that New York City has taken the lead in making this a reality. I would like to thank Mayor De Blasio, the administration, the Right to Counsel Coalition and all of the advocates for their ongoing commitment and support of our tenants." said Council Member Vanessa Gibson.
"These wins are a testament to the power of community advocacy, comprehensive policies, and legislation like the Right to Counsel working to protect the most vulnerable tenants from the threat of eviction," said Council Member Andrew Cohen. "Right to Counsel has been an unmitigated success and provided the blueprint for tackling one of the leading causes of homelessness in our city. We need to sustain this momentum and build on the gains we've made in reducing eviction rates citywide by expanding the protections available under the law to reach even more New Yorkers facing eviction and threats of displacement."
"Right to Counsel is a landmark law that shows our city's commitment to supporting tenants and has yielded significant results in reducing evictions. I commend the Mayor and work done in the City Council to provide legal aid for those in need," said Council Member Keith Powers.
"I am thrilled to see the latest results of New York City's landmark Right to Counsel law. These numbers prove what we have always known – when you empower tenants with legal representation in housing court, they have a better chance of winning and staying in their homes," said Councilwoman Carlina Rivera. "I look forward to seeing a continued decline in evictions as the City expands the law's reach throughout our moderate-income communities."
"New York is leading the way to provide legal assistance to tenants facing eviction, increasing the chance for people to stay in their homes and neighborhoods. The expansion and success of the right to counsel program is a critical piece of the work needed to address the housing affordability crisis," said Council Member Brad Lander.
"Residents facing eviction come to me every day for assistance and providing an attorney to represent them can be essential to keeping them in their homes and off the streets," said Council Member Ben Kallos, Co-Chair of the City Council Progressive Caucus "Thank you to Commissioner Steve Banks for being an advocate and champion for this legislation as well as to Mayor de Blasio for its strong implementation."
"These statistics prove that the right to counsel law helps tenants and levels the playing field in Housing Court, just as it was designed to do," said Manhattan Borough President Gale A. Brewer.
"It is incredible to see the positive impact that tenant-centered laws can have on housing security for thousands of New Yorkers. I thank the Mayor's Office for their dedication to providing critical legal services for New Yorkers at risk of displacement. I look forward to continue fighting for legislation that lowers eviction rates across the state, and helps New York families remain in their homes," said State Senator Alessandra Biaggi.
"In the months after the Housing Stability and Tenant Protection Act of 2019 was enacted, New York City experienced an 18% drop in evictions compared to the same period the year before. That's 2,007 fewer families evicted from their homes after new tenant laws were enacted by the New York State Legislature, where I serve as Chair of the Senate Judiciary Committee. In the midst of a housing affordability crisis, we need all hands on deck to protect New Yorkers from eviction. That's why I'm thrilled the de Blasio Administration's Universal Access to Counsel program helped 105,000 tenants with legal services in 2019 alone. I'm grateful to Mayor de Blasio, Deputy Mayor Dr. Perea-Henze and Commissioner Banks for their efforts to help New Yorkers stay in their homes," said State Senator Brad Hoylman.
"Every tenant deserves the right to counsel in housing court and I applaud the Mayor's Office for its work protecting working families from predatory landlords. After the historic Housing Stability and Tenant Protection Act of 2019, I hope to continue working with the Administration to combat the homelessness crisis on both a city level and a state level and make sure no tenant is evicted from their home unfairly," said State Senator Julia Salazar.
"Making sure that tenants know their rights and have access to the legal resources available to them are common-sense goals that have made a powerful difference in the numbers of families and individuals who have been able to retain stable housing and avoid the crisis of homelessness," said Assembly Member Steven Cymbrowitz, Chair of the Assembly Housing Committee. "This is one example of a straightforward yet innovative program that is successfully protecting low-income New Yorkers and working to keep people in their homes and communities."
"The data speaks for itself. When tenants have access to legal assistance, eviction rates go down," said Assemblyman Jeffrey Dinowitz. "Right to Counsel has made a huge difference in keeping people in their homes over the past several years, and I look forward to it's full implementation citywide over the next several more."
"With homelessness at record levels and ever-increasing economic inequality in New York, far too many New York tenants remain unprotected and vulnerable in eviction cases simply because they can't afford legal representation, said Assembly Member Richard N. Gottfried. "With homelessness at record levels and ever-increasing economic inequality in New York, far too many New York tenants remain unprotected and vulnerable in eviction cases simply because they can't afford legal representation. 'Right to Counsel 2.0' will help right some of that imbalance and help keep economically vulnerable New Yorkers in their homes."
"In a city where rent is sky high and the living cost continues to soar, it is important to protect the working tenants who dare to continue and create a life here. The moment we do not protect our homes and the homeless we lose our humanity. I hope Universal Access continues to do just that," said Assembly Member Alicia Hyndman.
"Access to counsel in housing court has been a lifesaver for our clients and other low-income New Yorkers facing a myriad of housing issues," said Adriene Holder, Attorney-in-Charge of the Civil Practice at The Legal Aid Society. "This latest drop in evictions means there are thousands of more families who are still in their homes. The Legal Aid Society applauds Mayor Bill de Blasio, legal services providers, organizers and advocates for working together in attaining this historic milestone. We look forward to building on the success of right to counsel and making our housing justice system more fair and accessible for all New Yorkers."
"New York City's Right to Counsel law is a game-changing initiative that is keeping more and more New York tenants in their homes each year," said Raun Rasmussen, Executive Director, Legal Services NYC, the nation's largest provider of free civil legal services. "Through the Right to Counsel initiative, our dedicated housing attorneys and advocates help tenants and their families prevent eviction and keep their apartments, eliminate illegal rent overcharges, get much-needed repairs, and connect tenants with support services they otherwise would not have access. We applaud the City's continued efforts to protect tenants across the city and will keep fighting to ensure that all New York City tenants are able to stay in their homes."
"New York Legal Assistance Group (NYLAG) is proud to partner with the NYC Human Resources Administration's Office of Civil Justice on the groundbreaking Universal Access to Counsel in Housing Court program," said Beth Goldman, President & Attorney-in-Charge of NYLAG. "The continuing sharp decline in residential marshal evictions proves what we see on the ground everyday: providing counsel to tenants facing eviction keeps families in their homes. We look forward to continuing the important work of helping New Yorkers experiencing housing insecurity preserve their homes and communities."
"Every day since the creation of the City's right to counsel for tenants in housing court, we at Brooklyn Legal Services Corporation A have witnessed the enormous impact it has had on thwarting the crushing displacement pressures faced by low-income residents," said Jessica A. Rose, Esq., Executive Director, Brooklyn Legal Services Corporation A. "The outcome of one's case has always sadly been largely dictated by whether one is represented by counsel and able to adequately assert one's rights. Universal Access has fast become an essential tool in ensuring that our city and neighborhoods are able to preserve affordable housing and retain the diversity which has always made them vibrant and special."
"Lenox Hill Neighborhood House is proud to represent thousands of tenants and to have participated in the Universal Access to Counsel Program since its inception," said Elizabeth Grossman, Esq., Legal Advocacy Director, Lenox Hill Neighborhood House. "As a result of this historic law to safeguard tenants and ensure justice, we are able to help even more of our clients to remain in safe and affordable housing. We look forward to even greater success as the program continues to expand to represent even more tenants citywide."
"The best way to preserve our communities is to protect the tenants who make them such a vibrant mosaic," said Rodrigo Sanchez-Camus, Director of Legal, Organizing, & Advocacy, NMIC Legal Services. "Universal Access allows NMIC to provide quality legal representation in housing court to families and individuals that have already saved thousands of affordable apartments for tenants. In coordination with the Office of Civil Justice, we expect to save thousands more in the coming months and years.
"It's encouraging to see exactly how big a difference the implementation of the right to counsel in housing court has made in the Bronx and across the city already," said Runa Rajagopal, Managing Director of the Civil Action Practice, The Bronx Defenders. "Our work is far from finished, and we're proud to push the expansion of the right to counsel further forward as we strive to build a system in which the housing rights of all New Yorkers are respected."
"Universal Access to Counsel has proven to be a critical tool in reducing evictions in New York City. Not only are tenants staying in their homes, but the knowledge that they will not face eviction without an attorney has enabled more tenants to assert their rights, such as to ensure they are getting needed repairs and services, and are not being charged more than the legal rents," said David Colodny, Director of Legal Services and Sr. V.P. at Catholic Migration Services.
---