---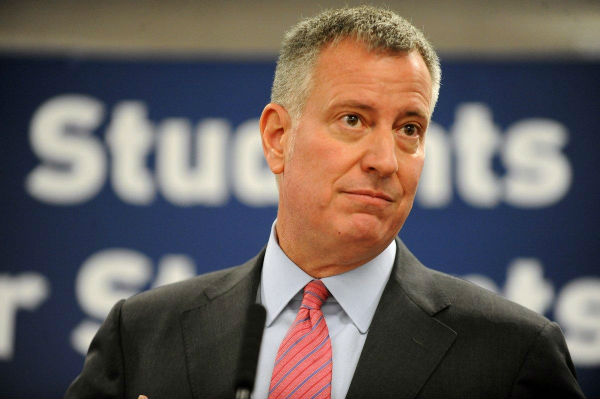 Mayor Bill de Blasio today updated New Yorkers on the City's preparedness efforts regarding COVID-19. The Department of Health and Mental Hygiene, in partnership with New York City Emergency Management, has distributed guidance to all agencies and partners. The Mayor has convened four agency-wide tabletops to discuss these preparations. This week, all city agencies that oversee congregate and community spaces are implementing enhanced cleaning guidance modeled after the Department of Education's enhanced protocols.
"With the best public health system in the world, New York City is ready and prepared to face the Coronavirus head-on," said Mayor Bill de Blasio. "We will continue to take every step necessary to keep New Yorkers safe."
Department of Health and Mental Hygiene
DOHMH instituted an early detection system for COVID-19 to lower the threshold for testing and deployed disease detectives to conduct case and contact investigations.
DOHMH is distributing thousands of palm cards with tips on handwashing and seeking care, and produced FAQs, fact sheets (in 15 languages) and educational materials for general public as well as for businesses, employers and 16,000 community partners.
DOHMH launched a $6.5 million subway, digital and multi-media campaign encouraging hygiene and seeking care when symptomatic.
DOHMH activated Incident Command System to laser focus agency resources on response.
Department of Education
DOE backpacked updated guidance from the CDC and DOHMH home to families.
DOE issued updated guidance on international travel for school trips, including canceling all DOE-sponsored international trips to the following countries with a level-2 or higher advisory alert from the CDC: China, South Korea, Italy, Iran, and Japan.
DOE, consistent with guidance from the CDC and NYSED, advised the cancellation of all study abroad programs; this includes where students are scheduled to come from other countries to stay with host families in NYC, and where DOE public school students are hosted abroad.
DOE increased deep cleanings to two times per week, disinfecting surface areas.
DOE has ensured all 1,800 schools have adequate hygiene and cleaning materials.
DOE is supplying all schools with facemasks to be used if a student exhibits symptoms and requires isolation prior to transport to a doctor and/or testing.
DOE is strongly encouraging students to take time at start of meal periods for handwashing, especially before meals; monitoring this, and will make changes as needed to assure students have the time.
COVID-19-related absences will not impact current applications to middle or high schools. The DOE is committed to easing families' concerns and will continue to share proactive updates.
New York City Health + Hospitals
H+H activated its Emergency Operations Center (EOC) and Incident Command System (ICS).
H+H has conducted drills across all 11 H+H emergency departments to assess each facility's ability to implement basic infection control measures.
H+H is conducting systemwide and faculty tabletop exercises at all 11 H+H hospitals.
H+H is distributing materials to ensure New Yorkers know that H+H facilities are open to all needing medical attention regardless of insurance status or ability to pay.
NYC Health + Hospitals / Correctional Health Services and Department of Correction
CHS has developed and implemented a clinical protocol for screening, identifying, isolating and reporting, as appropriate, patients in its Enhanced Pre-Arraignment Screening Service and in jail New Admissions Intakes. The CHS screen is regularly updated to be consistent with CDC guidelines and looks for patients with high risk travel or contact with confirmed COVID-19 cases. Further, CHS has expanded the use of the communicable disease unit to monitor patients.
DOC staff have been instructed to make immediate referrals to CHS should they observe any person in custody exhibiting COVID-19 symptoms.
New York City Emergency Management
NYC Emergency Management, in coordination with the Health Department, has conducted multiple calls with our private sector partners to address any concerns about the potential impacts of COVID-19 to their operations.
NYC Emergency Management, in coordination with the Health Department and the Mayor's Community Affairs Unit (CAU), continues to connect with community and faith-based organizations to provide guidance about protecting their congregations from the spread of COVID-19.
NYC Emergency Management is hosting several interagency planning task forces at the Emergency Operations Center (EOC) to continue to coordinate the response to COVID-19.
As the City continues to connect with our vulnerable populations, NYC Emergency Management has distributed safety tips, Frequently Asked Questions (FAQs), and fact sheets about COVID-19 to more than 1900 service providers who work closely with vulnerable populations via our Advance Warning System (AWS).
The City is also closely monitoring supply chain demands to identify and mitigate any impacts here in the City. NYC Emergency Management is working with the Department of Citywide Administrative Services (DCAS) to track agency resource requests, and both agencies are working with the Health Department, state, and federal partners to prioritize and coordinate resource requests for any personal protective equipment.
Department for the Aging
DFTA provided ongoing guidance from the CDC and DOHMH and updates to providers who work with seniors to support health and well-being of older New Yorkers.
In partnership with City Meals on Wheels, prepared 100,000 meals for seniors in the event conditions require seniors to eat at home rather than visit senior centers.
New York City Housing Authority
NYCHA has issued guidance to staff, sent an email to 120,000 email addresses and robo-calls in 4 languages to 166,000 resident phone numbers; posted on internal intranet page; and have posted COVID-19 signage in building lobbies and management offices. In addition, NCYHA sent e-mail to approximately 25,000 section 8 household and approximately 15,000 section 8 landlords.
NYCHA is holding a tabletop exercise to review different scenarios. NYCHA is also working with DOHMH to develop responses to specific concerns.
Department of Social Services and Human Resources Administration
DSS/HRA distributed educational materials on safe hygiene practices in all shelters, for all clients and employees.
DSS/HRA is increasing cleanings, disinfecting surface areas and ensuring shelters have the cleaning supplies they need.
Police Department
The NYPD has distributed DOHMH and CDC guidance on COVID-19 to all members of service.
The NYPD is increasing the frequency of precinct cleanings and extending the hours of cleaning teams.
Fire Department
FDNY implemented call screening in Emergency Medical Dispatch for potential COVID-19 patients, which includes asking 911 callers for symptoms of fever and/or cough and recent travel history. This allows for responding units to have proper protective equipment in place for treating and transporting possible COVID-19 patients.
Department of Citywide Administrative Services
DCAS sent COVID-19 updates to all tenants in city buildings and instructed them to post in their spaces.
DCAS is posting COVID-19 informational flyer around DCAS owned and managed buildings (including courts and Citywide Testing and Application Centers) as well as leased spaces for DCAS operations.
DCAS sent e-mail with COVID-19 updates to all city agency personnel officers and EEO officers to post in their respective agencies.
Taxi and Limousine Commission
TLC sent guidance to 200,000 TLC-licensed drivers and operators. TLC-licensed drivers, vehicle owners and operators are encouraged to clean their vehicles at least every 24 hours, using standard cleaning and disinfection protocol and cleaners such as Clorox, Purrell, Peroxide and multi-purpose cleaner, with special attention to disinfecting surfaces and objects that are touched often, such as door handles, armrests, and seatbelts, as appropriate.
Discriminating against passengers is unacceptable and illegal. If any rider experiences discrimination, call 311.
Department of Consumer and Worker Protection
DCWP has declared facemasks temporarily in short supply to prevent stores from overcharging New Yorkers. Stores found to be overcharging consumers will be issued a violation with a fine up to $500. DCWP encourages consumers who feel they were overcharged to file a complaint at nyc.gov/dcwp or by contacting 311. DCWP also encourages consumers to file a complaint if they feel a store tried deceive them about the quality or effectiveness of the product, availability, or price.
Mayor's Office of Immigrant Affairs
MOIA sent the COVID-19 fact sheet and two-pager to their listserv of 1,250 individuals and community partners. COVID-19 guidance is available at all IDNYC enrollment centers and shared with benefit partners. Information is available in 15 languages.
Mayor's Office for People with Disabilities
MOPD is sharing information provided from DOHMH to the MOPD email list of 100 disability advocacy organizations and over 1,000 individuals and participated in the NYCEM and DOHMH interagency briefings
Department of Small Business Services
SBS is distributing information to business owners on how to prepare for slowing sales and guidance on what to do with employees who may be sick.
For more information on COVID-19, visit the Heath Department website at nyc.gov/health.
---