---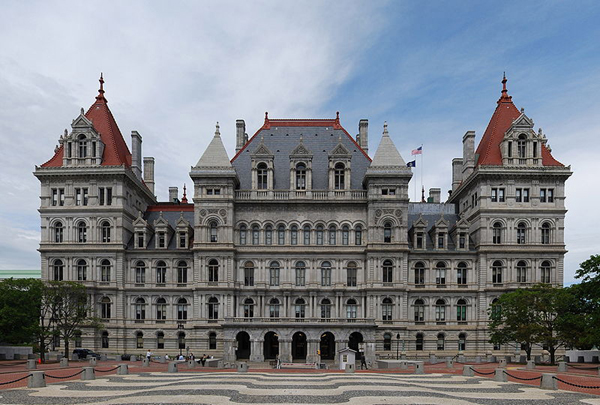 New York City Mayor Eric Adams today announced 19 members, including George J. Silver as chair, to the Mayor's Advisory Committee on the Judiciary (MACJ).
Members of the MACJ are entrusted to ensure that only candidates with the highest qualifications and from diverse backgrounds are nominated for judicial appointments to criminal and family courts, as well as interim appointments to civil court. As chair, Silver will lead the committee.
The rest of the committee represents a diverse and broad cross-section from Harlem to Hollis, Queens legal community.
"A highly-qualified, diverse judiciary is critical to creating a city that achieves the necessary balance between the twin imperatives of safety and justice," said Mayor Adams. "These new appointees to the Mayor's Advisory Committee on the Judiciary are deeply experienced, talented, and committed to advancing the goal of a more equitable justice system that looks more like New York City, and I thank them for answering the call to service."
"I am honored and humbled to have been selected to serve as the chair of the Mayor's Advisory Committee on the Judiciary," said incoming MACJ Chair George J. Silver. "This privilege represents an unparalleled opportunity to appoint judges to the bench who possess the invaluable qualities of scholarship, fairness, and integrity. Following the trailblazing example of Judge Carmen Beauchamp Ciparick, the committee will strive to make sure that the judges represent the diversity that makes this city great."
Mayor Adams is responsible for nine appointments on the MACJ. The chief judge of the New York Court of Appeals, Janet DiFiore, nominates four; the presiding justices of the Appellate Division for the First and Second Judicial Departments, Rolando T. Acosta and Hector D. LaSalle, respectively, nominate two members each; and two deans of law schools within the city on a rotating basis — this year, Brooklyn Law School Dean Michael T. Cahill and St. John's Law School Dean Michael A. Simons — each nominate one member for appointment to the committee by the mayor.
Members of the Mayor's Advisory Committee on the Judiciary
George J. Silver created and runs a mediation and arbitration company, Silverstar Mediation and Arbitration LLC. He previously served as the deputy chief administrative judge for the New York City courts, where he handled the daily operations of trial courts in the city and oversaw upwards of 7,550 judicial and non-judicial employees. In this capacity, Silver created an Alternative Dispute Resolution program that encourages presumptive mediation in all cases litigated within the city, and he developed blockbuster settlement conferences throughout the city, resulting in the reduction of backlogs through early resolution. He also handled malpractice matters and was in charge of the litigation involving the Child Victims Act cases. Prior to that, he began his 16-year judicial career as a judge in civil court, family court, and supreme court. Silver obtained his BS degree in Accounting and Management from New York University (NYU), an MBA in Finance from NYU, and a law degree from Hofstra University School of Law. (Mayoral nominee)
RoseAnn Branda is an executive partner and co-director of the Family and Matrimonial Law Department of Abrams, Fensterman, LLP. Prior to that, she was a partner of Caruso, Caruso & Branda, P.C. She previously chaired the New York State Bar Association's Committee on Attorney Professionalism and held the office of president for the Brooklyn Bar Association as well as the Bay Ridge Lawyers Association and Columbian Lawyers Association of Brooklyn. She is presently the co-chair of the Family Law Section of the Brooklyn Bar Association and serves on the New York State Bar Executive Committee for the Family Law Section as a representative of the Second District. She is a graduate of Wagner College and Brooklyn Law School. (Mayoral nominee)
Michael T. Cahill became president and Joseph Crea dean of Brooklyn Law School in July 2019, returning from Rutgers Law School, where he had been co-dean and professor of law. Before departing in 2016 to assume the Rutgers deanship, he was a member of the Brooklyn Law faculty for 13 years. He also served Brooklyn Law School as associate dean for academic affairs (from 2010 to 2013) and as vice dean (from 2013 to 2015). Cahill is also a tenured professor of Law on the faculty; his scholarship focuses primarily on criminal law, though he has also written about and taught courses in health law and policy. He received a JD, magna cum laude, and MPP degrees from the University of Michigan and his BA from Yale University. (Law school nominee)
Monica Drinane is a retired family court judge who served as the supervising judge in Bronx County Family Court. Prior to joining the bench, she was attorney-in-charge of the Juvenile Rights Division in New York City, representing children in neglect, custody, delinquency, and support cases citywide. She graduated from St. John's University, has a Master's degree in theology from Fordham University, and a JD from New York University School of Law, where she attended as a Root Tilden scholar. Drinane did clinical work with women in Bedford Hills Correctional Facility and legal services in Appalachia. Since her retirement in 2014, Drinane has served on several boards that address issues of education for young people in impoverished areas. (Mayoral nominee)
Muhammad U. Faridi is a partner in Patterson Belknap Webb & Tyler LLP's Litigation department. He is a go-to litigator on complex commercial matters involving claims relating to breaches of contract and commercial torts. In 2021, Faridi was elected to the American Law Institute. He has also served as the chair of the Executive Committee of the New York City Bar Association, as well as the chair of its Committee on Capital Punishment. Faridi received his JD from the City University of New York School of Law and his BA from John Jay College of Criminal Justice. Prior to joining Patterson Belknap, Faridi was a law clerk to the late Hon. Jack B. Weinstein, senior U.S. district judge, Eastern District of New York. (Mayoral nominee)
Keisha-Ann G. Gray is a trial lawyer and partner in the Labor Department of Proskauer Rose LLP, where she specializes in employment discrimination litigation and conducting workplace misconduct investigations. Prior to joining Proskauer, Gray served as an assistant U.S. attorney in the Eastern District of New York and was also a federal law clerk in the U.S. District Court for the District of Puerto Rico. She currently serves on the Board of the Attorney Grievance Committee for the New York Supreme Court Appellate Division, First Judicial Department; the Board of the Federal Bar Council; the Board of the Eastern District Association; and she co-chairs the Federal Bar Council's Employment Litigation Committee, as well as Proskauer's Workplace Investigations Practice Group. Gray received her law degree from NYU School of Law and her undergraduate degree from The University of Pennsylvania. (Chief Judge nominee)
Richard Gutierrez began his legal career as an attorney at The Legal Aid and has been in private practice for 36 years, concentrating in criminal defense, civil rights, and personal injury litigation. He is the chair of the New York State Bar Association's Committee on Professional Discipline and chair of the Queens County Bar Association's Committee on Professional Ethics. He was the former chair of the New York State Grievance Committee, Second Department, and was the first Hispanic president of the Queens County Bar Association in 2011. Gutierrez is a graduate of Brooklyn College of the City University of New York and Seton Hall University School of Law. (Chief Judge nominee)
L. Priscilla Hall is currently an arbitrator and mediator with Judicial Arbitration and Mediation Services and a member of the legal expert team of retired judges to the federal monitor. She had served on the bench since 1986, including nine years as an associate justice of the Appellate Division, Second Judicial Department, and one year as the administrative judge of Kings County Supreme Court, Criminal Term. When she was first appointed to the bench, she presided in criminal court. Hall graduated from Howard University, magna cum laude, Phi Beta Kappa, received a Master of Science with Honors from Columbia University School of Journalism, and graduated from Columbia Law School. (Mayoral nominee)
Everett Hopkins is the managing attorney of Hopkins Law Group, LLC. He received his undergraduate degree from the City University of New York at Hunter College and earned his law degree at the University of Buffalo. During his career, he served with distinction for eight years as general counsel and director of administration for the New York City Criminal Justice Agency. Prior to this position, he held key positions with the New York City Housing Preservation and Development and Fraud Enforcement with the Internal Revenue Service. Over the last 20 years, he has been an adjunct professor at several New York City area colleges. (Mayoral nominee)
Judy Harris Kluger became executive director of Sanctuary for Families in January 2014, after serving 25 years as a judge in New York state. Prior to joining Sanctuary, Kluger served for five years as chief of policy and planning for New York State's Unified Court System, overseeing over 300 problem-solving courts. Kluger received her undergraduate degree from NYU and her law degree from St. John's University School of Law. (Chief Judge nominee)
Martin J. LaFalce is an assistant professor of clinical legal education and director of the Criminal Defense Clinic at St. John's University School of Law. Prior to teaching at St. John's, LaFalce was a public defender at The Legal Aid Society, where he represented clients in Manhattan. Most recently, he worked as a policy attorney at Legal Aid, coordinating their criminal justice legislative agenda. He obtained his undergraduate degree from Georgetown University and his JD from Georgetown University Law Center. (Law school nominee)
William F. Mastro was elected to the New York State Supreme Court in November 1992. He was appointed to the Appellate Division, Second Department, in June of 2002 and served as a justice of that court until December 2021. During his tenure with the court, Mastro twice served periods as acting presiding justice. In May 2013, Mastro had the honor of being selected to hear and determine a case as a member of the New York State Court of Appeals. He graduated from Villanova University and New York Law School. (Presiding Justice, Appellate Division, Second Judicial Department nominee)
Christopher Morel is a litigation associate at Cravath, Swaine & Moore LLP. He primarily focuses his practice on antitrust and general commercial litigation. He graduated from Fordham University, magna cum laude, Phi Beta Kappa, and received a JD from Columbia Law School, where he was a Stone Scholar, an articles editor of the Law Review, and the president of the Latino/a Law Student Association. Following his graduation, he served as a law clerk to the Hon. Margo K. Brodie of the United States District Court for the Eastern District of New York. He also served as a law clerk to the Hon. Julio M. Fuentes of the United States Court of Appeals for the Third Circuit. (Presiding Justice, Appellate Division, First Judicial Department nominee)
Angélicque Moreno is the managing partner and a senior trial attorney at Avanzino & Moreno, P.C. Among her many professional affiliations, Moreno is a past president of the New York State Academy of Trial Lawyers and the president-elect of the Puerto Rican Bar Association. She has lectured throughout New York City on a wide range of topics, including New York state labor law and trial skills. Moreno received her undergraduate degree from SUNY at Binghamton and her law degree from Northeastern University School of Law. (Mayoral nominee)
Vianny Paulino Pichardo is a former commercial litigation shareholder of a mid-sized New York law firm and former corporate associate of a large international law firm. She is currently a member of Beazley's Cyber and Executive Risk Group, where she provides strategic advice and leadership concerning insurance coverage for technology errors and omissions, intellectual property, media, advertising, cyber, and privacy liabilities. She graduated from NYU and from Fordham University School of Law. (Presiding Justice, Appellate Division, First Judicial Department nominee)
Thomas J. Principe has been a partner at Kramer, Dillof, Livingston & Moore, representing injured parties in the specialty of personal injury and medical malpractice for 33 years. He was a former prosecutor with the Queens County District Attorney's Office, rising to the rank of deputy bureau chief of the Supreme Court Trial Bureau. Principe served in the New York Army National Guard for 33 years, retiring as a brigadier general. He is a graduate of St. John's University and St. John's University School of Law and received his MA from the University of Virginia. (Presiding Justice, Appellate Division, Second Judicial Department nominee)
Ronald E. Richter is the chief executive officer and executive director of JCCA, formerly the Jewish Child Care Association — one of New York's oldest and most respected human services organizations. Before joining JCCA, he was a family court judge in Queens County, commissioner of the New York City Administration for Children's Services, and New York City's Family Services coordinator. Richter started his career at Bedford Stuyvesant Community Legal Services and spent 13 years at The Legal Aid Society's Juvenile Rights Practice. Richter graduated from Tufts University and received a Master of Science and law degree from Boston University. He serves on the boards of ChildTrends, Chelsea Day School, and the New York State Coalition for Children's Behavioral Health. He is an adjunct professor at the Fordham University Graduate School of Social Service. (Mayoral nominee)
Julian Yap is cofounder and president of Realm — a leading audio entertainment startup. Prior to founding Realm, he served as senior counsel in the U.S. Department of Justice's Office of Legal Policy. He has also served as an advisor to the Biden-Harris transition team, clerked for the Supreme Court of Texas, and held the Public Law Fellowship at Duke University School of Law. He received his BA from Yale University, an MA from the University of Pennsylvania, and a JD/LLM from Duke Law. (Mayoral nominee)
David Zornow is of counsel at Skadden, Arps, Slate, Meagher & Flom LLP. Zornow, who founded the firm's white-collar criminal defense practice in 1989. Zornow represents both corporations and individuals in federal and state grand jury investigations and at criminal trials. He served as an assistant United States attorney in the Southern District of New York. Zornow is a graduate of Harvard College and Yale Law School, where he is a visiting lecturer in law. (Chief Judge nominee)
---