---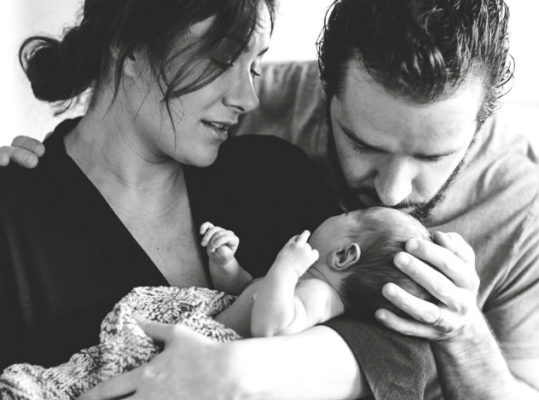 Tony-winning actress Laura Benanti and husband Patrick Brown recently welcomed their first child, daughter Ella Rose Benanti-Brown — and PEOPLE's got their exclusive family photos, taken when Ella Rose was just 6 days old!
Born in New York City at Mt. Sinai West with the Midwifery of Manhattan, the 7 lbs., 12 oz., 22 inch baby girl came on a special day for Benanti.
"I started having contractions at 4:30 a.m. on Sunday, Feb. 12, and our daughter was born at 3:20 p.m. on Tuesday, Feb. 14 (insert gritted teeth emoji)," Benanti told PEOPLE exclusively. "My dad, Sal, was born on Valentine's Day and I'm convinced she waited to share her birthday with her grandpa."
Since then, the 37-year-old soprano has been singing the tired tunes of a new mom.
"These first few weeks have been more challenging than I anticipated, and it has given me an even deeper respect for single moms and new parents who don't have family around to support them," she explained. "My family, and my husband's family have enveloped us with love, help, care and food!"
"I absolutely don't know what we would do without them. It truly takes a village, and we are so grateful for ours," Benanti added.
Want all the latest pregnancy and birth announcements, plus celebrity mom blogs? Click here to get those and more in the PEOPLE Babies newsletter.
Benanti and her businessman husband Brown married in November 2015 in a ceremony at Harlem's Riverside Church.
Benanti and her businessman husband Brown married in November 2015 in a ceremony at Harlem's Riverside Church.
They first shared the news of Benanti's pregnancy in August, in a tweeted photo that showed them each reading copies of What to Expect When You're Expecting. "Doing a little research with @impbrown," the Supergirl alum wrote. "Coming this winter… #BabyGirlBrown."
Benanti was busier than ever in her first trimester — leading the Broadway revival of She Loves Me alongside Zachary Levi and Jane Krakowski, for which she earned her fifth Tony nomination. She also released a single "I Like Musicals," with all of the proceeds going to Save the Music, which is committed to keeping music education in schools.
Then there was her headline-making Melania Trump impression on The Late Show with Stephen Colbert.
She didn't calm down much from there on — working hard on a string of concert engagements across the country, including dates during her third trimester at the D.C.'s Kennedy Center in December, and writing her first book of essays: I Stole Your Boyfriend, and Other Monster Acts on My Way to Becoming a Human Woman, out sometime next year.
In the beginning of the year, there was a surprise baby shower at Feinstein's/54 Below and a variety of chores to take part in — including setting up her newborn's nursery, which she showed off on Instagram.
While Benanti is busy raising Ella Rose right now, she won't have too much time off.
She'll unite with her own mother, Linda Benanti, for a concert at Feinstein's/54 Below in May — billed as "a musical journey through the special relationship between a mother and daughter."
No related posts found...
---