---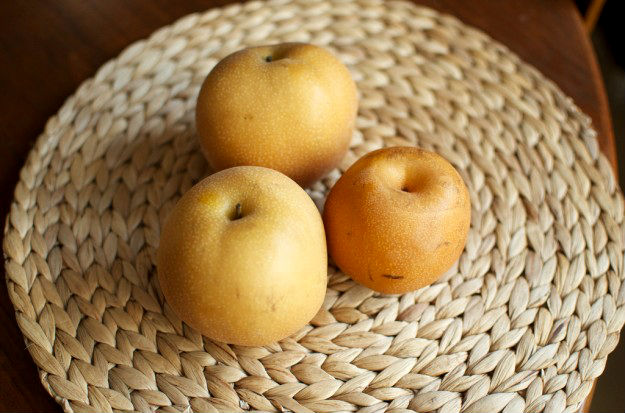 By Marcus Samuelsson
The Lobster Rolls with Pickled Asian Pears is something that is great to make all year round. In the winter, you can serve it as is, and in the hot days of the summer, you can go for something more refreshing and light. This recipe uses two great summer ingredients: lobsters and pickled Asain Pears.
Lobster Rolls with Pickled Asian Pears
Servings       4
Ingredients
For the Lobster Rolls
2

Asian pears

1 cup

Swedish 1-2-3- Vinegar

(see recipe below)

2 teaspoons

white miso

1 tablespoon

mayonnaise

1/4 cup

freshly squeezed lime juice

1/4 teaspoon

sambal oelek

, or about 6 drops Tabasco sauce

1 tablespoon

finely chopped fresh cilantro

1 1/2 – 2 cups

bite-sized chunks cooked lobster

(from two 1 1/2- to 2-pound lobsters)

2

medium tomatoes

, peeled
For the Swedish 1-2-3 Vinegar
3 cups

water

2 cups

sugar

1 cup

white wine vinegar

1

carrot

, peeled and sliced

1

onion

, sliced

5

white peppercorns

2

bay leaves

2

allspice berries
For the Herb Salad
1 tablespoon

olive oil

Juice of 1 lime

2 sprigs

fresh mint

, leaves only

2 sprigs

fresh cilantro

, leaves only

2 sprigs

fresh basil

, leaves only

1-2

garlic cloves

, thinly sliced

2 teaspoons

caviar

, preferably from California farmed sturgeon (optional)
Directions
For the Swedish 1-2-3 Vinegar
1. Combine all the ingredients in a saucepan and bring to a boil over medium heat, stirring to dissolve the sugar. Remove from the heat and let cool.
2. Pour the vinegar into a jar, seal the jar, and store in the refrigerator.
For the Lobster Rolls
1. Using a mandoline or other vegetable slicer, cut the (unpeeled) pears into paper-thin slices: starting on one side, slice each pear lengthwise down to the core, then turn it around and slice the other half. Put the slices in a small bowl, pour the vinegar over them, and set aside to marinate for 20 minutes.
2. Combine the miso, mayonnaise, lime juice, sambal oelek, and cilantro in a medium bowl. Add the lobster and tomatoes and toss to mix.
3. Lay a piece of plastic wrap about 1-inch long on a work surface. Arrange 8 pear slices in two rows down the center of the plastic wrap, overlapping them as necessary, to make a 4×6-inch rectangle. Place a line of the lobster mixture—about 2 tablespoons—across the lower third of the rectangle. Using the plastic wrap to help you, roll up the pear slices around the filling as tightly as possible into a compact roll. Place on a plate, and repeat with the remaining pear slices and filling, to make a total of 4 rolls. Cover and refrigerate. (The rolls can be prepared up to 6 hours ahead. Serve chilled, or bring to cool room temperature before serving.)
For the Herb Salad
1. Just before serving, whisk the olive oil and lime juice together in a small bowl. Stir in the herbs and garlic.
2. Using a very sharp knife, cut each roll into 2 or 3 pieces. Place on plates. Arrange the salad next to the rolls, garnish with the optional caviar, and serve.
Photo by Marisa McClellan. From Aquavit. Via source
---