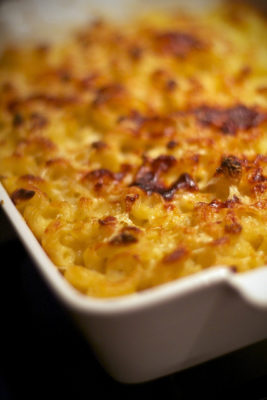 By Marcus Samuelsson
Before I left for my vacation a few weeks ago,  I was scrambling to use my CSA veggies without them going to waste while I was gone. What resulted was a pickled corn salad, pickled bean salad, bread and butter pickles and kimchi, because what else does one actually do with cabbage?
Last night as I was scrounging around the kitchen looking for something to cook for dinner, I decided comfort food was the way to go. What better way to enjoy the autumn weather than with comfort food made with summer's bounty. What resulted was this kimchi macaroni and cheese– while the recipe needs some perfecting, there is definitely a good start in this pot of cheesy, spicy, fermented goodness.
Prep Details
Servings: 4
Ingredients
For Kimchi
2-3 lbs./1 kg organic Napa or green cabbage
3 medium organic carrots, thinly sliced
1 medium (6-inch) organic daikon radish, thinly sliced
2 quarts/liters filtered water

1/2 cup sea salt or kosher salt
6-8 cloves (one bulb) garlic
1 (3-inch/13cm) ginger
1/4 cup dried red pepper powder (no-salt)
1 Tbsp fish sauce
1 Tbsp soy sauce
For Mac-n-Cheese
1 1/2 cup kimchi, chopped into one-inch pieces
2 cups elbow macaroni noodles or shells
2 tablespoons butter
2 tablespoons flour
1/2 cup milk, 2% or whole
2 scallions, chopped
1 cup sharp cheddar cheese
Salt and pepper, to taste
Smoked paprika
1 Roma tomato, diced
For the Kimchi:
Soak Vegetables: Dissolve salt into water in a one-gallon glass container. Remove outer leaves from cabbage and chop into 1-inch chunks/strips. Add cabbage, carrots, 1 scallion and radish to the brine. Cover with a plastic lid or plate and weigh down (I use a glass wine bottle filled with water) so that the contents stay under the brine. Leave for 4-6 hours (overnight is okay). Drain the veggies through a colander, reserving about a cup of the brine.
Prepare spice paste: Chop 3 of the scallions thinly. Add to a small glass or metal mixing bowl or the mixing bowl of a food processor. Roughly chop the garlic and ginger and add to the bowl. Add pepper powder, soy sauce and fish sauce. Stir and mash contents (or pulse with food processor) together until a paste forms.
Pack/Jar: Wearing a latex gloves mix the paste thoroughly into the drained vegetables and the other half of the scallions with your hands. Mix until the veggies are coated nicely with the paste. Cover with a plastic lid or plate, and weigh down so that the contents stay under the brine. Cover with a cloth and rubber band to protect from flies. Transfer contents to mason jars and store in fridge.
For the Mac-N-Cheese:
1. Bring a pot of salted water to a boil, cook pasta according to box instructions. Strain, set aside
2. In a large skillet or saucepan, melt the butter and sauté kimchi. Cook until most of the liquid has reduced, about five minutes. Add in the scallion, cooking for 1-2 minutes.
3. Reduce heat to medium-low and add flour, lightly coating the kimchi and clumping.
4. While stirring, slowly add the milk into the pan to form a roux.
5. Once this as thickened, add in the grated cheese, stirring until melted. Add salt and pepper to taste. Remove from heat, then gently fold in noodles. Serve garnished with diced tomatoes and sprinkle of smoked paprika.
Via source
Related Articles
---
VIDEO
---
"We re-imagine, recreate, and redeem cultural omissions and misrepresentations of Blackness, for the culture. ...." This post is made in partnership with British Pathé.