---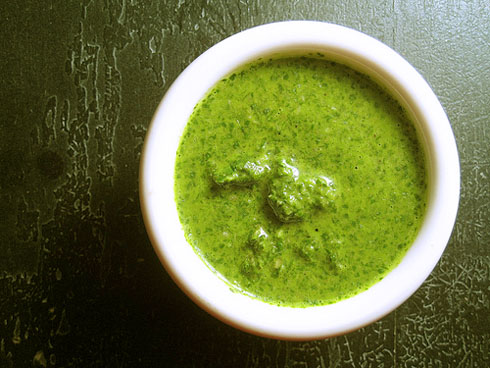 One of the beautiful things about cooking in the summertime is the ability we have as cooks to transform a dish from simple to complex by simply using a few fresh seasonal ingredients.
Fresh produce, seasonal berries, vegetables and fruits can turn a side-dish into the main star, which is precisely what we are out to prove with our recipe for citrus salsa verde!
Traditionally, salsa verde is a green salsa made with peppers, onions, garlic, and fresh herbs typically served with tacos or spooned on top of meat as a tangy and herbacious sauce. While the green salsa is filling and comforting, we decided to switch up a few ingredients and prepare a citrus salsa verde perfect for the warm months ahead.
Made with tons of lemons and orange zest, the salsa is great on top of tacos, salmon, chicken and even can be used as a dressing for a pasta salad. Additionally, the ingredients are interchangeable – feel free to experiment with different fruits and herbs to find the best flavor for your taste buds. With the acidic bite from the vinegar and the tartness of all the citrus, this salsa is a unique take on the green original.
Photo: the delicious life
Citrus Salsa Verde Recipe
| | |
| --- | --- |
| Servings: | 4 |
| Prep Time: | 20 mins |
| Total Time: | 20 mins |
Ingredients
2

large oranges

2 tablespoons

orange zest

1 tablespoon

lemon zest

2 tablespoons

fresh lemon juice

2 tablespoons

fresh grapefruit juice

2 tablespoons

extra-virgin olive oil

1

small red onion

, finely chopped

1/4-1/3 cup

fresh parsley

, chopped

1/2 teaspoon

sherry vinegar

1 teaspoon

red pepper flakes (optional)

salt and pepper

, to taste
Directions
Grate 2 tablespoons orange zest from the oranges and set aside. In a medium bowl, peel and trim the ends of the oranges with a knife and cut out the membranes (small, juicy segments from inside the orange) and chop all the segments into small, bite-size pieces. If you prefer a chunkier salsa, keep the orange segments bigger, if you prefer a more smooth texture, chop the segments as small as possible. Toss in the orange zest with the chopped segments.
In another small bowl, combine the lemon zest, lemon juice, grapefruit juice, olive oil, chopped red onion, red pepper flakes, vinegar and parsley. Toss all ingredients lightly together and season to taste with salt and pepper.
Then, add the lemon and grapefruit mixture with the orange mixture and combine everything together, tossing lightly until all ingredients are mixed well and the salsa is to your liking.
Related Articles
---