---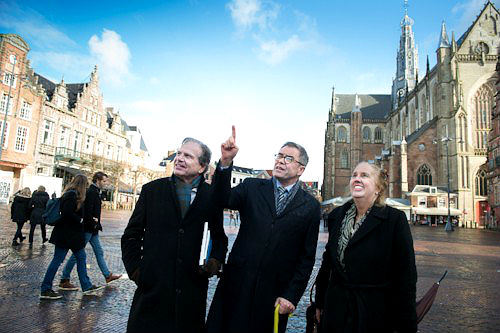 Here's a note from Manhattan Borough President Gale Brewer regarding her trip to Haarlem:
I traveled to the Netherlands in early February for two reasons: to deliver a keynote address at The Things Network's Global Developer Conference in Amsterdam and to strengthen tech, economic development, and cultural ties between Manhattan and our "sister city," the original Haarlem.
Software developers (and many manufacturers) are rapidly developing a new internet: the "Internet of Things," or "IoT," which can connect virtually
any device to the internet (and/or to each other). This includes things people use— coffee makers, washing machines, headphones, etc.—and also things
government uses: traffic lights, vehicles, schools and other buildings. There is great potential for this technology to fix real-world problems in real time.
I gave a keynote at The Things Network's Global Developer Conference, where developers were gathered to discuss the future of IoT and LoRa, one of the tech platforms that makes IoT possible. As a longtime booster of tech in government, I spoke about how IoT and LoRa can help us turn cities into "smart cities."
A good example of an IoT innovation is happening right here in New York. A local nonprofit, HeatSeek invented a device that measures room temperature and sends that measurement back to a central log. These devices can be placed in apartments that may be underheated by landlords. Since enforcement of the city's minimum heat law requires proof that apartments are too cold, these devices provide temperature info over many days, which supplies that proof. These sensors allow many more apartments to be monitored—making tenant advocates' and inspectors' work easier, and putting tenants on the road to warmer homes.
The IoT is a fascinating new way to make government more efficient—and is helping to create a new employment sector. You can read my conference remarks here.
In May, 2017, I signed a "Sister City" agreement on behalf of Manhattan with the Mayor of Haarlem, Jos Wienen, who visited New York for the signing. I was thrilled to finally visit him in his home city and continue building our relationship.
New York City's Silicon Harlem incubator and Dutch startup accelerator Haarlem Valley have been working with Dutch consular officials on a Haarlem2Harlem "Soft Landing" program to open new growth opportunities for tech and startup companies from each city. The program would provide access to support services and accelerate partnerships for startups and tech firms in both markets.
Mayor Wienen and I met with Haarlem Valley leaders and startup entrepreneurs, and I also toured and met with officials from cultural institutions like the Frans Hals Museum, Haarlem's municipal museum, and the Teylers Museum of art, natural history, and science.
From our municipalities' centuries-old heritage as major port cities to our bright future as rising hubs for tech jobs and innovation, we have much in common and much to gain from each other.
For more information about Manhattan Borough President Gale Brewer click here.
---