---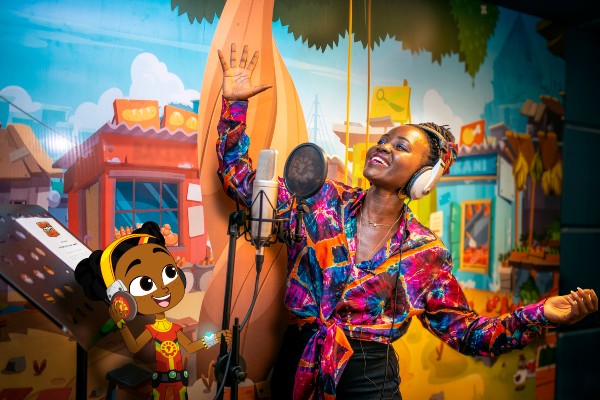 Just in time for Harlem families, YouTube Originals Kids and Families today announced the second season pick-up of "Super Sema."
The African animated series, produced by a female-led team including Oscar-winning actress Lupita Nyong'o, features a young superhero girl named Sema and follows her world-changing adventures.
Since its debut in March, "Super Sema" has become a global hit reaching millions of viewers around the world.
The 12-episode order of season two will premiere later this year. The season one finale of this free-to-stream series is available today, Friday, May 21 at 8:00 AM PT / 11 AM ET,  on Super Sema's official YouTube channel.
"Since the debut of this show earlier this year, kids around the world have fallen in love with Sema and her heroic adventures," said Nadine Zylstra, Head of Family, Learning and Impact for YouTube Originals. "The success of the show is due to both the creative guidance of its all-female led team and the relatability of the characters to our diverse, global audience of young viewers."
"We're thrilled to bring more authentic African, STEAM-powered Sema stories to millions of kids around the world," said Lucrezia Bisignani, CEO of Kukua, the Nairobi-based edutainment company behind Super Sema. "The enthusiasm and engagement from kids, parents, and educators has been nothing short of phenomenal. More 'Super Sema' episodes, and accompanying STEAM activities, means we can help keep kids 'technovating' and dreaming of becoming whatever they want to be."
In the season one finale, "The Dunia Dash," Sema's journey continues with no roads and no rules! Sema and MB are convinced they're going to win Dunia's annual off-roading race with their high-tech van until they discover they're competing against the evil AI robot Tobor, who is driving his fancy Predictorocket and is not afraid to play dirty.
Fueled by STEAM (Science, Technology, Engineering, Art, and Math), and set in an African-futuristic world, Sema, along with her brother MB, uses her "technovating" powers to save her village from the villainous Tobor and his army of mischievous Bongalala robots.
A heartless artificially intelligent ruler, Tobor meets his match in Sema, who knows that with determination, creativity, and a helping hand from the amazing worlds of science and technology, anything is possible. "Super Sema" was written by four-time BAFTA winner Claudia Lloyd ("Charlie & Lola," "Mr. Bean," "Tinga Tinga Tales") and directed by Lynne Southerland, the first female African-American director for Disney ("Mulan II").
Oscar-winning actress and author Lupita Nyong'o is Executive Producer and the voice of Mama Dunia (the spirit of Sema's deceased mother).
"Super Sema" is created and produced by Kukua. Overseeing the project for YouTube is Zylstra, along with Daniel Haack on the YouTube Originals kids development team.
"Super Sema" joins a growing roster of YouTube Originals focused on kids and family, including the award-winning "Lockdown," and recent hits such as "Pinkfong Wonderstar," "Kid Correspondent," "Sherwood," "We Are Savvy,""Hyperlinked," "Fruit Ninja Frenzy Force, "Kings of Atlantis" and DanTDM "Creates A Big Scene." Shows on the YouTube Originals for Kids & Family channel can be found here.  
YouTube Originals are award-winning, creative and engaging scripted and unscripted series and films across music, personalities and learning for fans all over the world. Spotlighting both YouTube creators alongside Hollywood's biggest stars, YouTube Originals provide an experience that only YouTube can offer. By tapping into the platform's growing global community, fan engagement product capabilities, and innovative content mixed with pioneering live-streamed specials, there is truly something for everybody. Fans experience YouTube Original content through ad-supported YouTube as well as YouTube Premium, a subscription service that offers access to YouTube Original series and movies, a streaming music platform, and an uninterrupted, ad-free experience across all of YouTube. YouTube Originals are available in nearly 80 countries worldwide.
Founded by Lucrezia Bisignani in 2015, Kukua is a Nairobi-based children's edutainment startup with an award-winning female team working at the intersection of technology, entertainment and education. Its first franchise, Super Sema, was introduced to children in Africa through literacy apps, available on both iOS and Android. In 2019 Kukua launched Sema's Lab, the first African kids' DIY and science experiment series. The Super Sema animated series is the franchise's most exciting development to date and will be accompanied by real science and DIY experiments that children can do at home.
Photo credit: Kukua.
---