---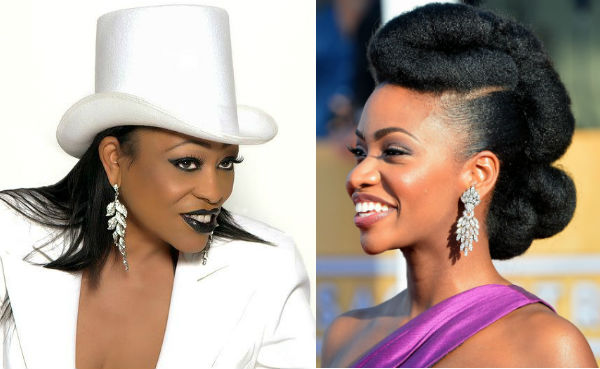 Miki Howard is a Harlem Fave, it's great to hear that TV ONE announced today Love Under New Management: The Miki Howard Story  will premiere on Sunday, June 12 at 7 p.m. ET (encore presentation at 9 p.m. ET). Starring Teyonah Parris (Chi-Raq, Survivor's Remorse) in the title role and featuring a special cameo appearance from Grammy Award-nominated R&B songstress Miki Howard herself, this is the network's first-ever bio-pic inspired by TV One's signature series Unsung. 
As the crown jewel of TV One's Black Music Month celebration, Love Under New Management: The Miki Howard Story  features a star-studded ensemble cast opposite Parris, including Darius McCrary (The Leftovers, Family Matters) as Gerald Levert; Vanessa Bell Calloway (Shameless, To Hell and Back) as Miki's mother Josephine Howard; Gary Dourdan (CSI, Being Mary Jane) as Augie Johnson;  LisaRaye McCoy (Single Ladies, All of Us) as Sylvia Rhone; and Amari Cheatom (Django Unchained, Night Catches Us) as Eddie Phelps.
"Black Music Month is the perfect time to share Miki Howard's inspiring and courageous journey of resilience with TV One's audience, said D'Angela Proctor, TV One's SVP, Original Programming & Production. "We are proud to have such an incredibly talented cast involved in Love Under New Management: The Miki Howard Story to help us represent with our first feature film from our award-winning Unsung series."
Before topping Billboard's R&B charts, Miki Howard was a homeless teenager estranged from her gospel singer mother and desperate for love, attention and success. Love Under New Management: The Miki Howard Story  candidly explores the complicated history of Howard's romantic relationship with R&B singer Gerald Levert, the tumultuous relationship with her mother, and her battles to overcome spousal abuse and drug addiction.
Delivering a riveting performance, Parris found inspiration in playing the resilient R&B songstress.  "I really wanted to be a part of this story because you watch someone go through so much," she stated. "Literally hit rock bottom not just once, a few times — but pick themselves up and say 'that moment does not define who I am now and it won't define who I am in the future.'"
Howard is excited to have her story told as an original movie to encourage dialogue about important topics affecting women of color.  "We need to have a conversation about many of the things that happened to me as a young woman coming up in show business and being an African-American woman," she shared. "I don't think we talk about enough things that are prevalent in our community, such as spousal abuse and trying to live up to expectations that are not our own."
Love Under New Management: The Miki Howard Story is produced by Eric Tomosunas and Carl Craig for Swirl Films. Christine Swanson serves as Director and the screenplay was written by Christine Swanson and Rhonda F. Baraka.  For TV One, Jubba Seyyid is Executive in Charge of Production and Sr. Director of Programming; Donyell McCullough is Senior Director of Talent & Casting; Robyn Greene-Arrington is VP of Original Programming; and D'Angela Proctor is Head of Original Programming. Love Under New Management: The Miki Howard Story  was filmed on location in Savannah, Georgia.
For more information at www.tvone.tv.
Related Articles
---