---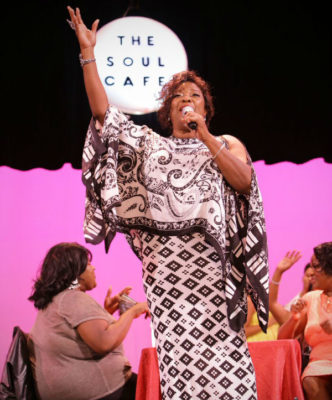 TV One presents the film adaptation of Director/Producer Donald B. Welch's popular inspirational stage play, The Lost Souls Café, on Easter Sunday, April 16, 2017 at 6 p.m. ET. Actors Loretta Devine (The Carmichael Show), Christian Keyes (Saints & Sinners), Kiki Haynes (For Better or Worse) and Ernest L. Thomas (What's Happening!!) star in the musical drama.
In the film, former '70s songstress Geneva Branch (Devine) is the proprietor of a restaurant lounge specializing in live soul music for the upscale, affluent crowd. When Branch learns that her nephew Taylor's (Keyes) gambling problem has put the restaurant in jeopardy, she is nearly undone. Determined to make things right, Taylor tries to find a way to save the business.
"This particular character of Geneva is attractive and desirable and doesn't have to be a size 2 to be considered sexy," said Welch. "Loretta knows that when I write something with her in mind it is going to be fun and challenging and something that she's never played before. I see Loretta as a chameleon and there is not a role that she can't play."
Welch said he was inspired to write about entrepreneurship after watching so many entertainment industry colleagues   succeed financially for a period of time, but later end up broke as a result of poor investment planning. He was also concerned about the lack of support for soul music in today's society. The Lost Souls Café is about a savvy woman who decides to capitalize on the fame of her music days by owning a restaurant where she also showcases music that should be kept alive for future enjoyment. The production has toured the country, generating acclaim from critics and fans alike. In Los Angeles the legendary Stevie Wonder was so moved that he took to the stage for an impromptu musical performance, to the surprise of the audience and cast.
The ensemble cast includes Todd Anthony (Stock Option), Crystal P. Bazemore (Diary Of A Mad Black Woman) and Malika Blessing (The Perfect Man). Additionally, the film features a special appearance by soul crooner MAJOR to perform his hit single, "This Is Why I Love You."
For more information on TV One's The Lost Souls Café, visit the network's YouTube Channel and website at www.tvone.tv.
The Lost Souls Café is produced for TV One in partnership with Chuck West for Octet Group. It is directed by Donald Welch. For TV One, Robyn Greene Arrington is vice president of original programming and production, and D'Angela Proctor is head of original programming and production.
TV One, www.radio-one.coms
---