---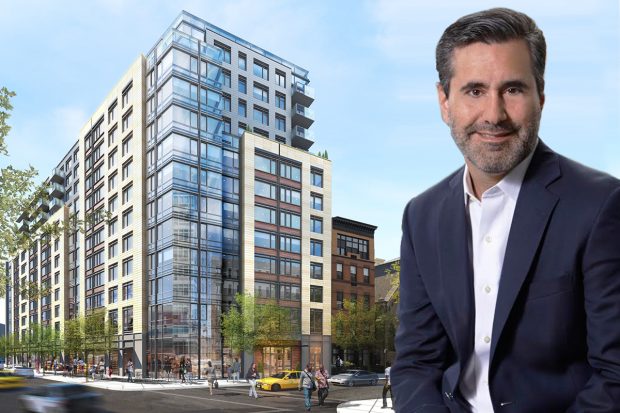 The Real Deal reports that shortly after buying a distressed Harlem development site at an auction late last year, RWN Real Estate Partners is selling it to Happy Living Development, one of the competing bidders.
The site at 300 West 122nd Street — where developer Hans Futterman spent years trying to build a 12-story, 127-unit condominium – fell into the hands of its lender in November when Ari Shalam's RWN won with a winning bid of $48.6 million. That same month, RWN secured a combined $100 million in acquisition and construction financing from JPMorgan Chase, records show.
Soon later, RWN began to transition its ownership to Happy Living, a Crown Heights-based developer that was the sole losing bidder at the bankruptcy auction. In January, Happy Living entered contract to buy the site for an undisclosed price, according to memorandum of contract.
But sources said the deal, which does not close until Dec. 1, is priced at just shy of $70 million — roughly $20 million above the auction price. Although the contract was filed in January, property records show it was not recorded until April 9.
In recent months, RWN has filed the few permit filings on the site, recently for a property rising 13 stories and holding 169 apartments. It was not immediate clear how much Happy Living's plans will differ from Futterman's, which had received city approval.
Sources said, however, that RWN will have no role in the development of the property.
Futterman assembled the site for $25.8 million between 2011 and 2015, but he ran into trouble when he defaulted on the RWN loan in June 2016. Five months later, his development firm RGS Holdings filed for Chapter 11 bankruptcy protection.
He made a last-ditch effort to try to recapitalize the project but came up short. In August 2017, U.S. Bankruptcy Court for the Southern District of New York dropped his bankruptcy plan in favor of one spearheaded by RWN. That bankruptcy case is ongoing.
Rachel Medalie, who runs a division of Happy Living and is also a broker at Douglas Elliman, said Harlem is "an area we have grown to love after successfully developing and selling out of several projects here over the past few years." She declined to comment further.
Happy Living is also currently developing a 25-unit Prospect Heights condo building, which is replacing a one-story Key Food store.
Representatives for RWN and RGS declined to comment.
---