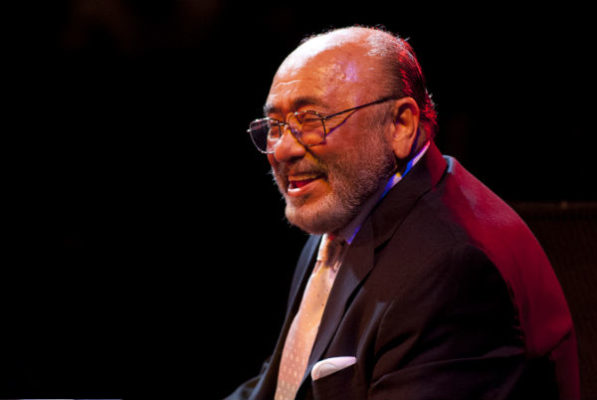 On Friday, March 3, 2017, Jazz at Lincoln Center celebrates the 80th birthday of Harlem fave Eddie Palmieri, NEA Jazz Master and nine-time GRAMMY Award winner. One of the finest pianists of the past 50 years, Palmieri is a bandleader, arranger and composer known for skillfully fusing complex jazz harmonies with rhythms of his Puerto Rican heritage and of various Afro-Latin and Afro-Caribbean fusions. A born and bred New Yorker – his parents moved to New York from Puerto Rico and settled in the South Bronx- Palmieri (and his brother, a distinguished keyboardist, composer, and bandleader of Afro-Caribbean music in his own right) developed two distinct musical flavors that formed his future career: American jazz and Cuban dance music.
Palmieri's unique style led to his incredible success. When he founded his band La Perfecta in the 1960s, he replaced the trumpets of traditional Caribbean salsa sounds with a funky two-trombone combo, creating one of La Perfecta's signature sounds. His salsa anthem, Azúcar, includes a solo that has him performing a rhythmic tumbao with one hand while improvising a melody with the other. Azúcar became a best-selling record and its popularity drove multiracial crowds to the Palladium club – the song is representative of Palmieri's ability to bring the sounds of Cuba and Puerto Rico to the masses.
Palmieri's music is the culmination of his global influences and his performances are some of the most energetic in the history of Jazz at Lincoln Center. His musical career spans more that 50 years as a bandleader of salsa and Latin jazz orchestras. He has won nine GRAMMY Awards and his discography includes 37 titles. In addition to his award-winning music, he has fostered the next generation of talent, many who will join him on stage at Jazz at Lincoln Center, March 3-4 – the concerts will be a mini reunion from the Palmieri school, including long-time collaborators Jimmy Bosch, authentic sonero Hermán Olivera on vocals, Charlie Sepulveda, Louis Fouche of the Stephen Colbert Show, Joseph Fiedler, Doug Beavers, and Herman Olivera from Orlando.
Now residing in Hackensack, New Jersey, Mr. Palmieri is preparing for his appearance in Rose Theater at Jazz at Lincoln Center, his first North America performances of 2017. I invite you to speak with the renowned Eddie Palmieri about why his upcoming performances are so special to him, what celebrating his 80th birthday with his fans means to him, and what legacy he wants to leave with his students and the Latin Jazz community at large.
For those who do not reside in New York, the Saturday, March 4th 2017, concert can be viewed live online at 8pm at www.jazz.org/live.
Jazz at Lincoln Center, Frederick P. Rose Hall, Time Warner Center, 5th Floor
Offices / 3 Columbus Circle, 12th Floor, New York, NY 10019
Related Articles
---
VIDEO
---