---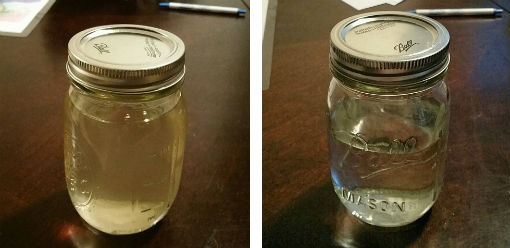 By Mark Levine
On the eve of a record-setting snowstorm, residents across Upper Manhattan experienced brown water flowing through their taps. This was due to maintenance performed by the New York City Department of Environmental Protection (DEP) at the Port Authority Bus Terminal in Washington Heights, which impacted homes north of 155th Street at a time when people were preparing for a significant winter storm.
As you know by now, DEP has flushed the water system and removed the brown sediment that caused discolored tap water. They advise, as they have all along, that the water is safe. But as you can see from the above photos taken from my apartment in Washington Heights, no one wanted to drink or bathe in the water shown in the jar on the left–including myself. Thankfully, as you can tell from the photo on the right, tap water color has returned to normal.
This situation caused an undeniable hardship for many residents who found themselves scouring depleted store shelves in search of fresh water. The shock of brown water coming out of the tap raised understandable alarms with the backdrop of the tragic and shameful events in Flint, Michigan weighing on people's minds.
What is also undeniable is that New York City has one of the safest water supply systems of any big city in the country. Our city's stringent testing protocols are known for their . And anyone who is concerned about the safety of their tap water can request a free lead testing kit.
My office will continue to monitor this situation closely and update you on any new developments. If you notice any issues with your tap water, please don't hesitate to report it to 311 or contact my office directly at 212-928-6814.
Council Member Mark Levine, 500 West 141st Street, New York, NY 10031
Related Articles
---