---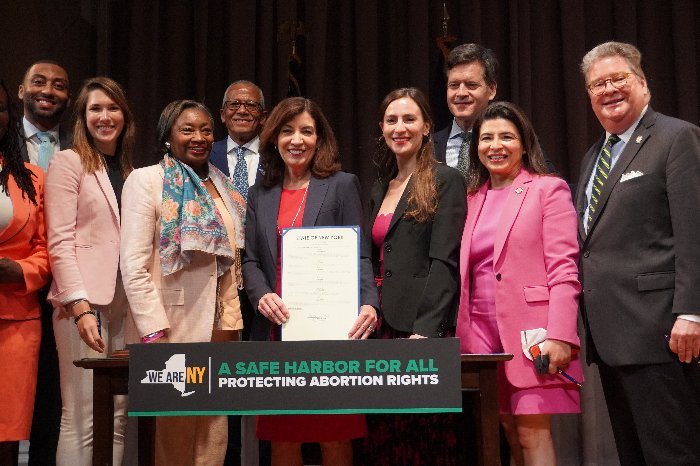 Today, Governor Kathy Hochul signed a nation-leading legislative package to immediately protect the rights of women and medical providers.
They want to protect rights in anticipation of a final decision by the Supreme Court that may ultimately overturn Roe V. Wade and undo 50 years of legal precedent protecting access to reproductive healthcare across America. Among the new laws signed today is legislation by Senator Anna M. Kaplan (D-North Hills) and Assemblymember Linda B. Rosenthal (D/WF-Manhattan), S.9079B/A.9687B, that will protect doctors from professional misconduct charges just for providing reproductive health services to patients who reside in states where such services are illegal. The full package of new laws will protect the rights of individuals seeking abortion care or gender-affirming care in New York State, expand eligibility for the Address Confidentiality Program to protect New Yorkers who fear for their safety after seeking reproductive healthcare, and direct the Commissioner of Health to study the impact of limited services pregnancy centers.
"Reproductive rights are human rights, and today we are signing landmark legislation to further protect them and all who wish to access them in New York State. The women of New York will never be subjected to government-mandated pregnancies. Not here. Not now. Not ever," Governor Kathy Hochul said. "Today, we are taking action to protect our service providers from the retaliatory actions of anti-abortion states and ensure that New York will always be a safe harbor for those seeking reproductive healthcare. New York has always been a beacon for those yearning to be free. And I want the world to hear — loud and clear — that will not change."
Senator Anna M. Kaplan said "With the fate of Roe hanging in the balance, red states across the country are salivating at the opportunity to restrict women's access to reproductive healthcare, with many declaring war on doctors who provide reproductive health services. Here in New York, we're standing up for the rights of women to access reproductive healthcare, and we're standing up for the rights of doctors to provide the services women rely on – no matter what happens at the Supreme Court. My bill will protect doctors from frivolous attacks by shameless anti-choice laws in red states, and it will ensure that women subjected to draconian restrictions on their bodies can find safe haven in New York and access health services here without endangering the medical professionals treating them. I'm proud to be the sponsor of this legislation along with my partner Assemblymember Linda Rosenthal, and I'm grateful for the leadership of Governor Kathy Hochul in ensuring that reproductive rights in New York are protected no matter what."
Legislation by Senator Kaplan & Assemblymember Rosenthal, S.9079B/A.9687B will:
Prohibit Medical Misconduct Charges for Performing Reproductive Healthcare. S.9079B will prohibit professional misconduct charges against licensed medical professionals for providing legal abortion and reproductive health services to patients who reside in states where such services are illegal.
Other bills signed into law today as part of the comprehensive effort to protect reproductive rights in New York include:
Photo credit: L-R: Senator Jamaal Bailey, Senator Michelle Hinchey, Majority Leader Andrea Stewart-Cousins, Senator Robert Jackson, Governor Kathy Hochul, Senator Alessandra Biaggi, Senator Brad Hoylman, Senator Anna M. Kaplan, Senator Pete Harckham. Governor Kathy Hochul holds up newly signed laws protecting reproductive healthcare access at signing event in Manhattan. 
---