---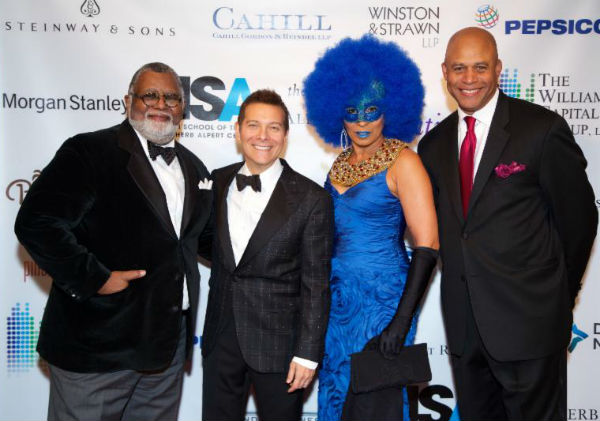 The HSA Masquerade Ball and After Party has become one of the hottest tickets in town, and one of the most anticipated events of the Fall season.
The Ball, returns to The Plaza Hotel New York on Monday, October 22nd, and will be hosted by Fox 5 morning show host, Lori Stokes. This annual event attracts a diverse group of patrons, among them celebrities, socialites, politicians and press in support of arts education and more specifically, to champion and ensure the continuation of the Harlem School of the Arts at the Herb Alpert Center for the Arts, and the work it has been doing for more than 50-years.
This year, as in the past, a handful of individuals who represent excellence in the arts and education communities will be celebrated and awarded for their outstanding contributions. These honorees include: actor Liev Schreiber, star of the hit Showtime series, Ray Donovan. A native of San Francisco, Schreiber grew up in New York City and attended Brooklyn Tech High School before going off to train at London's Royal Academy of Arts and Yale School of Drama, where he received his degree. He will be the recipient of the Visionary Artist Award.
The Visionary Lineage Award will be given to both Amsale Aberra, famed fashion designer who passed away in April, and to her daughter singer/songwriter, Rachel Brown. Amsale's husband, Neil Brown will accept the posthumous award on her behalf and her daughter will be performing at the event.
Outstanding young actor Caleb McLaughlin, an alumnus of the Harlem School of the Arts, and one of the breakout stars of the Netflix series, Stranger Things, will be the recipient of this year's Alumni Award. Caleb will next be seen in director Steven Soderbergh's film, High Flying Bird opposite another former student of HSA, Zazie Beetz who wowed audiences this summer as Domino in Deadpool 2.
Two exceptional educators will receive the Distinguished Teacher Award. Rashid Silvera, a Harvard Graduate with a master's in education, has been a devoted teacher of social studies at Scarsdale High and recently retired from the profession. He was also a groundbreaking model who made history in the 1980's, becoming one of only four African Americans to be featured on the cover of GQ magazine. Tsyala Khudad-Zade, known to her students as Miss Delilah, came to the U.S. as an immigrant, from the former Russian state of Georgia, almost 40 years ago. She was hired as a music teacher at HSA by Betty Allen, the legendary mezzo-soprano, who followed the organization's founder Dorothy Maynor, as President. Miss Delilah is a beloved teacher and an esteemed member of the HSA music department. These two extraordinary educators are role models, not only to the students they have taught, but to the teaching profession as a whole. They teach because they love inspiring their students and because they are inspired by the children they teach.
A newly added component to the 2018 Masquerade Ball and After Party is the Teen Reception, to be hosted by actor/comedian Chris Rock and Malaak Compton Rock's daughter, Zahra Savannah Rock and actor and honoree, Caleb McLaughlin.
Last year's event raised a record-breaking 1.3 million dollars, essential resources that allow HSA to continue providing high-quality arts education and world-class training in an environment that is empowering, stimulates creativity, and builds self-confidence. Most of the approximately 3,000 young people that the organization reaches annually come from the greater New York Metro area, as well as, Westchester and the tri-state. Many of these young creatives come from economically depressed backgrounds, and providing scholarship support is a vital component of the organization's mission. In addition to raising critical funds to help sustain the organization and its programs, the Masquerade Ball and After Party serves as an important stage to showcase some of HSA's most talented and creative young students, and the world-class training that the organization and its impressive staff provide.
For more information on purchasing tickets and tables for the 2018 Masquerade Ball and After Party at The Plaza Hotel New York on Monday, October 22nd, visit https://hsanyc.org/fall2018benefit/
To learn more about the Harlem School of the Arts, please visit www.HSAnyc.org.
---