---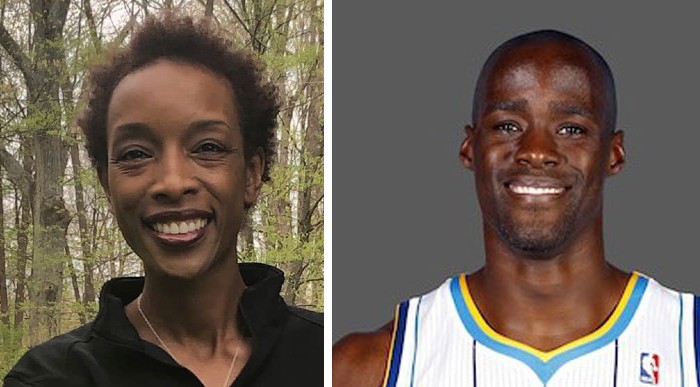 The Wendy Hilliard Gymnastics Foundation (WHGF) will celebrate its 25th Anniversary Celebration – Flipping Forward on Wednesday, April 13th, 2022.
WHGF will honor former gymnastic All-American Jené Elzie and former NBA and University of Connecticut great Emeka Okafor.
"Jené and Emeka both demonstrate the power the sport and gymnastics has in transforming lives," said Wendy Hilliard, CEO of WHGF. "Jené as a groundbreaking black gymnast at Stanford and now a powerhouse in the world of sport. She is an incredible role model for the youth that we serve. Emeka as a champion professional athlete, was instrumental in supporting WHGF Scholarship Athlete, Alexis Page when she was a USA National Team Member. He has continued to be a great support of the WHGF."
Currently, a nationally recognized sports and entertainment executive, Elzie will receive the Spirit of Sport Award. Okafor is a longtime supporter of WHGF and will be honored with the Champions Award.
The event will take place from 6-8 p.m. at One Vanderbilt Avenue and is being hosted by Greenberg Traurig and New York City Co-Chairman Ed Wallace.
The WHGF 25th Anniversary Benefit Co-Chairpersons are Sidewalks Lab Chairman and CEO Dan Doctoroff and Nicholas & Lence Communications CEO Cristyne Nicholas.
Gymnastics Hall of Famer Wendy Hilliard co-founded WHGF, which started in Harlem in 1996 and in 2016 expanded to her hometown in Detroit.
Since its inception, WHGF has provided FREE and low-cost gymnastics to underserved communities, serving nearly 25,000 urban youth to date.
Elzie was an All-American and co-captain as a collegiate gymnast at the University of Stanford (1992-95).
She has excelled in her career after gymnastics as an executive in sports & entertainment.
Much of Ezie's career has revolved around working in international roles with of the most recognized global brands in the industry including the NBA, NBC Universal, and Fox Sports.
Elzie currently is the Chief Growth Officer for Athletes First Partners, a New York-based sports marketing agency.
During the 2004 season, Okafor was an All-American and Big East Player of the Year leading the Huskies to a national championship. Okafor was named the NCAA tournament's Most Outstanding Player.
He was the second-overall pick in the 2004 NBA draft, selected by the Charlotte Bobcats. Okafor was named Rookie of the Year and later went on to play for New Orleans and Washington in the NBA.
Okafor has been a long-time WHGF friend and supporter when he significantly assisted WHGF Coach Alexis Page when she was a member of the National Rhythmic gymnastics team.
Included in the celebration will be championship athletes from many sports and current and former WHGF gymnasts. The 25th Anniversary Benefit also will be live-streamed for online guests.
Wendy Hilliard and WHGF
Born and raised in Detroit, Michigan, Wendy started gymnastics at age 12. She trained through the Detroit Recreation Department with coaches from the former Soviet Union.
She was the first Black to represent the U.S. in international competition in rhythmic gymnastics and competed in three World Championships.
In 2008 she was inducted into the USA Gymnastics Hall of Fame. Following her competitive and award-winning experience as a world-class athlete and coach, Wendy recognized the lack of gymnastic opportunities among urban youth, which inspired her to launch the Wendy Hilliard Gymnastics Foundation in 1996 in Harlem, New York, and expanded to Detroit in 2016.
Today, the Foundation serves urban youth between the ages of 3 to 17, helping to improve their physical and mental health.
At WHGF, young gymnasts learn about time management, responsibility, teamwork, leadership, and sustainable health habits.
Throughout the years, WHGF has developed elite athletes who have gone onto the global stage, most recently current JR TnT National Team Member, Bailey "BJ" Mensah, son of Wendy.
Related: Listen to Wendy Hilliard talk Harlem gymnastics with Harlem World Magazine.
Last year BJ was the top American tumbler in his age group at the FIG Trampoline Gymnastics World Age Group Championships in Baku, Azerbaijan.
Among WHGF's outstanding alumni include current WHGF head coach Alexis Page who was on the U.S. Rhythmic Gymnast National Team. Alexis Page joined the WHGF in 2003, and by 2012, she started teaching to inspire the young gymnasts to chase after their dreams, as she did.
In addition, Niahlah Hope trained at WHGF from 2002 to 2010 and is now a professional Hollywood stunt double, while Olivia Boisson, trained on the WHGF rhythmic gymnast team and is now a professional dancer at New York City Ballet.
To purchase tickets and/or support please click on 25th Anniversary Celebration – Flipping Forward. For additional information please visit, https://www.wendyhilliard.org/.
Visit Wendy Hilliard Gymnastics Foundation on Facebook, Instagram, Twitter, and YouTube.
Photo credit: Courtesy of WHGF.
---