---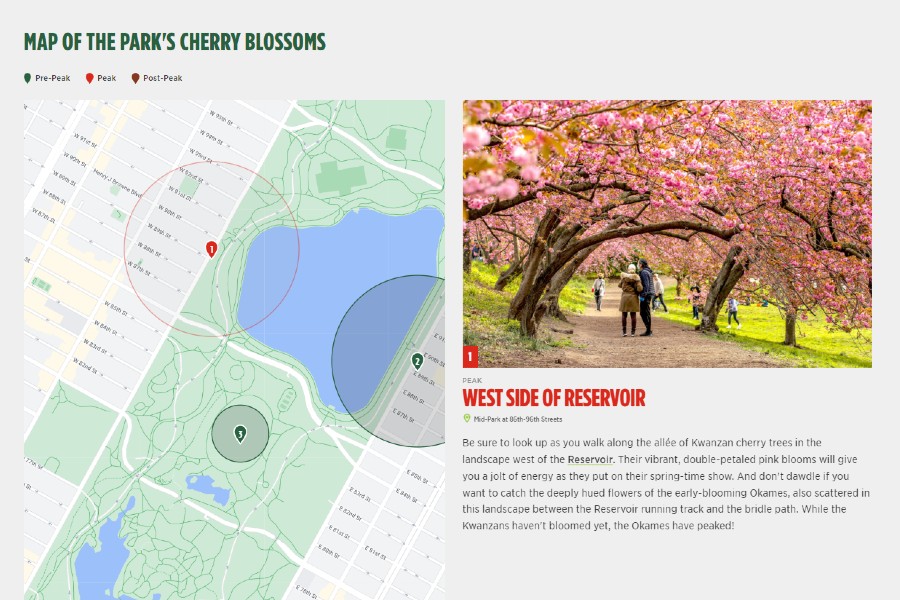 The Central Park Conservancy – the non-profit organization that raises the funds, manages the capital work and oversees every aspect of the daily care of Central Park.
The Central Park Conservancy has launched a new, interactive Cherry Blossom Tracker Map to help you track where the cherry blossoms will peak in the Park.  
Ranging from deep magenta to pale pink to crisp white, Central Park's cherry trees are a must-see in spring.
Their blossoms are beautiful, but these flowers are fleeting—and with this year's warm winter, they're blooming much earlier than usual. 
The Conservancy's expert arborists take daily care of more than 170 species of trees and will provide real-time information you can't receive anywhere else on where the latest colors are peaking. 
In this map, you'll learn:
· Where to go, based on six key locations, whether it's east or west of the Reservoir, overlooking Cherry Hill, or just south of the Great Lawn.
· When to go, based upon our color-coded system outlining what areas are pre-peak, peak and post-peak.
· What to see, from the graceful weeping boughs of the Higan to the delicate white blooms of the Yoshino.
· How to support the Park, including details on what the public can do to help the Conservancy keep the trees vibrant year-round.
View the Cherry Blossom Tracker Map here. 
---