---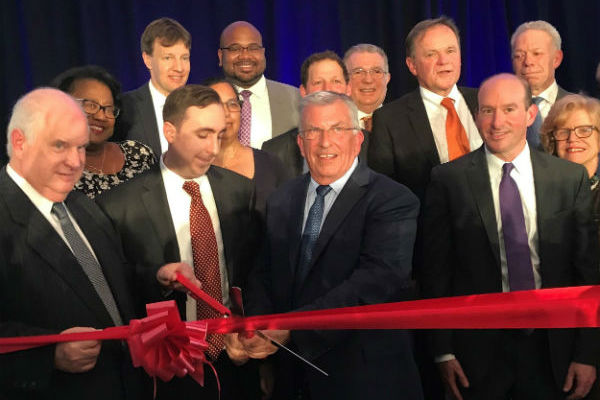 Harlem is known for its firsts, from the Patricia Era Bath, the first woman member of the Jules Stein Eye Institute to Samuel Jesse Battle the NYPD's first black lieutenant to Shirley Chisholm the first black woman elected to Congress and many, many more firsts.
Yesterday, City officials and stakeholders from health institutions came together to celebrate the opening of the New York Proton Center (NYPC) in Harlem, NYC's first proton therapy facility. Some of those included were New York City Economic Development Corporation President and CEO James Patchett, Manhattan Deputy Borough President Matthew Washington, Council Member Diana Ayala, New York Proton Center CEO Allan Freeman, and officials with several premier health care institutions. Operated by a consortium of three New York City-based health care institutions, Memorial Sloan Kettering Cancer Center, Montefiore Health System and Mount Sinai Health System, the 140,000-square-foot facility will be a beacon of top-quality cancer care nationwide.
"The opening of the New York Proton Center cements New York City as a leader in cancer treatment across the country," said NYCEDC President and CEO James Patchett. "New York's hospitals are home to some of the best doctors and researchers in the world. Through this Center, we are creating access to cutting-edge technology so they can continue leading the war on cancer and easing access to care for New Yorkers in need. We thank our healthcare institution partners, local elected officials and our community stakeholders for unwavering support and commitment."
"The New York Proton Center is an example of the good that can happen when companies work together," said Manhattan Borough President Gale A. Brewer. "Congratulations to all for the work done to make this center a reality."
"The New York Proton Center is the first of its kind in New York State and will offer cutting-edge treatment to both adults and children battling cancer. Its presence in East Harlem will render the neighborhood home to advanced, innovative cancer treatment – all while contributing to the transformation and revitalization of East 125th Street," said Council Member Diana Ayala. "I am incredibly proud to welcome this facility to the district and I thank EDC; Memorial Sloan Kettering, Montefiore, and Mount Sinai Heath Systems; as well as my predecessor, former Speaker Melissa Mark-Viverito, for bringing this project to fruition."
NYPC is a key component of the City's East 125th Street Development project, which will bring much-needed affordable housing to East Harlem, along with good jobs, commercial and retail space, and medical innovation. The NYPC will provide advanced cancer treatment using targeted radiation and beam therapy that is especially effective on head and neck tumors, breast cancer, and eye cancers among others, and is expected to treat 1,400 patients a year. The center will consist of four treatment rooms and a research room.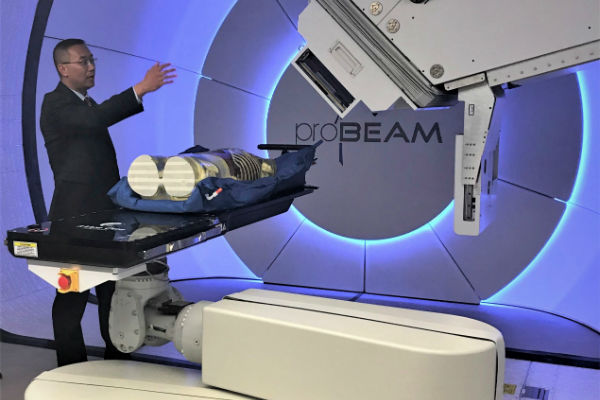 NYPC is equipped with the most effective, advanced cancer treatment technology and medical experts, including:
Second-generation proton therapy with beam scanning that allows optimal treatment for complex tumors
Volumetric imaging, which helps physicians identify and target cancers to millimeter accuracy
More than 20 radiation oncologists from nationally regarded health systems that will treat patients with a wide variety of conditions, including brain and spine tumors, lung and other thoracic cancers, gastrointestinal cancers, sarcomas, gynecologic cancers, prostate cancer, lymphomas and recurrence cancers. The center will also be the site of treatment for the vast majority of children in the New York metro region with solid tumors
"Proton therapy has proven highly successful in treating a wide variety of cancers and has increasingly become an integral tool in reducing side effects and preserving quality of life," said Dr. Charles Simone, New York Proton Center's Chief Medical Officer. "Patients throughout the tri-state area and beyond now have access to the most advanced radiation treatment currently available."
"With its unique consortium model of clinical partners, this proton facility is well-positioned for success," said Allan Freeman, Chief Executive Officer of New York Proton Center. "We intend to deliver an unparalleled patient experience leveraging the most advanced proton technology available anywhere in the world." "Proton Therapy Centers are among the most complicated design and construction projects and it has been an honor to lend our experience and expertise to such an important project for New York City," said William Gilbane III of Gilbane Building Company. "This state-of-the-art facility will allow New York's leading medical institutions deliver world-class care to patients to dramatically improve outcomes for patients across the City."
In an effort to create quality jobs for New Yorkers, the Center's operators, Memorial Sloan Kettering Cancer Center, Montefiore Health System and Mount Sinai Health System, have  committed to a 70% HireNYC goal to fill nonclinical and contract services jobs, and will implement training programs designed to improve access to quality jobs in the healthcare sector. NYPC will create 125 permanent jobs and partnerships with New York City-based colleges to provide approximately over a dozen annual internships.
Murphy & McManus was the project's developer; VOA Associates Incorporated was the design consultant and the Gilbane Building Company was the general contractor. The first phase of construction began in 2015 and NYPC anticipates serving its first patients in July 2019. Project developers exceeded the City's MWBE goals and contracted 35% MWBE firms for the construction of the Center.
New York City Economic Development Corporation is the City's primary vehicle for promoting economic growth in each of the five boroughs. NYCEDC's mission is to stimulate growth through expansion and redevelopment programs that encourage investment, generate prosperity and strengthen the City's competitive position. NYCEDC serves as an advocate to the business community by building relationships with companies that allow them to take advantage of New York City's many opportunities. Find us on Facebook or follow us on Twitter, or visit our blog to learn more about NYCEDC projects and initiatives.
Related: Click here for more links to firsts in Harlem.
New York Proton Center is creating the gold standard for proton therapy, giving new hope to patients living with cancer. In partnership with leading academic medical centers—Memorial Sloan Kettering Cancer Center, Montefiore Health System, Mount Sinai Health System, and ProHEALTH as manager—New York Proton Center brings together expert oncologists, clinical care teams, and researchers to improve cancer care and advance the clinical evidence for proton therapy.
Photo credit: 1) City officials, elected officials, and officials from health institutions celebrated the opening of the New York Proton Center. 2) One of four Gantry Treatment Rooms in NYPC.
---