---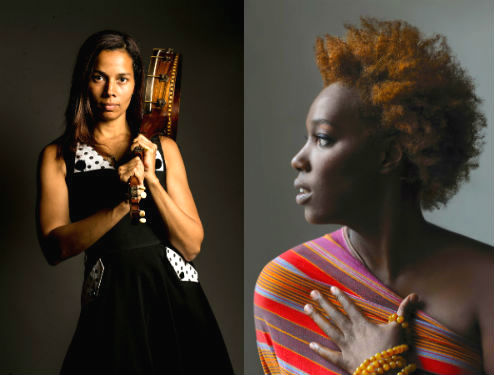 As part of its 17th season, Lincoln Center's acclaimed series American Songbook will feature top performers and rising stars of musical theater, pop, jazz, folk, soul, and R&B in The Appel Room and the Stanley H. Kaplan Penthouse this January through March.
Related: Listen to Vivienne La Borde and Danny Tisdale on The Danny Tisdale Show talks Lincoln Center Arts on Harlem World Radio
The Appel Room series opens with the versatile Vanessa Williams on January 20, singing everything from show tunes to her chart-topping hits. Broadway's Jerry Dixon takes the stage on February 6 with Mario Cantone. On February 24, Rhiannon Giddens (pictured on left) is joined by Leyla McCalla and Bhi Bhiman for Swimming in Dark Waters—Other Voices of the American Experience, an exploration of music of protest, subversion, and cultural resistance; and, on February 27, Terri Lyne Carrington's The Mosaic Project: Love & Soul features the legendary Valerie Simpson and pianist Oleta Adams in an expansive, all-female collaboration that illuminates the cross-pollination of American music.
In the intimate Kaplan Penthouse on March 18 is the veteran Broadway family The Cooper Clan, with Tony Award-winner Chuck Cooper and his talented children Lilli, Eddie, and Alex. On March 31, composer/vocalist Imani Uzuri (pictured on right, who recently released her breakthrough album The Gypsy Diaries, will perform her powerful, transformative songs.
Lincoln Center for the Performing Arts, 70 Lincoln Center Plaza, New York, NY 10023, www.LincolnCenter.org
Related Articles
---