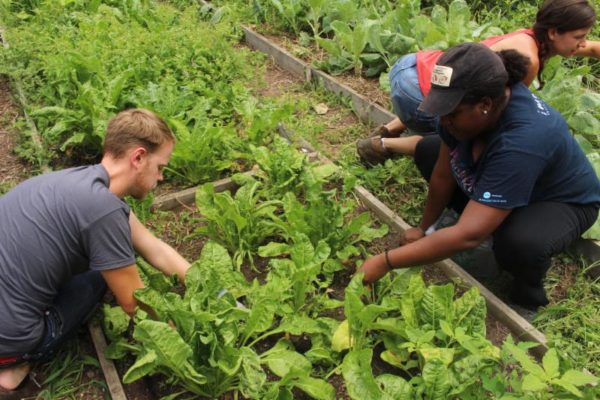 It's that time of year again! Interested in learning more about farming and food justice, or know someone who is? Applications are now open for our 2017-2018 Certificate Programs.
Citywide Certificate
Their Citywide Certificate in Urban Agriculture is designed as a two year program structured around 19 core & advanced courses, with a season-long farm apprenticeship completed after the first year. Our courses are taught by experienced urban farmers, and take place on weekday evenings and weekends to accommodate a busy workweek. Through engaging, site-based education, our classes offer comprehensive professional training in urban agriculture and cultivate future leaders in the food justice movement.
Farm Intensive Certificate
Our Farm Intensive Certificate in Urban Agriculture is a one year training program for beginning farmers in partnership with The Youth Farm in Crown Heights, Brooklyn. Students begin with a foundation of three Farm School NYC courses — Food Justice, Botany and Training of Trainers — and then spend a full growing season at The Youth Farm. This certificate provides students with an immersive farming experience on a production pace farm, as well as a number of sustainable farm management skills through hands on work, field trips, and formal workshops.
Applications
For more information and applications, visit us at farmschoolnyc.org/apply.  Be sure to check out our 2017 Application Guide for detailed information.  Still have questions?  Join us at an Info Session or Open Class, and feel free to email us at info@farmschoolnyc.org.
Application Timeline:
August 1: Applications open
September 30: Application Deadline
October 16 – 27: Interviews
November 1: Notification of Acceptance
November 6: Confirmation of Acceptance- deposit and registration forms due
November 18 – 19: New Student Orientation
November 29: Class Begins!
Info Sessions and Open Classes
August 14: Info Session, 6-8pm, Neighborhood Preservation Center
August 23: Open Class, 6-8pm, The Arsenal
September 6: Open Class, 8:30-10:30am and 2:30-4:30pm, The Youth Farm
September 12: Info Session, 6-8pm, 61 Local
September 16: Open Class, 10am-2pm, Taqwa Community Farm
To attend an Info Session or Open Class, all attendees must RSVP here.
Farm School NYC, 114 West 47th Street, Suite C1-35, New York, NY 10036
Related Articles
---