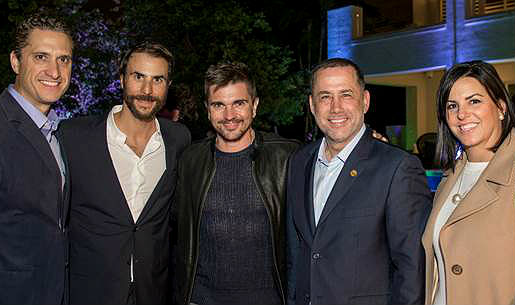 Lionfish Entertainment, a joint venture between Colombian Rock superstar Juanes and his manager Rebeca Leon, have teamed with Television Producing Mogul Ben Silverman to adapt Juanes' inspirational life story and rise to international fame in their new television show "PERSIGUIENDO EL SOL"  (Chasing The Sun). 
Looking to fill an underserved demand for innovative bicultural television content with the assistance of Juanes' William Morris Endeavor TV agent Eric Rovner, the team unveiled the planned show during a pre-NATPE dinner at Juanes' Miami home –  attended by multiple high-level television executives and Miami Beach Mayor Phillip Levine. Named for Juanes' autobiography, "PERSIGUIENDO EL SOL" will stylistically be in the vein of an "Entourage meets Narcos" bilingual drama – with acclaimed showrunner Eric Newman helming production in Miami and Colombia.
The idea to develop "PERSIGUIENDO EL SOL" grew out of  Silverman and Juanes' first collaboration, which saw the critically-acclaimed musician provide multiple songs for (and make the first celebrity guest cameo in) Silverman's Golden-Globe winning comedy "Jane The Virgin". 
Photo credit: -L to R: Eric Rovner of WME, Ben Silverman of Electus, Juanes, Miami Beach Mayor Phillip Levine, and Rebeca Leon of Lionfish.
Related Articles
---
VIDEO
---
"We re-imagine, recreate, and redeem cultural omissions and misrepresentations of Blackness, for the culture. ...." This post is made in partnership with British Pathé.