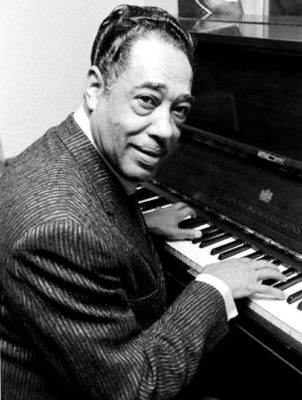 The Duke Ellington Center for the Arts (DECFA) will present a special screening of Duke Ellington's rarely seen TV special, A Drum Is A Woman at the Paley Center for Media, 25 West 52nd Street, on Friday, March 24, 2017, from 3:00 to 4:45 PM. The event ise second installment in DECFA's new MOOD ELLINGTON series of special programs focusing on the musical legacy of Duke Ellington — America's most productive composer of the 20th century.
The screening will be hosted by 7-time Grammy-nominated drummer/band leader and educator Bobby Sanabria and will feature appearances by the legendary NEA Jazz Master Percussionist and Ellington alumnus Candido Camero, one of the stars of A Drum Is a Woman. The post-screening panel discussion Q & A will be led by Bobby Sanabria and will feature Duke's grand-daughter, Mercedes Ellington, the noted dancer/choreographer, who is President/ Founder of DECFA.
"A Drum Is a Woman is a musical allegory by American pianist, composer and bandleader Duke Ellington and his long-time musical collaborator Billy Strayhorn. It tells the story of Madam Zajj, the personification of African rhythm, and Carribee Joe who has his roots firmly in the jungle with his drums. Zajj travels out into the world seeking fame and sophistication and melds with the influences of cultures she weaves through the story, which gives a brief history of the rise of Jazz and Bebop. Originally recorded for the Columbia label in 1956, it was produced for television on the US Steel Hour on May 8, 1957. The album was re-released on CD in 2004 with a bonus track.
Seating capacity is limited.. For reservations click on the following hyperlink:
http://decfa.org/drum-is-a-woman-screening/
For further information, you can reach me by return email or by calling my mobile phone listed below.
Related Articles