---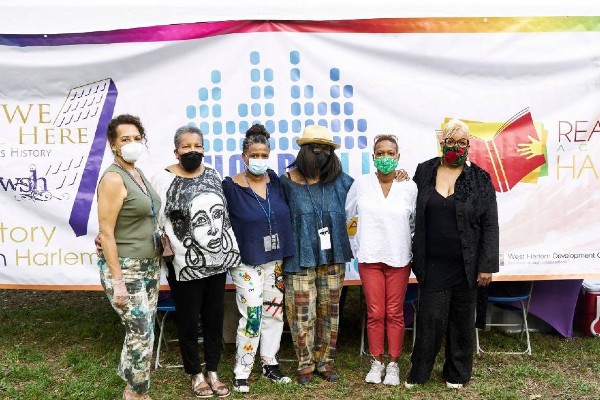 Harlem's rich musical and spoken word history was honored and celebrated by the heritage-preservation organization.
While We Are Still Here (www.whilewearestillhere.org), at its 5th Sugar Hill Music Festival which took place on Saturday, September 25 on the Sugar Hill Luminaries Lawn, 155th Street and Edgecombe Avenue, Harlem, NY.
Around two hundred attendees brought chairs and blankets and the intention of having a fun time. ADA accessible seating was also available. COVID mask and social-distancing protocols were observed.
Karen D. Taylor, Founder and Executive Director of While We Are Still Here, organized this year's Sugar Hill Music Festival to pay tribute to two local artists who achieved national and global fame – the Mizell Brothers, who lived at 555 Edgecombe Avenue, during their youth, and Gil Scott-Heron, who was also a resident of 555 Edgecombe Avenue.
"Harlem has a rich musical history, so each year, While We Are Still Here honors it. We present world-class jazz, R&B, and European classical music by Black composers. This year, we saluted the Mizell Brothers and honored Gil Scott-Heron, the internationally renowned who.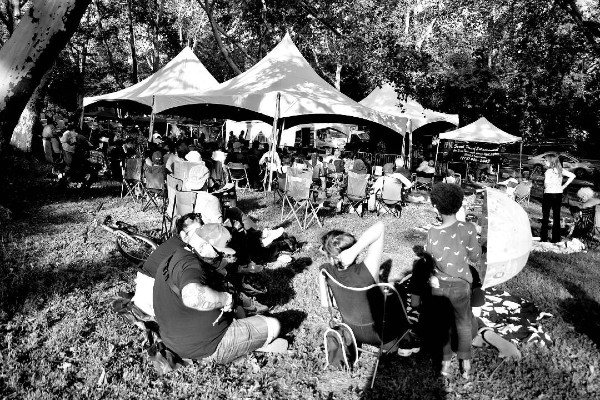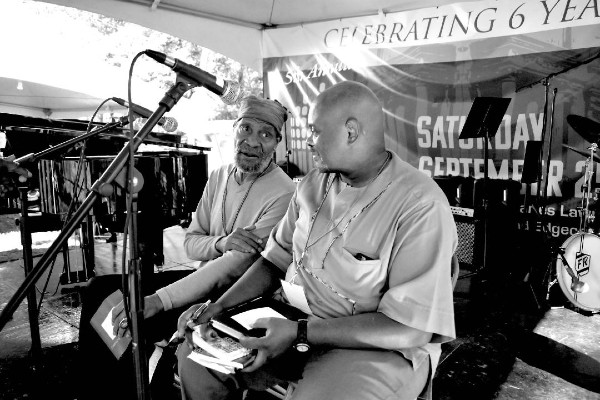 The Sugar Hill Music Festival featured performances by:
 
Burnt Sugar In Tribute to the Mizell Brothers- Pioneering musicians who helped produce the signature sound of greats like Marvin Gaye. Burnt Sugar "honors its deepest inspirations, the first post-modernists of American music – Duke Ellington, Sun Ra, Parliament-Funkadelic and The Art Ensemble of Chicago."
Charenée Wade In Tribute to Gil Scott-Heron – Poet, author, composer, and recording artist who became a global voice for justice. Award-winning vocalist, arranger, educator, and composer Charenée Wade has excited audiences all over the world with her ingenuity and vibrancy. Her latest CD, Offering: The Music of Gil Scott-Heron and Brian Jackson, is a powerful reinterpretation of the poet's musical library.
 
The Sugar Hill Quartet, Led by saxophonist, Patience Higgins, Sugar Hill Quartet carries on the tradition of the high-energy, musical excellence that Harlem is known for. The Quartet was well known for many years as the house band at St. Nick's Pub.
Duane Eubanks Quintet, Eubanks studied with the legendary Dr. Billy Taylor at Temple University, then headed to New York to become a hotly sought-after horn player.
Mistress of Ceremonies was radio host and producer Joyce Jones.
 
"Reading Across Harlem" featured an interview with legendary poet Abiodun Oyewole, founding member of The Last Poets and self-described "author, musician, mentor, father, lifelong learner." Oyewole, author of Branches of the Tree of Life: The Collected Poems of Abiodun Oyewole, 1969-2013, was interviewed by African American studies professor Hank6 Williams whose dissertation is a profile of the early years of The Last Poets, as a case study of how artists engaged as political activists during the Black Arts Movement of the late 1960s – early 1970s in New York City. Dozens of fans lined up to buy Oyewole's book, courtesy of 2 Leaf Press, and get an autograph and a photo.
While We Are Still Here is dedicated to gathering and sharing the vast history of Harlem. It has been in the forefront of spearheading high-quality programming in the arts and humanities throughout the community.
While We Are Still Here appreciates the generous support of the J. Rosamond Johnson Foundation and Mélanie Edwards, without whom this event would not have been possible.
Like While We Are Still Here on Facebook https://www.facebook.com/edgecombeavenue  and follow on Twitter @edgecombeavenue; and Instagram edgecombeavenue
Photos: 1-3) Deborah Cowell.


---