---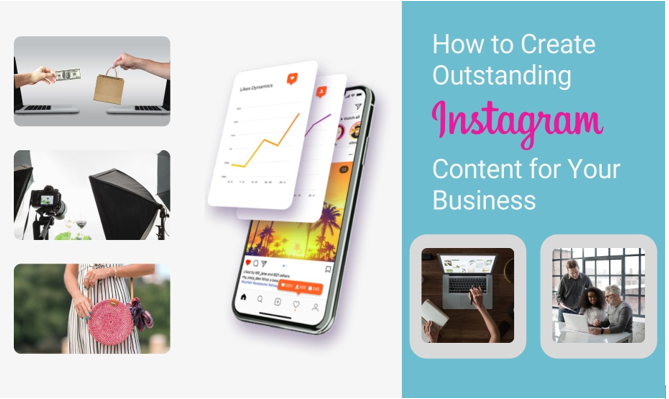 Social media named Instagram remains the preferred choice for businesses.
It suffices many goals that brands want to achieve. Instagram combines the benefits of many other networks:
Different formats of content
Possibility to post long texts
Extended shopping features
Impeccable visual key
Many business owners are concerned with the methods of gaining the following base and keep the attention of potential customers. They put efforts in developing the marketing strategy, try to pattern their behavior on the platform, and regulate the interest of the viewers with cheap likes from BuyTopLikes. But many guides about Instagram for business are missing the most important part that actually makes IG work – the content! This article is here to help you understand the principles of creating the coolest content for your business representation.
Define The Goals And Create A Plan
When you are working on your content plan, it is vital to have a clear understanding of why you need that. Ask yourself a question – why are you here and what you want to achieve except likes? The answer will ease your search of topics to highlight in your IG profile.
Whatever is the industry your business occupies, there are common goals that are craved by brands:
Getting more sales.
Increasing awareness and recognition.
Reach potential clientele and expand the target group.
Knowing the point that you have to get to, it will be easier for you to come up with an effective schedule and categorize your content properly.
Rules Of Color
For better awareness and association with your brand, you should develop a color scheme that will represent you on the platform. And we are not talking about the color of your logo or corporate tones, oh no. Instagram profile is something that has to create certain associations and give a vibe you want your viewers to catch and send likes.
So, here comes toning and filters! For better performance, it is recommended to keep your content within cold or warm temperature and stick to two or three filters that suit the major part of the content. This is a very important feature that settles the mood for users who enter your page on Instagram and can motivate them not only to follow your brand but to make purchases anytime soon.
Settling The Posts
Instagram profile page looks like a grid, and to preserve visual attraction, your uploads should maintain a certain order of appearance. Along with the color scheme, the grid you create with your content enhances the percipience of your page. The most usable types of patterns for the grid are these:
The strip of three. This appearance means that every three posts in your grid form a distinguished design, dedicated to a certain product.
Vertical alignment. This method uses uniting the content according to the type and thematic decisions in vertical lines. (Example – right line for the information about the brand, middle line for the product, left the line for communication with followers)
This way of composing your feed requires editing apps, like Whitagram or Afterlight. The goal of this method is to create additional air between posts in order to remind users of catalog or magazine campaigns. Very usable for clothing brands.
This method of composition is cosmetic and attractive for brands for its contrast. The general purpose of it is also to distinguish posts of different types and for breaking the photo and video posts with texts.
The Course For Your Behavior
The way you will behave on the platform is what helps to understand, what content you should actually create to receive more likes and engagement.
Approaching the question "What should I post" from the angle of your industry is too general, and you risk drowning in the competition. A much better decision would be to create the content, regarding your style of communication and connection with the customers.
Decide what is the tone of your conversation with customers – lightweight and small-talk, or is it more serious, official?
Do you want to concentrate on original content, or you want to dilute your profile with illustrations or infographics?
These are the primary questions you have to ask yourself when moving on to the creation of your photo stock. Knowing your behavior as a brand, you will also be able to explain to content-makers, what result you need to achieve.
And now we shall move on to the most engaging genres of content that a brand can use for its growth on Instagram.
Product photography
In professional terms, this genre of photography is called still-life. The senior object for such photoshoots is the product, obviously. Of course, with the technical capability of modern smartphones, you can complete such a campaign shoot yourself, or with the help of your marketing team. But if you want to get a more professional look, you should invest in the services of a photographer who specializes in still-life or food-photo.
Texts
This form of reaching your customers isn't too direct, and rarely you can meet a business, who will post long-reads in their feed. The trick to input more text into your profile is: create a topic-related cover photo and then place your text into the carousel. This way you will also impact likes and the activity rates of your account positively.
Company values
Modern consumers are eager to know the story of each brand they choose. As the offer in many industries continues to rise, many people are basing their choice of brand on their ethics and company policy. If you haven't got that, it's time to develop the goal and values of your business. Sticking to a certain ethical issue and at least trying to make a difference, will attract more potential buyers to your brand, and give you a fine addition to the range of themes for your content.
Memes
This kind of posting requires a friendly and light tone of communication with your audience. If you are positioning your brand voice as strict and official, you should avoid memes in your posts. It is not hard to find topic-related funny videos and pics – they are thrown all over the internet. By adding this type of content to your plan, you fulfill the primary purpose of Instagram – to entertain people, thus you increase the loyalty, likes and connection of users with your business.
Lifestyle
This category of content is giving the viewer an idea of your product in context. It can be part of your influencer marketing strategy, where people see how your product is used and what are its benefits. Also, such pictures serve as an inspiration and increase the wish to buy this product and recreate the mood that you set up.
---