---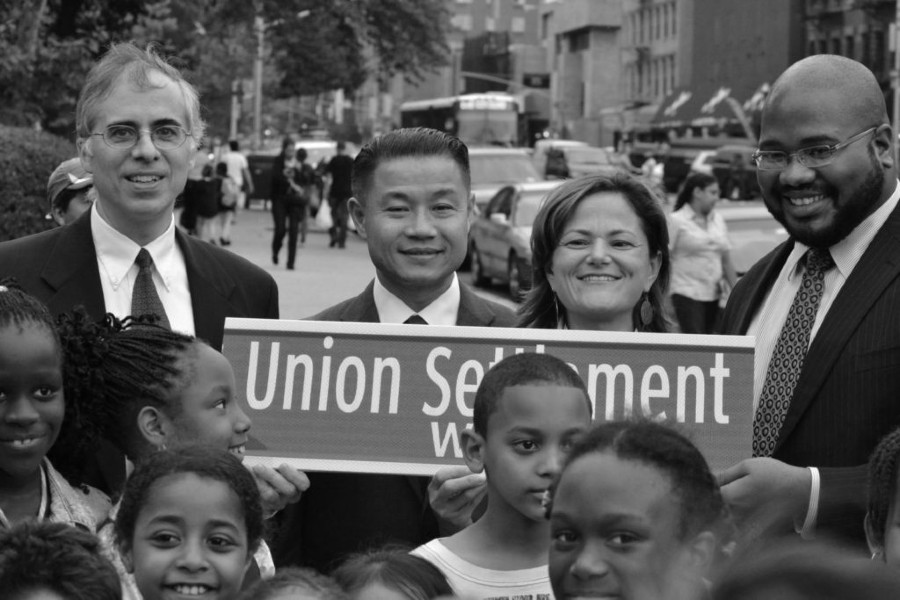 Union Settlement (www.unionsettlement.org), East Harlem's oldest and largest social service provider, will celebrate nearly 130 years of service in East Harlem.
They will do this at its annual spring benefit fundraiser at Gotham Hall on April 19, 2023. The "Heart and Soul" Gala will bring together hundreds of New York City's business, civic and community leaders, elected officials and honored guests to honor the vibrancy and rich culture of East Harlem and support Union Settlement's mission and service to the East Harlem community.
During the event, Union Settlement will honor Angela Yee, a New York City-based media personality, entrepreneur and host of the new, nationally syndicated iHeartRadio show Way Up with Angela Yee. Emmy award-winning journalist and host of PIX11's Monica Makes it Happen Monica Morales will serve as the event's emcee.
"Since 1895, Union Settlement has enjoyed the privilege of creating opportunities for the East Harlem community by offering comprehensive programs that help underserved residents of all ages improve their skills and build better lives for themselves and their families," said Derrick Boone, Interim Chief Executive Officer at Union Settlement. "We are excited to celebrate with our friends, supporters and partners, and to honor Angela Yee for her unwavering commitment to serving communities and individuals in need."
"I love the work that Union Settlement is doing in the community. It completely aligns with my mission of being "way up" from where I started," said Angela Yee. "In my personal and professional life, I don't know where I would be without the support of people who cared enough to provide tangible resources for me. I'm proud and honored to be recognized this year."
The event will provide community spotlights of East Harlem business owners and residents including cocktail hour sponsor Joe Cruz, YaVe Tequila; Jo-Ann Barret, Aromas Boutique Bakers; Janie Deegan, Janie's Lifechanging Baked Goods; Jaque Queiroz & Johan Halsberghe, Mojo Desserts & Bar Goyana; and CUP coffee shop, co-owned by honoree Angela Yee.
The Heart and Soul Gala 2023 will be held on Wednesday, April 19, 2023, at Gotham Hall in New York City. For more information and to purchase tickets, please visit the event page (www.unionsettlement.org/2023-heart-and-soul-gala).
Honoring Leaders in Community Service
Union Settlement will honor Angela Yee, a New York City-based media personality, entrepreneur and host of Way Up with Angela Yee. Yee uses her extensive platform to showcase local businesses, celebrate culture and empower individuals across all walks of life, and her dedication to philanthropy and ongoing advocacy for financial literacy and personal wellness brings strength and vitality to residents of East Harlem and beyond. In addition to hosting Way Up With Angela Yee weekdays from 10am-2pm ET on iHeartRadio, Yee co-owns Brooklyn-based CUP coffee shop, and owns and operates Angela Yee's Lip Service, a lifestyle brand that features a podcast of the same name. Yee was awarded the MIW Airblazer Award in 2020, received the Gracie Award in both 2019 and 2020, and was named to the Forbes' 30 Under 30 list.
Outstanding Settlement's benefactors
The support of Union Settlement's benefactors enables the organization to effect real change in East Harlem. Union Settlement gratefully acknowledges the support of our Spring Benefit Platinum Sponsor, the Stavros Niarchos Foundation (SNF).
Union Settlement
Union Settlement is an on-the-ground resource for East Harlem residents of all ages, and a passionate advocate for the needs of underserved communities. Established in 1895, Union Settlement is an anchor institution providing dozens of programs, across two dozen sites, reaching more than 10,000 East Harlem residents every year. By helping our neighbors realize their goals, we build the vitality and success of East Harlem. To learn more about our services spanning early childhood education, afterschool and summer youth programs, college preparation, job readiness, adult education, mental health counseling, economic development, senior centers, Meals on Wheels and more, visit www.unionsettlement.org and follow us on Facebook, Twitter and Instagram.
---