---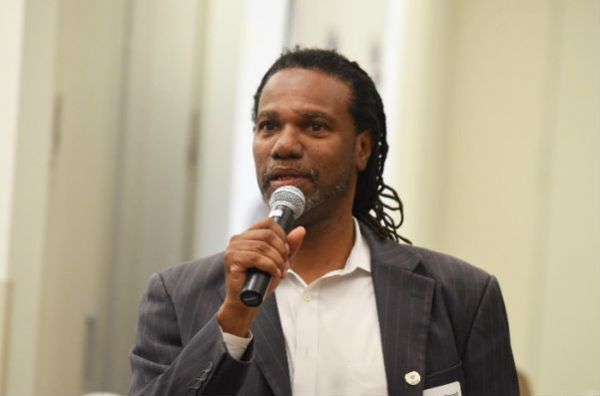 Union organizer Marvin Holland, the runner up in Tuesday's special election for the District 9 City Council seat, has confirmed to Gotham Gazette that he will mount a challenge against the winner Bill Perkins when the seat is up for grabs again later this year.
The District 9 seat in Harlem was recently vacated by Inez Dickens, who was elected to the state Assembly, leaving just one year left in the term. A nonpartisan special election for the seat was held on Feb. 14 with nine candidates on the ballot. State Senator Bill Perkins, who held the District 9 seat between 1998 and 2005, won with 3750 votes, about 34 percent of the 11,149 votes cast, according to the New York City Board of Elections' unofficial results (Final results are certified two weeks after the election). Perkins will serve the rest of Dickens' term and will have to run for reelection, which will involve a Democratic primary in September.
Holland, who came second in the race with 2073 votes, believes that he can build more support and name recognition to pose a stronger challenge in the September primary. "In a few short months, we built a strong, diverse coalition amongst the people most under attack from Trump's policies, and beat all expectations while highlighting some very important issues facing our community," Holland said, in a statement to Gotham Gazette. "With this race, the foundation has been laid for a new political future for Harlem."
As political director of Transit Workers Union Local 100, Holland built a coalition of labor and community support and his vote totals even surpassed Larry Scott Blackmon, the favored candidate of the Harlem old guard. Blackmon, a FreshDirect executive, came in fourth in the race with 1,324 votes, despite being endorsed by Dickens and former Assemblymember Keith Wright, who chairs the Manhattan Democratic Party.
Holland's campaign pointed out that 66 percent of the voters didn't choose Perkins, despite his long history representing the neighborhood and his familiarity in the community. "So, their vote could have been an anti-Perkins choice," said Jon Greenfield, a spokesperson for Holland, in an email.
Greenfield said the race ultimately hinged on name recognition and that Holland can spend the next six months building his own. "Marvin can hold his showing in the East Harlem portion of the district (Assembly District 68), build name recognition in central Harlem over the next months, and gather anti-Perkins, anti-establishment votes," he said.
Holland will also continue to consolidate labor support and reach out to Dickens and Wright for their support. "Harlem deserves elected officials accountable to them," Holland said. "I intend to keep the promises made to the people during this campaign, and will continue the work we have begun to be their candidate in the September primary for City Council."
The race will still be an uphill challenge for Holland. Perkins received endorsements from Mayor Bill de Blasio and the City Council's progressive caucus in the special election. He's confident that he will be reelected and hopes to do as well in September as he did in the Tuesday special. "I have every reason to believe I'll do even better," he said, in a phone interview.
He wasn't surprised to hear Holland will run against him, and even welcomed the challenge. "I wouldn't be surprised if any of the other candidates that participated in the election are considering the same thing," he said, insisting that he doesn't take his frontrunner status for granted. Only one other candidate, Shannette Gray, has officially declared a run for the District 9 seat with the Campaign Finance Board. She did not participate in the special election.
"It's a marathon, not a sprint," Perkins said of the election. "We just ran the first mile"'
Related Articles
---