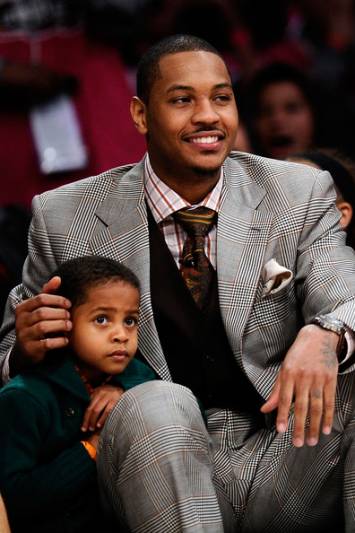 By Marc Rasbury
In a time when folks are asking where are all of the African-American fathers, you can look at the 2015 NBA Finals to see many proud dads celebrating their offspring's accomplishments as well basking in the glow of fatherhood.
I just wish the mainstream media would celebrate some of these priceless moments.
The negative images of African American males are out there for all the world to see. It seems you cannot turn on the news without seeing videos or new clips of black men being arrested for one crime or another. Stories about black men abandoning their children are all to common. Rarely do you see stories that show African American men doing something positive in their communities or something uplifting with their own families. However, as I watched the Conference Finals, I saw images that warmed my heart and combated those negative images that are normally jammed down our throats and embedded in some of our minds.
I saw three generations of the Curry family basking in the glow of winning the Western Conference Finals as Golden State Warriors made short work of the Houston Rockets taking them out in five games. In that same series, there was a proud but concerned Mychal Thompson helping his son home after he suffered a concussion from a knee-to-the head injury. One of the reasons that perhaps the Warriors have the best backcourt in the NBA is because both players had strong role models in their fathers grooming them from the womb to the bright lights of the NBA.
Klay Thompson's father Mychal was the #1 pick of the Portland Trailblazers back in 1978. He would go on to win multiple titles with the Showtime Los Angeles Lakers as Kareem Abdul Jabber's backup. He was your prototypical back to the basket center with a decent midrange jumper. His son on the other hand, has range that appears to be a couple of steps just over half court. I don't know if Mychal showed Klay how to shoot from that distance or he got one of his teammates to assist the younger Thompson with that skill. But one thing is for sure, the older Thompson showed his son how to be a professional as well as solid citizen. In the Conference Final close out game, Klay took a serious blow to the head as he faked Trevor Aria out of his designer sneakers. Like he has been for all Klay's life, Mychal was there for his son nursing him from the post game celebration taking him home and seeing that he was son was OK for the night. In a single moment we saw a proud father go on to  be a concerned father in a heartbeat in midst of the celebration. With all of the hoopla, he was more concerned about his son's health.
Those of us who are over 40 remember Stephen Curry's father Del as one of deadliest sharp shooters in NBA history. I use to say that Del was the inspiration for the Reebok commercial with the Lamar Mundane character who use to take a 30' jump shot and the crowd would yell. "Laaaaay Up!" Therefore, it no surprise that Steph is the purist shooter in the game today if not going back to days when they used peach baskets. The phrase "The apple does not fall to far from the tree" cannot be more appropriate than it is in this case. But unlike his father, Steph can create his own shot with his off-the-wall ball handling ability. I'm sure Del had a hand in that, Steph just took it to another level.
The relationship between the best backcourt in today's game and their respective fathers is one thing, but to see Steph Curry with his daughter Riley just melts my heart. This child has stolen the show. She is just flat out adorable. I know that she may hold up the post game press conference but if she does not bring a smile to your face, then you need a heart transplant. The interaction between Steph and Riley precious. I can't wait to see pictures of them at their first father-daughter dance.
Over in the East, LeBron James is working his way to not just another Finals Most Valuable Player but Time's Man of the Year. He is not only playing out of his mind nearly averaging a triple double for the playoffs, some say he coaches that team and orchestrated several trades that improved the Cavs on fly. But what I like about James just as much as his play is role as a father. He has guided his two sons and now his infant daughter in a nurturing manner. Those kids could be the spoilist brats in the world but they are respectful and the most well behaved kids on the block. Oh need I mention, his 12 year old is already being touted as one of the top basketball players in his age group.
Every time a professional athlete breaks the law especially when it comes to African American men, the story is on the front page for weeks. However, the stories like the Curry's, Thompson's and LeBron are swept under the rug. These stories should embraced not questioned or ignored. With Father's Day coming up, somebody should do a documentary on the Fathers of 2015 NBA Finals. I don't have a horse in this race but deep down I'm rooting for the Warriors so that I can see more of Riley!
Photo credit; NY Knick and Harlemite Carmelo Anthony and son Kiyan.
---
---
Related Articles