---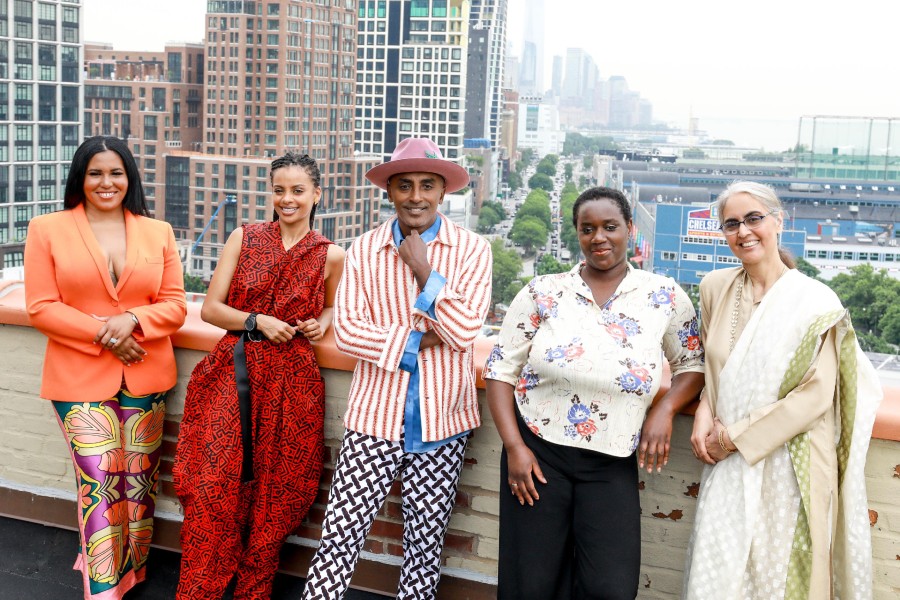 James Beard Foundation Award-winning Harlem Chef and Author Marcus Samuelsson.
Executive Chef Rose Noël, and the team are proud to debut their new restaurant, Hav & Mar, 245 11th Avenue at West 26th Street, NY 10001. 
Located in the landmark Starrett-Lehigh building in Chelsea's vibrant arts district and building upon the world-class Black Art programs prevalent in Samuelsson's Red Rooster restaurants, Hav & Mar features original site-specific and specially curated artwork through a collaboration with critically acclaimed artist and Creative Partner Derrick Adams, and Creative Partner Thelma Golden, Director and Chief Curator of The Studio Museum in Harlem.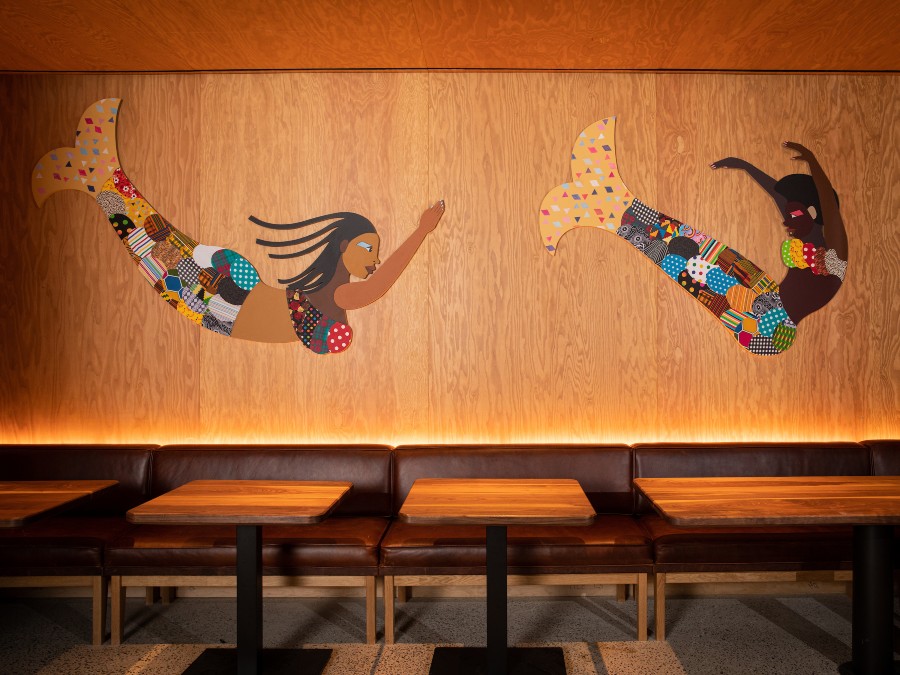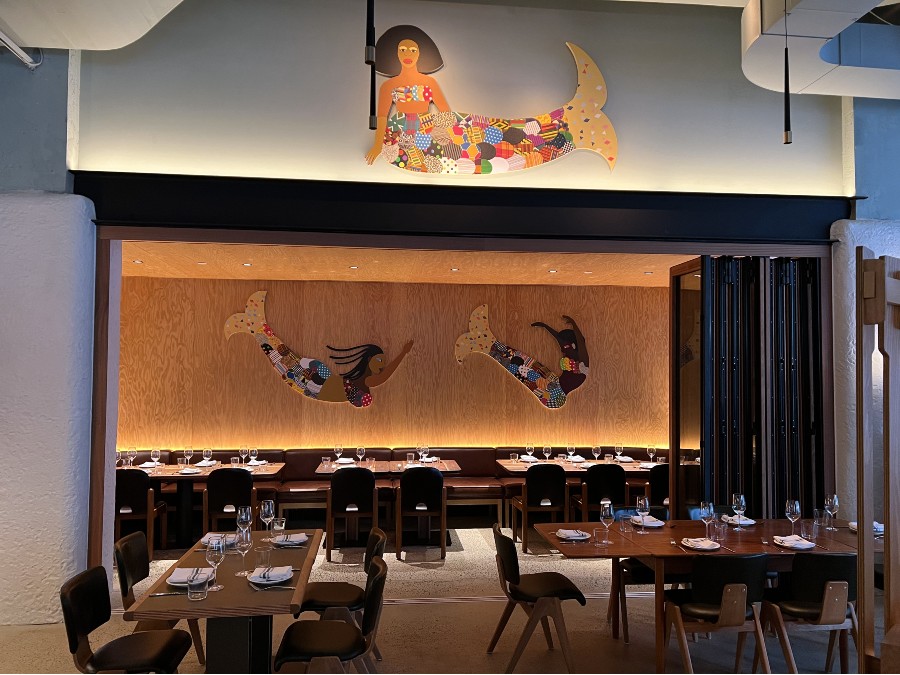 "Hav & Mar is the culmination of our passion and purpose coming together to reflect a truly contemporary expression of Black cuisine in Manhattan," says Samuelsson. "Hav takes its name from Ocean in Swedish and Honey in Amharic, the dual influences that have shaped my culinary path. Each member of our team brings their own heritage and creativity through the food and drinks we have created. Our hope is that Hav & Mar is a reflection of Black joy and excellence."
Chefs Samuelsson and Noël, together with Chef de Cuisine Fariyal Abdullahi, Head Baker Farheen Jafarey, and General Manager Franshelis Montalvo, each contribute to the festive and flavorful menu. Hav & Mar focuses on thoughtfully sourced seafood ranging from globally inspired small plates to family-style feasts prepared in an open kitchen, including the Swediopian, a Berbere-cured salmon with mustard seed caviar and buckthorn; Mermaid Black Rice, djon djon mushrooms with crab, lobster, and green peas; H + T Roasted Chicken, Amish chicken with Brussels sprouts, red pearl onion and suya; Dawa-Dawa Bass, clams with fumet and fresh herbs; Seaside Waffle, rock shrimp with uni butter and more.
Beverage Director Rafa García Febles' craft cocktail and wine menus feature women producers, producers of color as well as wine and spirits purveyors that are innovatively sustainable and employ regenerative and forward-thinking labor practices. "We wanted to use our platform at Hav & Mar to help showcase producers that are leading by example while offering selections that appeal to a global audience," says García Febles.
In addition to an approachable list of wine varieties and an extensive list of spirits, Hav & Mar's cocktail program emphasizes zero-waste principles, including the use of toasted avocado pits to replace orgeat in the nut-allergy friendly Turaco, a cocktail also made with Tequila Reposado, makrut lime and bergamot. Locally brewed beers and cider, non-alcoholic options and Habesha "Cold Gold" Lager from Addis Ababa round out the menu.
Under the direction of Creative Partner and critically acclaimed artist Derrick Adams, Hav & Mar features original installations commissioned by Samuelsson, including the "We Are From The Water Too" series of Black mermaids and vibrant patterns adorning the restaurant's walls, which act as water with each mermaid breaking up the flow of furniture placement, each figure with a lyrical movement in motion.
"While many think that the idea of Blackness is based on the earth, the physical ground, the laboring part of soil and the foundation – which is true – we are also from the water," says Adams on the title of his artwork. "A lot of places that we originated from are surrounded by water that we also have worked and cultivated. I think as a Black artist, sometimes we're drawn to create commentary and respond to something else but naturally, that's not my instinctual nature of making art. I think people should have the freedom of looking at an image of a mermaid who happens to be Black without comparing it to a mermaid that is white. I hope that I can contribute an alternative way of looking at Blackness in a way that is fortifying and empowering and not comparative."
Adams' site-specific series features seven-and-a-half-foot tall wall-mounted sculptures made from unfinished plywood sheets with acrylic and fabric. Inspired by the simplicity and immediacy of African signs and barbershop paintings, the fabric scales used on the mermaids are cut from bolts of existing fabric from Adams' digital library containing images of his vast collection. After selecting the desired fabrics from the database, they were then cut into shapes replicating scales.
"I started to really think about the mermaid as the central figure in the restaurant. It's almost like a beacon," says Adams. "I felt like I wanted to create something that was so mystical and so opulent and textured that it can also be used as a light to draw people in, to set a tone and a mood for the restaurant that's not just about service, it's about imagination."
Designed by Montreal-based Atelier Zébulon Perron, the interior of the 125-seat restaurant aims to recount the rich landscapes of Samuelsson's heritage through the juxtaposition of raw materials, shapes, and colors. Upon stepping through Hav & Mar's front doors, diners are immediately transported into an offbeat and lush terrain, where honey-hued wood slat screens and silky marbles stand against rugged milky walls and earth-toned fabrics. The ambience is warm and glowing, thanks to an eclectic array of bespoke vertical floor lamps, radial plywood pendants, and an expansive chandelier that crowns the emerald marble bar. Ultimately, the multi-layered palette of the design perfectly complements the quintessential, culturally diverse menu brought to life by Samuelsson and his creative team.
Hav & Mar is located inside the landmark Starrett-Lehigh building at 245 11th Avenue at West 26th Street. To start, the restaurant will serve dinner nightly with lunch and brunch to follow. For reservations, please call 212-328-8041 or visit https://www.havandmar.com/. Follow the restaurant on Instagram at https://www.instagram.com/havandmar.
In support of long-term ambassador Marcus Samuelsson and the opening of Hav & Mar, Mastercard will provide cardholders exclusive access to reservations at Hav & Mar. Cardholders can redeem this early reservation access now through Priceless.com for a Priceless dinner experience.
Additionally, cardholders who use their Mastercard to purchase a meal at Hav & Mar may receive a customized tea blend from Hella Tea, a Black woman-owned loose-leaf tea company, featured on the Hav & Mar menu.
This giveaway is in support of Mastercard's Strivers Initiative, which is aimed to elevate and support Black women entrepreneurs. Limited quantities and while supplies last.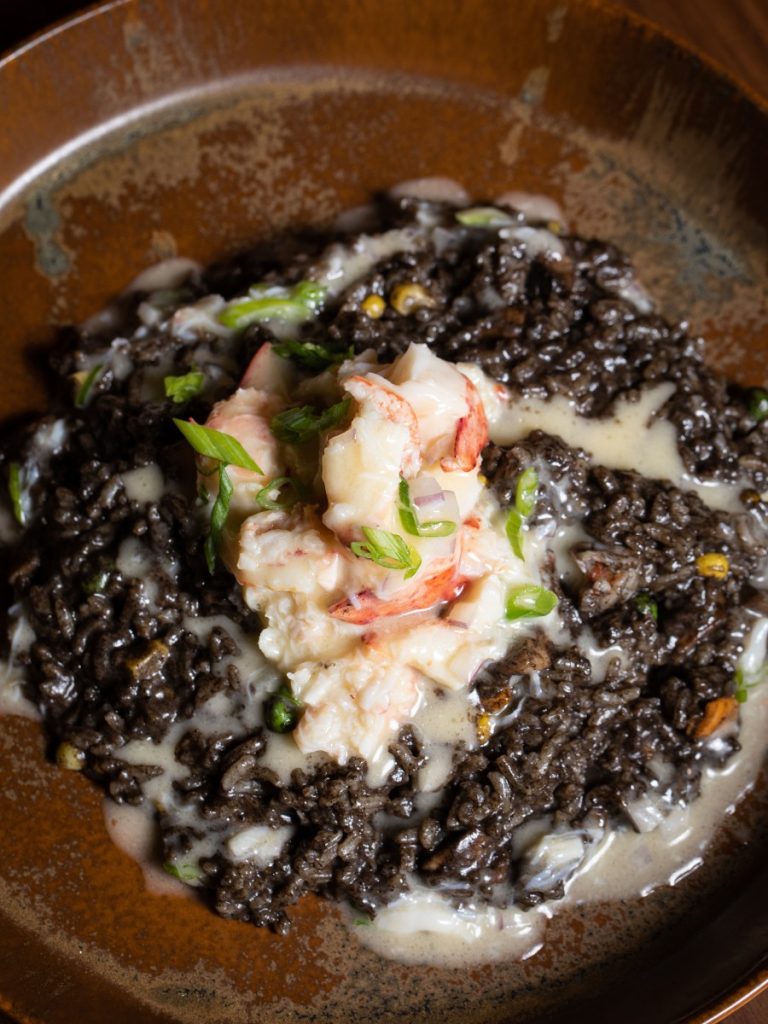 Marcus Samuelsson Group
The Marcus Samuelsson Group was founded by award-winning chef, international restaurateur, and media personality Marcus Samuelsson and is led by longtime partner/CEO Derek Evans.
The Harlem-based minority-owned company is committed to creating outstanding culinary experiences, community support, and thought-provoking storytelling that celebrates food, music, culture, and art.
From high-end through fast-casual dining to create experiential events and multimedia content, the principles of culinary distinction, community, sustainability, and inclusivity are the core elements that define this dynamic hospitality and media group.
For more information, please visit www.marcussamuelssongroup.com
Photo credit: 1-5) Source.
---