---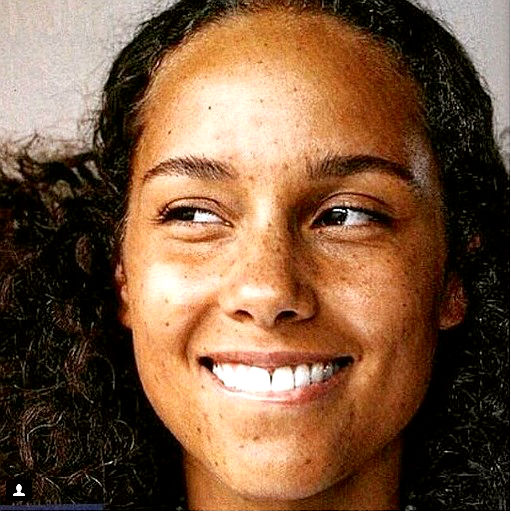 Alicia Keys really is a "Girl on Fire."
Fresh-faced and rocking her natural curls, the 36-year-old singer glows on the cover of Glamour's March Activism issue. In her accompanying interview with the magazine, Keys gets candid on redefining beauty, how motherhood has changed her and what she wishes she could tell her younger self.
Keys, who's been going makeup-free for over a year, admits that there has been "such an evolution" with beauty. "Right now the way I define beauty is individuality and wisdom, which I think creates a certain inner confidence," she explains. "And not confidence in a way that's only on the surface, but a deep-down knowing of yourself or settling into who you are."
She notes that down the road, however, all "might change" as she gets older.
"I guess I've come to terms that life is going to be a constant peeling back of layers, a constant unlearning of what we've been taught or believe to be true," she says. "I think that I've come to terms with the fact that that's just going to happen for the whole duration of my life. I feel really good about being able to look myself in the face and say, 'Oh, who are you now?'"
Back when she dropped her debut album, Songs in A Minor, in 2001, the "Fallin'" singer was known for her edgy braids and trendy ensembles.
"I didn't think wearing braids was something revolutionary or iconic; that was just how I loved wearing my hair," she dishes. "I recognize now that how you look is your statement, because it's a claiming of yourself. You're saying, 'Look, world. This is me. Love me or hate me, I really don't care.' I guess that is the revolution."
"I think what happens in the world, and I think it's part human nature and part programming, is we become an emulation of what we see," she continues. "We become clones of each other. And to break free from that and say, 'Wait, I'm deciding to be my own individual self. And it looks nothing like what anyone else is doing.' There's something so powerful about being my own gorgeous, beautiful, individual, unique self."
Keys, who shares two sons, 6-year-old Egypt and 2-year-old Genesis, with husband Swizz Beatz, also opens up about what she's learned since becoming a mother.
"I love being a mom," she gushes. "And I think what I love the most is the way it makes me think about what's important and what's not important. What to fight for and what to just be cool with. What it is that I'm teaching through example and what it is that I was taught that I don't want to teach."
"You can be very fulfilled as a mother, but that can't be the only way you are fulfilled," she explains. "What about being a woman? What about being yourself? Your awareness of what's happening in the world? It lives altogether in a way that makes a whole. I guess I'd say I'm the wholest I've ever been."
Looking back, there are a few things she wishes she could tell her younger self.
"There is this fallacy about how women are catty, that we're all in competition with each other. I'd say: As opposed to getting swept up in jealousy, use that pang to give you an indication of what you are looking for," she says. "Actually, there is this awesome performer Lilly Singh [IISuperwomanII on YouTube], who always does this thing: 'Shout out another girl and tell her what you love about her.' Even doing that is such a good practice."
"I don't know if we tell women great news about themselves enough," she adds. "You'd be surprised how often a young woman doesn't hear positive things about herself — not in her home, not at school. It's hard to create a beautiful image for yourself when you've never seen it or heard it."
Read more about Harlem's Alicia Keys here.
---