---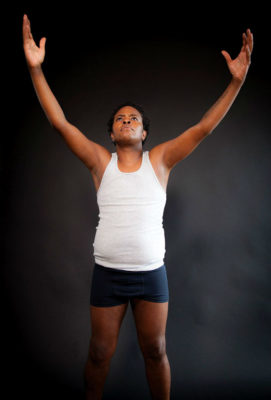 The Advocate reports that for three months, writer Maisha Yearwood (above) was held in Bakırköy Prison in Istanbul, after being found with nine grams of hashish in her pocket. Guards ended up keeping the out lesbian in a 10-foot cell by herself, fearing she'd be "disruptive" to the other female prisoners.
Now Yearwood has written a brutally honest and poignant one-woman play, 9 Grams, about her experience, putting on full display the ugly truth of what it means to be a targeted black lesbian American traveling and living abroad. Yearwood's heartfelt and often humorous narrative follows her journey from arrest to release, unveiling the layers of emotional strength it took to withstand racism, homophobia, and a less-than-sympathetic girlfriend (who broke up with her after Yearwood was released); and the struggle of an artist seeking inspiration — even in the darkest of times.
Directed by Law & Order's S. Epatha Merkerson, 9 Grams takes you on an emotional roller coaster, leaving you feeling as if you lived through the entire experience yourself. Written and performed by Yearwood, a Harlem native and Hollywood screenwriter, the show is one you don't want to miss.
Related articles
Related Articles
---