---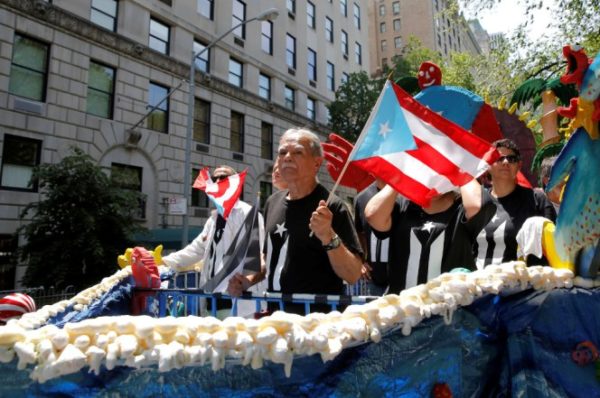 NY Post reports that a Harlem non-profit bankrolled with taxypayer funds from City Council Speaker Melissa Mark-Viverito helped construct the float convicted terrorist Oscar Lopez Rivera rode during the recent Puerto Rican Day Parade.
The city has gave $560,000 to the non-profit Positive Workforce Coalition since 2009 — with $432,500 of that coming from discretionary funds allotted by Melissa Mark-Viverito, who represents East Harlem and is an unapologetic supporter of Lopez Rivera.
A 34-second video — which was available on Facebook during and immediately after the parade — shows unidentified workers building the float at Park Avenue and 128th Street out of trailer rented by Positive Workforce, according to the trailer's owner.
The group's mission is to find construction jobs and provide vocational training to minorities.
"It's a great non-profit," said a source close to the group. "But it's a non-profit Melissa  uses for political purposes."
The social media clip, which was removed after The Post left messages with Positive Workforce, appeared on the Facebook page of La Marqueta Retoña, an initiative organized and controlled by the Acacia Network and its affiliate, the East Harlem Council for Community Improvement.
The East Harlem Council has also benefited directly from Mark-Viverito, raking in at least $435,000 in public funds since 2015, records show.
Officials at the non-profit did not respond to a message seeking comment.
La Marqueta Retoña sponsored a "free" party after the parade in Lopez-Rivera's honor. The shindig — "En Saludo a Oscar" — was advertised on Facebook and scheduled to take place shortly after the parade ended at La Marqueta, a market under the Metro-North line at Park Avenue and 116th Street.
Mark-Viverito came under fire in May when sponsors of the Puerto Rican Day Parade began leaving in droves because of Lopez Rivera's involvement. A member of the Puerto Rican terrorist group FALN, Lopez Rivera spent 35 years in prison for seditious conspiracy, but President Obama commuted his sentence in January — an outcome Mark-Viverito had pushed for strenuously.
Raul Russi, who in 2014 earned $526,210 as CEO of Acacia Network, and Acacia vice president of business development Lymaris Albors declined to explain the post-parade party for Lopez Rivera. Albors seemed to take responsibility for "events" there, but not Retoña's posting of the Facebook video.
"Our scope of work provides the support for the weekly art and culture events at La Placita and La Marqueta," Albors wrote in an email to The Post. "The social media, including the Facebook page or any other platform for La Marqueta Retoña is not part of our scope of work."
Positive Workforce did not respond to several requests for comment. When The Post contacted the non-profit at a landline tied to its 125th Street address, a man who identified himself as P. answered and quickly hung up.
Mark-Viverito defended the funding.
"This funding was designated for workforce development and cultural programming and the City Council's investment has helped support El Barrio residents by creating local jobs, investing in the community and revitalizing the iconic La Marqueta market," said Mark-Viverito spokeswoman Robin Levine.
Via source
---