---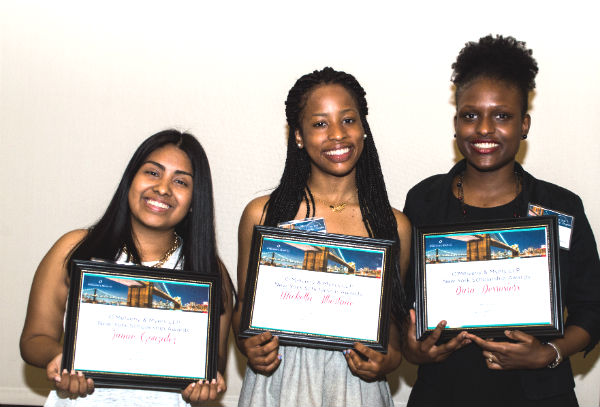 On Tuesday, May 19, 2015 the 13th Annual O'Melveny & Myers LLP New York scholarship ceremony honored an extraordinary group of NYC public high school students with inspiring stories to tell, including three from Harlem's Thurgood Marshall Academy.Here they are:
Mickella Albertine

is devoted to becoming an internal medicine physician and will be the first woman in her family to attend college. Described by one of her teachers as "a rare type of student who combines exceptional natural ability with a willingness and eagerness to learn."
Dara Desrosiers, who dreams of becoming a psychologist or pediatrician, emigrated from Haiti at 10 years old and will be the first in her family to graduate from high school and go on to college. She has maintained the highest GPA in her class of 77 since the start of her high school career.
Jamie Gonzalez wants to be a civil engineer. Jamie is described as possessing "an insatiable thirst for knowledge."  A child of parents who emigrated from Mexico at age 16. She is an honor roll student, an intern at the Housing Development Fund Corporation, and plays on the soccer team.
In addition to the financial support the scholarships provide, scholars will receive academic mentoring from O'Melveny employees. Each scholarship recipient will be paired with an O'Melveny attorney or staff member who will offer support throughout the college admission process, provide feedback on application materials, and give advice on school selection.
"I thank O'Melveny & Myers for their thoughtful investment in these accomplished students and their future," Chancellor Fariña said. "When private-sector and community organizations come together to support our students, it's not just the students who benefit — our whole City does. I look forward to watching these students continue to learn and pursue their dreams in college and beyond, and to our continued partnership with O'Melveny & Myers."
In addition to Chancellor Fariña's speech, the ceremony will include remarks from 2006 O'Melveny Scholar Nime Lakoju, a health-care manager at Harlem Children's Zone; 2003 O'Melveny Scholar Vladimir Yelizarov, now an O'Melveny associate and co-chair of the Firm's New York Scholarship Committee; and Jeffrey Kohn, managing partner of O'Melveny's New York office.
These students that make our future strong from Harlem to Hollywood, they help us believe that the 21st century is in good hands.
For more information, please visit www.omm.com
For more information about the Fund for Public Schools, visit www.fundforpublicschools.org
Related Articles
---