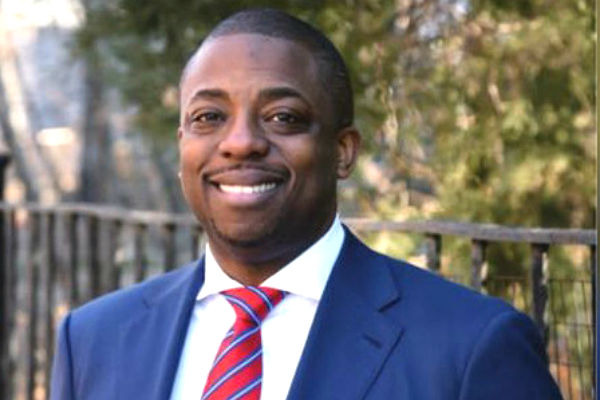 Many tenants in Harlem who are lacking heat or hot water, living in decrepit conditions, or getting slapped with an eviction notice now know who to call: soon-to-be state Sen. Brian Benjamin.
Benjamin is a top executive at Genesis Companies, the development firm that has emerged as one of Harlem's biggest owners of rental properties.
Benjamin, who last month was nominated as the Democratic Party's candidate for Harlem's vacant state Senate seat, is managing director of business development at Genesis, which in 2015 acquired 31 Harlem mostly rental properties from the financially struggling Abyssinian Development Corp.
But Genesis and Benjamin, who is expected to win the May 23, 2017 special election, have much work to do to fix the buildings.
Records reviewed by The Post reveal:
The Dept. of Housing and Preservation Development filed civil suits against Genesis over heat and hot water problems at 4 buildings: 71 W. 131 St, 73 W. 131 St., 28-30 West 131 St. and 106 W. W. 138th St.
At 28-30 W. 131st, the sole elevator has been out of service pending repairs. "The elevator thing really sucks, I got bad knees so it's hard.," said a 44-year-old tenant said.."I need a working elevator…can't be walking up and down like this."
More than 500 outstanding city violations recorded at all of Genesis' Harlem building since 2016, which includes: rat and roach infestation, bed bugs, faulty-wiring, lead paint hazards, water leaks, broken floors and lack of access to a janitor.
Genesis filed cases against 47 tenants in civil and housing court for non-payment of rent since late 2015. Six of the cases were filed on Dec. 21 through 23 of last year, just days before Christmas.
But a spokesman said Benjamin is taking a "modified leave" from Genesis to focus on his campaign.
"To ensure that his professional responsibilities do not distract from these efforts, Brian has taken a modified leave from day-to-day operations at Genesis Company effective the date of his nomination," the campaign spokesman said.
"While no election laws or regulations require him to do so, Brian has made this decision voluntarily in the interest of holding himself and his campaign to the highest ethical standards."
Genesis and city housing officials said many of the building violations already existed when the firm bought the properties from Abyssinian Development Corp.
"Genesis is one of the leading companies providing affordable housing in Harlem and has turned around several residential buildings in poor condition so that the quality of life for tenants is now much better. No one disputes that tenant services have improved considerably under Genesis leadership: new improvements have been added; pre-existing violations have been eliminated at rapid speed; and rents have not increased. Finally no tenant has been evicted," the company said in a statement.
An HPD spokeswoman said Genesis fixed the "pre-existing" heat and hot water complaints.
Related Articles
VIDEO
---
Harlem Cultural Archives is a donor and foundation-supported Historical Society, Its mission is to create, maintain and grow a remotely accessible, online, interactive repository of audio-visual materials documenting Harlem's remarkable and varied multicultural legacies, including its storied past as well as its continuing contributions to the City and State of New York, the nation, and the world.
Support Harlem Cultural Archives
and
click here to get more Harlem History
, Thank you.