---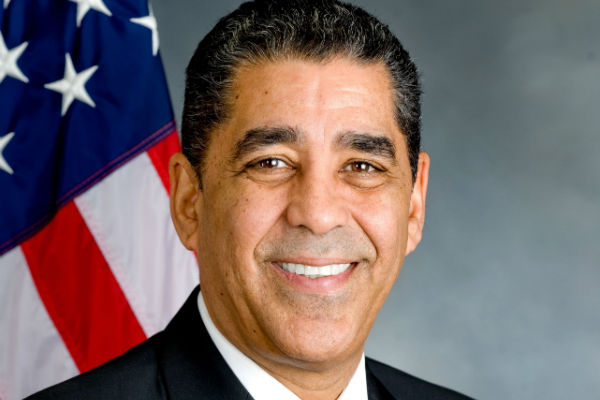 In a letter to the New York State Senate and the New York State Assembly, Representative Adriano Espaillat.
And members of the New York congressional delegation expressed their grave concerns regarding the lack of Latino representation on the state's newly-formed Independent Redistricting Commission. The letter is supported by several civil rights groups and calls for the Commission to be more reflective of the state's Latino representation.
"Latino communities have a significant presence throughout New York and account for over 3.7 million residents in the state," said Rep. Adriano Espaillat. "In New York City, Latinos make up nearly 30 percent of the city's population and play a prominent role in local, statewide and national elections. While still underrepresented at every level of government in New York, Latinos held 10 percent of both state legislative seats and congressional seats in 2018. It is clear that Latino New Yorkers are shaping the political, economic and social fabric of our state, and it is more critical than ever that our communities are represented and have a seat on the newly created Commission that will help shape the political landscape of our future."
"It is imperative that New York's newly created independent redistricting commission reflect the rich multi-ethnic diversity of New York. Inasmuch as one out of every five New Yorker is Latino, principles of equity, fairness, and inclusion warrant Latino representation on the commission," said Juan Cartagena, President and General Counsel of LatinoJustice PRLDEF. "LatinoJustice and its partners will be closely monitoring the Commission's appointment of the final two members."
"Dominicans make-up a significant portion of New York State's Latino population, nearly one million, and it is imperative that we be provided a seat at the table when this essential democratic process is taking place," said Eddie Cuesta, National Executive Director of Dominicanos USA. "We are proud to join New York's Congressional Delegation, LatinoJustice PRLDEF and NALEO Educational Fund in advocating for fair and equitable representation of the Latino community in the New York State Independent Redistricting Commission. We look forward to one or more of the highly-qualified Latino candidates we recently recommended being appointed to the Commission."
"As the second largest population group in the state, New York's Latinos deserve fair representation on the newly-formed Independent Redistricting Commission," said Arturo Vargas, Chief Executive Officer at the National Association of Latino Elected and Appointed Officials (NALEO) Educational Fund. "There is no dearth in qualified Latinos to serve on the Commission, and recently NALEO Educational Fund joined LatinoJustice PRLDF and Dominicanos USA in identifying five possible candidates; we know there are many more as well. The 3.7 million Latino New Yorkers should not be shut out of a process that influences all aspects of their daily lives."
First elected to Congress in 2016, Rep. Adriano Espaillat is serving his second term in Congress where he serves as a member of the influential U.S. House Foreign Affairs Committee, the House Committee on Transportation and Infrastructure, and the House Small Business Committee. He serves as a Senior Whip of the House Democratic Caucus and is a member of the Congressional Hispanic Caucus (CHC) where he also serves in a leadership role as CHC Whip. He is also chairman of the CHC Task Force for Transportation, Infrastructure and Housing. Rep. Espaillat's Congressional District includes Harlem, East Harlem, northern Manhattan and the north-west Bronx. To find out more about Rep. Espaillat, visit online at https://espaillat.house.gov/.
Spanish
En una carta al Senado del Estado de Nueva York y a la Asamblea del Estado de Nueva York, el congresista Adriano Espaillat (NY-13) y los miembros de la delegación legislativa de Nueva York expresaron sus graves preocupaciones con respecto a la falta de representación latina en la recién creada Comisión Independiente de Redistribución de Distritos del estado. La carta cuenta con el apoyo de varios grupos de derechos civiles y pide que la Comisión refleje más la representación latina del estado.
"Las comunidades latinas tienen una presencia significativa en todo Nueva York y representan más de 3.7 millones de residentes en el estado", dijo el Rep. Adriano Espaillat (NY-13). "En la ciudad de Nueva York, los latinos representan casi el 30 por ciento de la población de la ciudad y juegan un papel prominente en las elecciones locales, estatales y nacionales. Aunque todavía están subrepresentados en todos los niveles de gobierno en Nueva York, los latinos tenían el 10 por ciento de los escaños legislativos estatales y los escaños del Congreso en 2018. Está claro que los neoyorquinos latinos están dando forma al tejido político, económico y social de nuestro estado, y es más importante que nunca que nuestras comunidades estén representadas y tengan un asiento en la Comisión recientemente creada que ayudará a dar forma al panorama político de nuestro futuro".
"Es imperativo que la recién creada Comisión Independiente de Redistribución de Distritos de Nueva York refleje la rica diversidad multiétnica de Nueva York. En la medida en que uno de cada cinco neoyorquinos es latino, los principios de equidad, justicia e inclusión justifican la representación latina en la comisión", dijo Juan Cartagena, presidente y asesor general de LatinoJustice PRLDEF. "LatinoJustice y sus socios monitorearán de cerca el nombramiento de los últimos dos miembros de la Comisión".
"Los dominicanos constituyen una parte importante de la población latina del estado de Nueva York, casi un millón, y es imperativo que se nos proporcione un asiento en la mesa cuando este proceso democrático esencial se esté llevando a cabo", dijo Eddie Cuesta, director ejecutivo nacional de Dominicanos USA. "Estamos orgullosos de unirnos a la Delegación Legislativa de Nueva York, LatinoJustice PRLDEF y el Fondo Educativo NALEO para abogar por una representación justa y equitativa de la comunidad latina en la Comisión Independiente de Redistribución de Distritos del Estado de Nueva York. Esperamos que uno o más de los candidatos latinos altamente calificados que recomendamos recientemente sean nombrados en la Comisión".
"Como el segundo grupo de población más grande del estado, los latinos de Nueva York merecen una representación justa en la recién formada Comisión Independiente de Redistribución de Distritos", dijo Arturo Vargas, director ejecutivo del Fondo Educativo de la Asociación Nacional de Funcionarios Latinos Elegidos y Nombrados (NALEO). "No hay escasez de latinos calificados para servir en la Comisión, y recientemente el Fondo Educativo NALEO se unió a LatinoJustice PRLDF y Dominicanos USA para identificar cinco posibles candidatos; sabemos que hay muchos más también. Los 3.7 millones de neoyorquinos latinos no deberían quedar excluidos de un proceso que influye en todos los aspectos de su vida cotidiana".
Elegido por primera vez al Congreso en 2016, el congresista Adriano Espaillat está cumpliendo su segundo mandato en el Congreso, donde se desempeña como miembro del influyente Comité de Asuntos Exteriores, del Comité de Transporte e Infraestructura, y del Comité de Pequeños Negocios de la Cámara de Representantes de los Estados Unidos. Sirve como Coordinador Superior (Senior Whip) del Caucus Demócrata de la Cámara y es miembro del Caucus Hispano del Congreso (CHC) en el cual desempeña un papel de liderazgo como Coordinar (Whip) del CHC. También es presidente del Grupo de Trabajo sobre Transporte, Infraestructura y Vivienda del CHC. El Distrito Congresual del Cong. Espaillat incluye Harlem, East Harlem, el norte de Manhattan y el noroeste de El Bronx. Para obtener más información sobre el congresista Espaillat, visite la página de internet https://espaillat.house.gov/.
---