---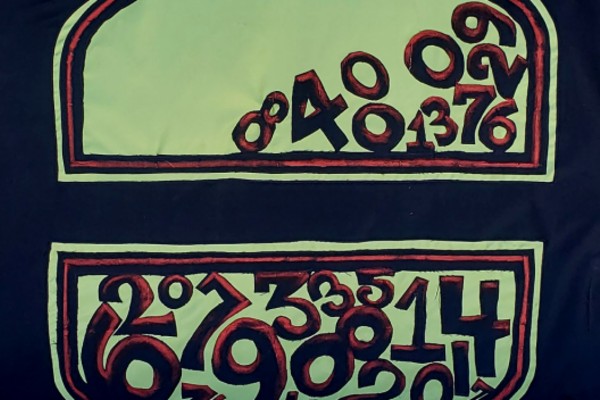 HNA presents Up South, a public art installation honoring the history of those who birthed the movements leading up to,
during, and beyond The Harlem Renaissance.
Forging a continuum of Black thinkers that amplify the historical contributions of African/Black/Americans in Harlem.
Through scholarship, literature, philanthropy, activism, entrepreneurship, art, community building, multi-lingual and ethnically diverse people, Harlem made a significant impact on the shaping of New York and the larger landscape of America.
This visual interpretation in textile highlights and gives voice to Casper Holstein (H), the 369th Infantry Regiment (Harlem Hellfighters) band (A), Georgia Douglas Johnson (R), Lois Mailou Jones (L), Aaron Douglas (E), and the northern migration to Harlem (M).
Each figure corresponds with a letter to spell HARLEM, as seen in parenthesis after each name.
Constructed through the use of textile, Up South includes artist mediums that include embroidery, applique, surface design, and or mixed media fiber construction.
Featured artists include Laura R. Gadson, Sylvia Hernandez, Oluwaseyi Awoyomi, and Ife Felix. The installation reflects on the movement and embraces the imagery of textile art to move the narrative forward.
Up South is supported, in part, by public funds from the New York City Department of Cultural Affairs in partnership with the City Council.
Additional funding and support from the Upper Manhattan Empowerment Zone, Harlem Community Development Corporation, Council Member Bill Perkins, Mid-Atlantic Art Foundation, New York State Council on the Arts, Materials for the Arts and Omidyar Global Fund at the Hawai'i Community Foundation.
This exhibition is part of NYC Parks' Art in the Parks program.
While viewing Up South please follow all necessary protocols related to social distancing and mask-wearing.
Colonel Charles Young Triangle Park, 153rd Street, and Adam Clayton Powell, Harlem, New York (along the metal fence) reports Harlem Needle Arts.

Harlem Needle Arts, 212-491-8581, https://harlemneedlearts.org |, info@harlemneedlearts.org
---