---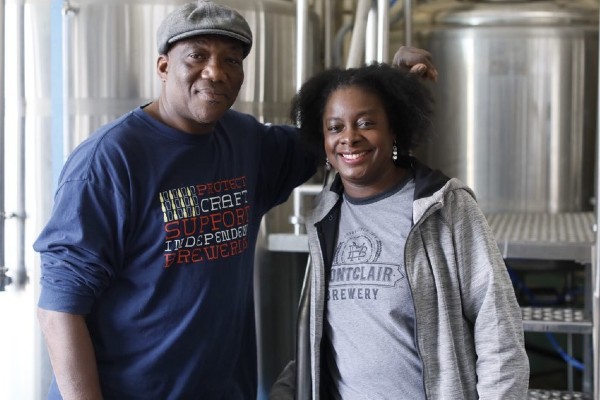 To celebrate the 3rd Anniversary of their acclaimed Craft Beer Bar, the only Black-owned bar of its kind in Harlem.
The HBCU-educated partners of Harlem Hops (Kim Harris, Stacey Lee, and Kevin Bradford) celebrated Wednesday, June 9th, 2021, drop off a special beer brewed in collaboration with Black-owned Montclair Brewery: JUBILEE – a Hibiscus Red Ale whose name also celebrates Juneteenth 2021.
It's been a challenging year of bringing exceptional beer from local craft brewers to Harlem (often by bicycle) and continuing to bring diversity to the world of craft beer.
This upcoming weekend will be a celebration of gratitude to Harlem Hops' customers, who have supported them throughout the pandemic and enabled them to survive and thrive.
It will also mark the 2nd Anniversary of Harlem Hopes, the bar's 501c3 scholarship foundation for Harlem students headed to HBCUs in the Fall (contributions can be made at www.harlemhopes.org).
In addition to the Jubilee beer, there will also be a frosty treat (and a further collab): a Hibiscus Sorbet created with the beer by New York's Mikey Likes It Ice Cream.
After their successful Spring collab with Four City Brewing Company and Harlem Blue, La Renaissance Du Monde, the Harlem Hops team sought out one of the metro area's other Black-owned breweries for a joint celebration.
Together they've created a delicate red wheat ale brewed with hibiscus flowers. The hibiscus' natural tartness is well-balanced with a measured addition of lactose, and Perle hops in combination with 3 ears of wheat result in a super crisp and clean vibrantly red summer ale.
Montclair Owner/Brewer Leo Sawadogo says, "As I learned more about the Juneteenth holiday, I wanted to add a piece of Africa to the recipe; to remind everyone about the origin of these people who finally got their freedom. That's why I chose hibiscus, also known as bissap in many parts of Africa." Leo's wife and Co-Owner/General Manager Denise Ford Sawadogo states, "Harlem Hops is one of our most passionate business partners and friends in New York, and we're thrilled to partner with them on this special anniversary release that also allows us to raise awareness and educate others about our history and our culture." As with their prior collab, the Jubilee label artwork is by Harlem-born artist Roosevelt "Black Rose" Taylor.
Harlem Hops co-founder Kim Harris says, "We always reserve one or more taps for Black-owned breweries. We're proud to pour Montclair Brewery's beer, and this project is a natural outgrowth of our friendship, our mission to educate, and our desire to continue to offer our guests the best, freshest craft beer available." Jubilee will be available at Montclair Brewery and at Harlem Hops as of June 9th, 2021.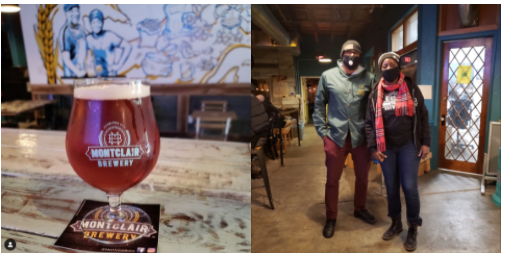 On Saturday the 12th of June, 2021, and Sunday the 13th of June, 2021, guests at Harlem Hops can enjoy a special offering: a glass of Jubilee, an order of Spicy Guma Pies, and a serving of the Hibiscus Sorbet for $13 (while supplies last).
Go to the Harlem Hops website for the ever-changing beer list, food menu, and more information.
Harlem Hops, 2268 ACP Jr Blvd, New York, NY, 133rd & 134th Street, 646.998-3444, www.harlemhops.com, @harlemhops
Photo credit: 1) Leo Sawadogo and Denise Ford Sawadogo, Co-Owners of Montclair Brewery. 2-3) Beautiful Beer! and Harlem Hops' Kevin Bradford with Denise Ford Sawadogo.
---