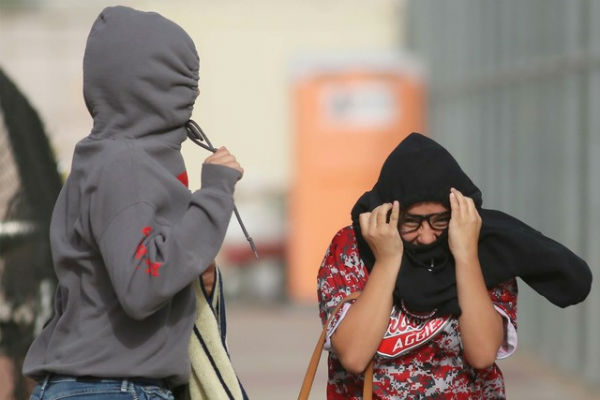 The New York City Emergency Management Department today urged all New Yorkers to be prepared for high winds, heavy rain, and localized minor to moderate coastal flooding on Monday, January 23, 2017.
The potential for heavy winds and rain will create hazardous travel conditions Monday.
"New York City is expecting strong, gusty winds and two to three inches of rain Monday, with possible minor to moderate coastal flooding in vulnerable areas along the coast," said NYC Emergency Management Commissioner Joseph Esposito. "We're urging New Yorkers to use extra caution when outdoors Monday and allow for extra travel time during tomorrow's commutes. Coastal residents in vulnerable neighborhoods should take steps to protect their property ahead of this storm."
The National Weather Service has issued a High Wind Warning from 1:00 AM Monday through 1:00 AM Tuesday. The National Weather Service has also issued a Flood Watch for New York City from 1:00 PM Monday through 5:00 AM Tuesday.
A Coastal Flood Advisory has been issued from 3:00 PM through 8:00 PM Monday for along the southern shores of Queens, and areas near the coastline in Brooklyn and Manhattan.
A Coastal Flood Advisory has been issued from 5:00 PM to 10:00 PM Monday along the northern shores of Queens and areas near the coastline in The Bronx.
During a Coastal Flood Advisory, minor flooding of the most vulnerable shore roads and/or properties is possible. Coastal residents should be alert for updates and take action to protect property.
A Coastal Flood Warning is in effect from 3:00 PM through 9:00 PM Monday for areas near the coastline in Staten Island.
During a Coastal Flood Warning, widespread moderate flooding is expected, resulting in beach erosion and flooding of vulnerable shore roads and/or properties. Coastal residents in the warned area should be alert for rising water and take appropriate action to protect life and property.
A weak area of low pressure is expected to bring heavy rain and high winds to the New York City area through Monday. Light rain accompanied by high winds is forecast to begin Sunday evening, increasing overnight into Monday. The heaviest rain and strongest winds are forecast Monday afternoon through Monday night, with sustained winds of 30 mph to 40 mph and gusts of 60 mph to 70 mph predicted. The rain is expected to subside Monday night and winds are expected to decrease early Tuesday morning. A total of two to three inches of rain is forecast, but locally higher amounts are possible. Urban flooding may occur in low-lying and poor drainage areas. Flash flooding cannot be ruled out during the periods of heaviest rain. NYC residents living in coastal areas expected to experience minor to moderate coastal flooding should take action to protect their property.
The New York City Department of Buildings has issued a release advising property owners, contractors and crane operators to take precautionary measures to secure their construction sites, buildings and equipment. The Buildings Department will also be performing random spot-check inspections of construction sites around the City. If sites are not secured, the Department will take immediate enforcement action — issuing violations and Stop Work Orders, where necessary.
The City's Flash Flood Emergency Plan has been activated to ensure a quick, effective, and coordinated response to any flash flood events. Additionally, the City's Downed Tree Task Force has been notified. This multi-agency task force is responsible for coordinating the response to a large downed tree event. NYC Emergency Management has also notified elected officials of the impending storm, and has issued an Advance Warning System (AWS) message to more than 1200 service providers who disseminate information to people with disabilities and others with access and functional needs. NYC Emergency Management will deploy Citywide Interagency Coordinators to coastal locations during Monday and Tuesday high tide cycles to facilitate coordination and information collection. New York City Emergency Management will continue to work closely with The National Weather Service to monitor the storm.
---
---
The Department of Environmental Protection, Department of Transportation, and Department of Sanitation regularly target recurring flood locations for catch basin cleaning and maintenance prior to major weather events. During flooding events, DEP patrols highways to identify and clear catch basin grates when possible.
Safety Tips:
The safest place to be during high winds is indoors. Postpone outdoor activities if a wind advisory or high wind warning has been issued. High winds can bring down trees and power lines and can turn unsecured objects into dangerous projectiles. To protect against the hazard of high winds, New Yorkers should:
Check the area immediately surrounding your home for unsecured objects or potentially dangerous conditions. Tree limbs, garbage cans, yard debris, or other materials that can be moved by the wind are potential projectiles aimed at your home or parked vehicle.
Bring inside loose, lightweight objects such as lawn furniture, potted plants, garbage cans, garden tools and toys.
Anchor objects that would be unsafe outside, such as gas grills or propane tanks.
Close up and secure patio umbrellas.
Secure retractable awnings.
Remove aerial antennas and satellite television dishes.
Use caution when walking or driving high profile vehicles during periods of high winds.
Stand clear of roadways or train tracks, as a gust may blow you toward an oncoming vehicle.
Use handrails where available.
Avoid elevated areas such as roofs, as wind speeds may be higher above ground level.
Avoid anything that may be touching downed lines, including vehicles or tree branches. Puddles and even wet ground can conduct electricity in some cases.
Watch for flying debris. Tree limbs may break and objects may become loose during strong wind gusts.
Build or restock your emergency supply kit, including a flashlight, batteries, cash, and first aid supplies.
Charge cell phones and any battery-powered devices.
Turn your refrigerator and freezer to a colder setting. If you lose power, items that need refrigeration will stay cooler for longer. Keep refrigerator and freezer doors closed to prevent food spoilage.
Check on friends, relatives, and neighbors, especially older adults and people with disabilities, access and functional needs, or health conditions. Help them to prepare if needed.
If you lose power and have a disability or access and functional needs, or use Life Sustaining Equipment (LSE) and need immediate assistance, please call 911.
If you are driving during periods of high winds:
Keep both hands on the wheel and slow down.
Watch for objects blowing across the roadway and into your path.
Keep a safe distance from cars in adjacent lanes, as strong gusts could push a car outside its lane of travel.
Take extra care in a high-profile vehicle such as trucks, vans and SUVs, as these vehicles are more prone to being pushed or flipped by high wind gusts.
New Yorkers are encouraged to call 911 to report emergencies at construction sites or buildings. New Yorkers who suspect a building or property has been structurally compromised should call 911.
Additional wind guidance from the NYC Department of Buildings:
To safeguard construction sites, builders, contractors, and developers should take all precautionary measures including but not limited to the following:
Tie down and secure material and loose debris at construction sites.
Cover electrical equipment from exposure to the weather.
Store loose tools, oil cans, and extra fuses in a tool box.
Secure netting, scaffolding, and sidewalk sheds.
Suspend crane operations and secure crane equipment when wind speeds reach 30 mph or greater.
Suspend hoist operations and secure exterior hoists when wind speeds reach 35 mph or greater, unless manufacturer specifications state otherwise.
Brace and secure construction fences.
Call 911 if there is an emergency on a construction site.
Coastal Flooding Preparations
NYC residents living in coastal areas expected to experience minor coastal flooding should take the following preparedness steps:
Prepare a Go Bag that you can grab in case you need to leave your home in a hurry.
Learn the safest route from your home or workplace to safe, high ground in case you have to evacuate. This should be part of your household emergency plan.
If you live in a flood-susceptible area, keep materials, such as sandbags, plywood, plastic sheeting, and lumber, on hand to help protect your home.
Stay informed. Before and during an emergency, the City will send emergency alerts and updates to New Yorkers through various channels, including Notify NYC.
Sign up for emergency notifications at NYC.gov/NotifyNYC or call 311. You can also follow @NotifyNYC on Twitter.
If you have to walk in water, walk where the water is not moving or use a stick to check the firmness of the ground in front of you.
Stay out of any building if it is surrounded by floodwaters.
When outside, avoid walking and driving through flooded areas. As few as six inches of moving water can knock a person over. Six inches of water will reach the bottom of most passenger cars, causing loss of control and possible stalling. One or two feet of water can carry away a vehicle.
Be safe Harlem.
No related posts found...
VIDEO
---
Harlem Cultural Archives is a donor and foundation-supported Historical Society, Its mission is to create, maintain and grow a remotely accessible, online, interactive repository of audio-visual materials documenting Harlem's remarkable and varied multicultural legacies, including its storied past as well as its continuing contributions to the City and State of New York, the nation, and the world.
Support Harlem Cultural Archives
and
click here to get more Harlem History
, Thank you.