---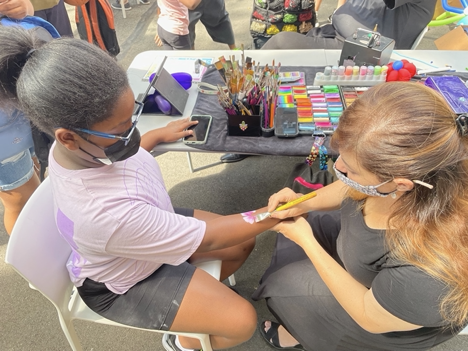 A&E Real Estate today announced the return of Harlem Grown to Riverton Square, bringing expanded after-school programs for young residents to the complex.
Harlem Grown provides free hands-on urban farming, cooking and nutrition programs. A&E's management has partnered with the organization to increase the number of farmers, student slots and hours at the site, which can now accommodate up to 20 youth participants per day.
"This has been a hard 18 months for kids, and so we were determined to bring Harlem Grown back to Riverton Square, bigger and better than ever. This is our community, and we're here to support it in every way we can. We're thrilled to welcome Harlem Grown home to Riverton," said Maggie McCormick, President of A&E Real Estate.
"We're delighted to be back at Riverton Square to resume our service in this community. It's our mission to inspire young people to live healthy and ambitious lives. We want to get them excited about farming and build their leadership, self-confidence, and teamwork skills. We are grateful for A&E's support expanding our programs," said Nicole Engel Executive Director of Harlem Grown.
The after-school program is open Monday to Friday, 3 pm-7 pm EST, in alignment with the NYC Department of Education schedule. The program is open to all children in grades 1 to 8 who live in Riverton Square on a first-come, first-served basis.
A&E sponsored a community fair for kids with Harlem Grown last month to introduce them to the programs. The free event included a fresh produce giveaway, face painting, caricature drawings, science projects, ice cream and a cooking demo from the Harlem Grown food truck.
Learn more at https://www.harlemgrown.org/riverton.
A&E Real Estate
A&E Real Estate was founded in 2011 to invest in multifamily properties in the New York City Metropolitan area with a primary focus on workforce housing. With more than 15,000 apartments, A&E performs direct asset management, property management, and construction management for its entire portfolio, with a belief that no third-party manager will bring the same degree of focus and attention to detail.
A&E's commitment to provide a high level of service to its residents reflects the philosophy that both owner and resident have a mutual long-term interest in preserving the city's multifamily residential stock.
The residents of A&E's properties comprise the backbone of New York City's economy. Police and fire personnel, train and bus drivers, hospital workers, teachers and banquet managers are all included among the residents of A&E's properties.
---