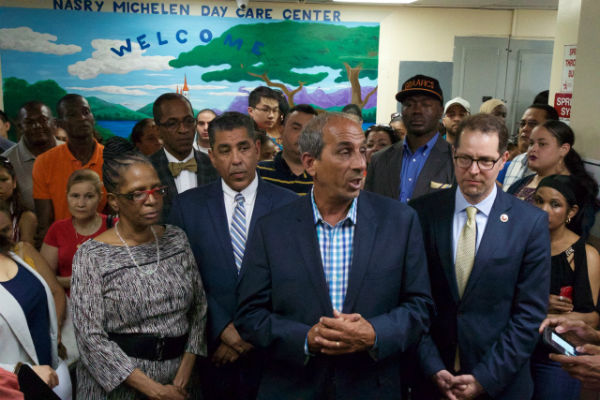 On Thursday, May 28, City Council Member Mark Levine, State Senator Adriano Espaillat, and dozens of concerned parents and members of the community rallied at Nasry Michelen Day Care (Nasry) and called on the New York City Administration of Children's Services (ACS) …
… to reconsider their decision not to award a new Early Learn day care contract to Nasry. Nasry, a fixture of the Harlem community for more than 30 years, was the first Dominican-founded day care center in New York City.
Without a new contract, Nasry would be moved from its current site and could be forced to cease operations. ACS issued a request for proposals for a host of day care centers in a process that treated providers who've served in a community for decades exactly the same as providers who served in the same area for a only a brief period. Competing with larger, well resourced providers, Nasry, a small single-site center, scored 91 points out of a potential 100 on their proposal to ACS–an impressive and near perfect score. The decision regarding Nasry's appeal stands to impact over 150 children, and would affect more than 350 family members.
"In its 30 years of operation, Nasry Michelen Day Care Center has earned the faith and gratitude of the West Harlem community. They have provided high quality programming, and a positive environment for the children they serve. I urge the New York City Administration of Children's Services to reconsider this decision, which fails to take into account the relationships this center has fostered with the families in our community. I have seen first-hand the quality of their work and it is my hope that they can continue to be a resource to those they serve for years to come," said Council Member Mark Levine.
"The Nasry Michelen Day Care Center is a trusted institution because it has provided excellent early childhood education for 30 years. The center should have its contract restored immediately so it can continue to provide a safe, healthy, bi-lingual and culturally sensitive learning environment for the children in our community," said State Senator Adriano Espaillat (D-Manhattan/Bronx).
"I want to thank all of our supporters for helping us fight to keep our center open.  We love this community, the children we serve, and we want it to stay open for many more years," said Nasry Michelen, Executive Director of Nasry Michelen Day Care Center
"Nasry Michelen Day Care Center is the second home for my daughter. The staff takes care of her very well and the love they provide her is incredible. Nasry is the best day care center in the neighborhood and helps so many families. It should stay open long into the future," said Dr. Ghanshyam Upadhyay, parent of a four year child at Nasry.
Kim Rodriguez, who also has a four year old at Nasry said, "It's unfair that Nasry Michelen day Care Center could be kicked out of our community. My child has learned so much at the center because they are supportive and they care. Nasry is the best in this area and our community needs them to stay."
Related Articles
---