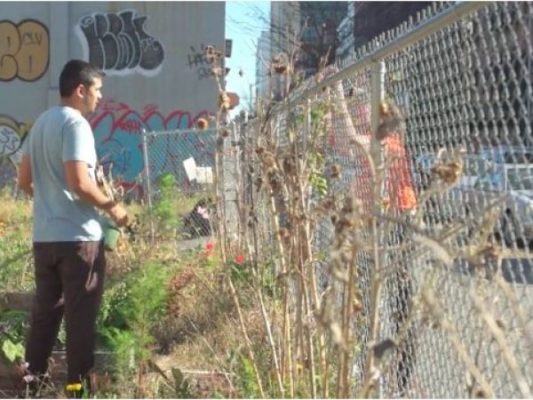 A community garden on city-owned land in Harlem has been targeted for development, but volunteer gardeners are fighting to save the green space. Volunteers from the Nelson Mandela Community Garden have launched a petition calling on NYC Mayor Bill de Blasio to scrap plans to build a mixed-use affordable housing development on the garden's lot.
The city announced plans Friday for a new development at 263-267 W. 126th St, between Frederick Douglas and Adam Clayton Powell Jr. boulevards. The development will contain 29 housing units constructed to adhere to "passive building" standards, a restaurant space and space for tech incubator Silicone Harlem.
Since the summer of 2016 the lot has been home to the Nelson Mandela Community Garden after sitting vacant for 30 years, according to a petition which has garnered more than 100 signatures. Volunteers from the garden said they were given no notice that the city had targeted the lot for development, according to the petition.
"We serve the community by creating a focal point where New Yorkers young, old of all creeds and colors collaborate to create a better city for everybody. We pass on to the next generation the value of community engagement and service," reads the petition. "We serve the environment by restoring the aquifer and curating a unique environment that supports bio-diversity. Now it has been targeted for development by the reigning administration."
Here's a rendering of the proposed development:
Screengrab of video from Matt Marquez/Vimeo
Related Articles
---
VIDEO
---
"We re-imagine, recreate, and redeem cultural omissions and misrepresentations of Blackness, for the culture. ...." This post is made in partnership with British Pathé.