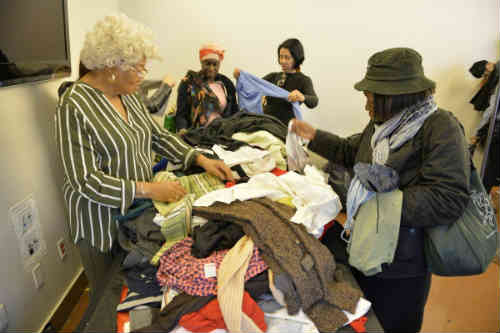 NY Daily News reports that a tres chic clothing drive was held Saturday at a Harlem church — offering high end duds for those in need.
First Corinthian Baptist Church, for the fifth year running, transformed its halls into a high-end boutique featuring different "departments." They offered up a selection of women's shoes and dresses, men's suits and children's coats donated by parishioners.
Throughout the day, more than 800 people weaved in and out of rooms, perusing racks of items.
The church encouraged people from local homeless and domestic violence shelters, senior centers, soup kitchens, and their own congregants to take a look.
Once selections were made, the clothes were gift-wrapped by volunteers.
"We do this every year because there is an imbalance," said associate pastor Willa Rose Johnson, 33. "A lot of people have so much and some people are struggling to have the clothes they need to stay warm or get to an interview."
Elaine Payne, a 22-year-old from the Bronx, shopped for items for her younger siblings. Payne had never been to a clothing drive before and was initially skeptical. "My mom doesn't get around to getting clothes for them so I'm trying to help out," she said. "I'm kind of surprised, I like this. It's clean, it's put-together, folded. I have some nice stuff here!"
Related Articles
---
VIDEO
---
"We re-imagine, recreate, and redeem cultural omissions and misrepresentations of Blackness, for the culture. ...." This post is made in partnership with British Pathé.