---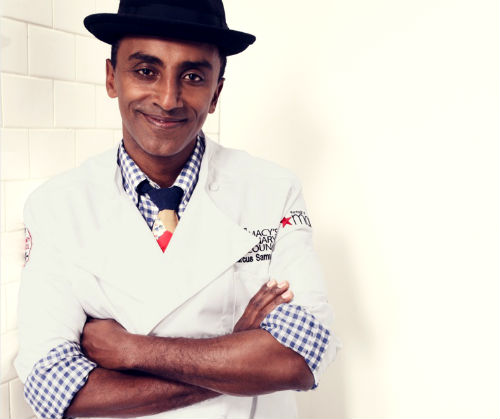 TapInTo Newark reports that acclaimed Harlem celebrity chef Marcus Samuelsson knows what he wants and he knows how to get it.
He helped Harlem, long the hub of black culture, become happening again with a pair of successful restaurants that are contributing to the revitalization of the famed Manhattan neighborhood.
Samuelsson is rolling the dice by opening a new restaurant in Newark, now undergoing its own revival.
But for the culinary king of Harlem, coming to New Jersey's largest city is no gamble. Instead, it's a sure thing.
"It's easy to be drawn to Newark for things that I've been drawn to – the diversity, the music, the Ironbound, to the amazing food here," Samuelsson told TAPinto Newark at the jam-packed official opening debut last week of Marcus B&P, located at 56 Halsey Street on the main lane of a downtown Newark, now exploding with new life after decades of dormancy.
"We're just adding on in the neighborhood one more establishment that can help be here for the community," he said.
Judging from the jam-packed crowd at Marcus B&P, which had its soft opening several weeks ago, the arrival of a Samuelsson-run restaurant to Newark is not just adding on more establishment to Halsey Street.
Waiters balanced trays of Samuelsson's signature fried chicken, mini-cornbread and brick-oven pizza through a sea of people spilling out into the hall outside one of the restaurant's door.
The pedestrian walkway was transformed into a pulsating club, with a party jazz band driving crowd members to dance. The open bar serving craft cocktails such as the Newark Jump Off – a combination of ginger whiskey, shaved nutmeg, ginger infused syrup, and house-made sour mix – also helped let the good times roll deep into the evening.
Several of those attending the Marcus B&P party—the restaurant name a reference to the Swedish concept of "back pocket," an accessible and casual place—believe that the new dining spot will further open up Newark for after-5 p.m. fun.
"This means we'll have a nightlife," said Marty Weber, owner of the Green Chicpea restaurant, just steps away on Halsey Street. "Places like this keep the stores open, and gives me the hope that I can also stay open later."
"We need vibrancy and nightlife," said Rosa Hyde, who works in the arts education department of the New Jersey Performing Arts Center (NJPAC). "We had it before downtown, but it's been a while. I'm hoping it's back."
"Newark has been getting better, and it's been drawing in more people," said Jim Pise, who came down from his Clifton hometown to watch his son play in the jazz band. "This is a good sign of that happening."
"I really feel like this is it for Newark. Someone like Marcus being here means so much to the community," said Andres Jimenez, who runs a branding and marketing firm in Newark that designed the logo for the new restaurant. "He brings an amazing energy and an international flavor to the city. He connects everything and everybody. That's why I'm here."
The hype that halos around Samuelsson is backed up by facts that together make for a great life story.
Related Articles
---