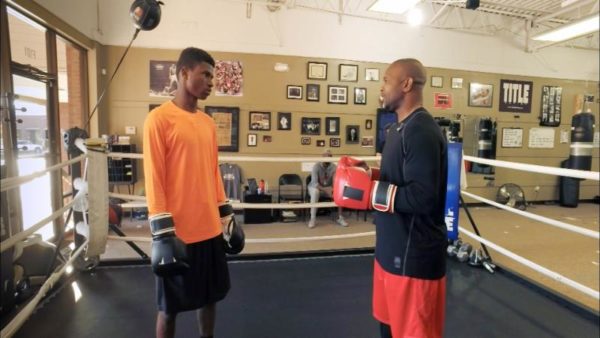 Season 3 of TV One's Rickey Smiley For Real has followed the highs and lows as Rickey Smiley has gone through parenting trials and tribulations with his kids. It seems just as one relationship improves, another falls short! Last week, when Rickey attempts to surprise Malik by bringing his favorite boxer, Heavyweight Boxing Champion Roy Jones Jr. to his practice, the teen shows out and doesn't want to participate. The season finale picks up with Jones Jr. having a heart-to-heart with Malik about respecting his father on Tuesday, January 24th, 2017, at 8 p.m. ET.
"I learned all the stuff that you love about me from my father," said Jones Jr. "Our fathers mean the most and the best for us. They're not there to be an enemy, even when it seems like they are. They mean well and they try to give us the best that they can give us. So, you have to learn to trust your father."
As Rickey watches the champion boxer talk to his son, he's left speechless.
"Sitting there watching Roy Jones give my son a real talk about respect was deep," said Rickey. "When you be defiant and you don't do what your parents tell you to do, you the one that miss out on your blessings. I hope he learned a lesson from this."
Later, Rickey welcomes Comedian Tony Rock to the morning show to discuss his new venture as the host of TV One's The Game of Dating.
"We've all been in a restaurant, chilling with your boys or out on a date, and you see a couple across the room and you just try to play that game like 'what are they going through…are they breaking up or is it a first date,'" said Rock. "So we turned that into a game show! It's pretty simple to follow the rules. You get the answer right, you get some money and the team with the most money at the end of the game wins $10,000."
Rock plays the game with Rickey, Da Brat, Gary With Da Tea and Headkrack and their responses to the dating scenario have the crew divided.
"The show is hilarious because it's going to have you the edge of your seat," said Rickey.
"If you're watch with your girl, y'all going to be arguing about the questions or what you think the answer is. You do not want to miss this show. This is probably going to be one of the best game shows ever! Now I want to be a game show host!"
Other highlights throughout the finale include:
D'Essence confronts Rickey to find out why he was a no-show at her pageant
Malik tells Brandon about his plans to leave the country for college, however Brandon thinks he's running from dad
Rickey calls a family meeting to address the house rules when the kids come to town
Gary with Da Tea has a team meeting with Swan, Shanté, Brandon and Special Kin preparation for his talk show premiere. Later, the big day arrives for the first show taping featuring Trina and Towanda Braxton, Karlie Redd and, of course, Rickey Smiley.
For more information on Smiley's personal and professional background, please visit: http://therealrickeysmiley.com/ and http://rickeysmileymorningshow.com/.
Related Articles
---