---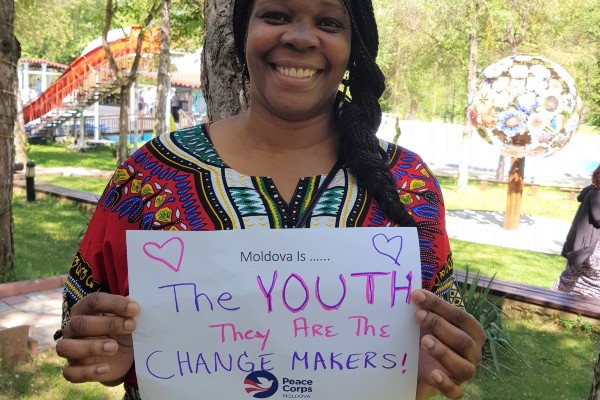 On Thursday, returned Peace Corps volunteer Carole Anne "Aziza" Reid, of Harlem, New York, was honored with the agency's prestigious Lillian Carter Award at a virtual ceremony.
This biennial award honors outstanding individuals who served in the Peace Corps at age 50 or older, and who demonstrate a commitment to civic engagement and service, advancing the Peace Corps' mission of promoting world peace and friendship, and the Peace Corps' Third Goal of strengthening Americans' understanding of the world and its people.
"If you are thinking about serving in the Peace Corps, especially if you are 50 or older, I encourage you to take the leap," said Reid. "I was 53 when I enlisted as a volunteer, and I started walking towards my best self. My journey continues today, and it is with a deep sense of humility and gratitude that I—as one of many former and current dedicated Peace Corps volunteers—accept the Lillian Carter Award."
Reid began her journey as a Peace Corps volunteer first as a community organizational development volunteer in Moldova from 2016 to 2018, and later as youth education volunteer in Eswatini from 2018 to 2020.
As a volunteer, Reid organized community programs to empower women and youth through African dance classes and social justice activities. Reid was sworn in as a Peace Corps recruiter earlier this week.
Prior to joining the Peace Corps, Reid founded Def Dance Jam Workshop (DDJW), an intergenerational performing arts troupe and academic program serving deaf, hearing impaired, and physically and developmentally disabled youths and their families.
As a non-profit, DDJW has been providing free African and modern dance, hip hop, tap, drumming, drama and voice lessons to Harlem community members for two decades.
As a State Department cultural ambassador, Reid replicated her special-needs programming by opening a sister program of DDJW sponsored by the American Embassy in Cyprus, Greece, and Istanbul, Turkey.
Reid is also the founder and executive director of The Black Choreographers Project, Inc., an organization providing services to members of the dance community who are 50 years and older.
When Reid's second tour in the Peace Corps was cut short by the COVID-19 pandemic, the ordained interfaith minister returned home to form a nationwide collective called Ministers of Color Sacred Circle, which aims to address racial disparities facing people of color.
Reid majored in dance at the State University of New York at Purchase and went on to a career in dance and theater, working with companies such as the Joffrey Ballet and Sounds In Motion.
As a featured dancer, Reid toured with Stevie Wonder and rap artists KRS 1 and Boogie Down Productions. On Broadway, Reid worked as assistant choreographer on "Rent" and "Mulebone."
"The Peace Corps is honored to present the Lillian Carter Award to Aziza—a person who has never stopped serving her community, whether in Harlem, Eswatini or Moldova," said Acting Peace Corps Director Carol Spahn. "As an advocate and activist for people with disabilities and people of color, as a foster mother, community leader and returned Peace Corps volunteer, Aziza proves that a life of service—at any age—is the highest calling."
The Lillian Carter Award was established in 1986 in honor of President Jimmy Carter's mother, Lillian Carter, who, at age 68, served as a Peace Corps health volunteer in India. Lillian Carter's commitment to Peace Corps service was an extension of her dedication to humanitarian efforts at home and abroad.
Over 240,000 American citizens—13,898 of whom served over the age of 50—have dedicated themselves to promoting world peace and friendship since the Peace Corps was established 60 years ago in 1961.
The Peace Corps sends Americans with a passion for service abroad on behalf of the United States to work with communities and create lasting change.
Volunteers develop sustainable solutions to address challenges in education, health, community economic development, agriculture, environment and youth development.
Through their Peace Corps experience, volunteers gain a unique cultural understanding and a life-long commitment to service that positions them to succeed in today's global economy.
Since President John F. Kennedy established the Peace Corps in 1961, over 240,000 Americans of all ages have served in more than 140 countries worldwide.
For more information, visit peacecorps.gov and add us on Facebook, Twitter and Instagram.
Photo credit: 1-2) Carole Anne "Aziza" Reid.
---